"Does My Body Offend You?" will be launched with a picnic-style celebration
On the heels of her successful 2020 debut novel, "Salty, Bitter, Sweet," author Mayra Cuevas is set to release her sophomore offering, "Does My Body Offend You?" with an unconventional celebration – a picnic for fans of the Young Adult genre and those new to her works. Open to the public, the event is co-sponsored by Georgia Center for the Book and Little Shop of Stories and hosted by the City of Norcross. 
The book is co-authored with Marie Marquadrt, who is also a YA fiction writer and a Scholar-in-Residence at Emory University's Candler School of Theology. Marquardt is also an active advocate for immigration. She's a co-founder of the nonprofit El Refugio. It accompanies immigrants at Stewart Detention Center in Lumpkin, GA and their loved ones through hospitality, visitation, support, and advocacy for a just immigration system.
"I believe that, through story, we can connect to others in a deep, meaningful way— which can be a powerful tool against the hate, fear, and misunderstanding that plague our society," Marquardt has written in her website's bio section.
The two writers met at the 2012 Georgia Romance Writers' Moonlight and Magnolias conference and have spent the last three years working on the collaboration.
Marquardt writes in the voice of Ruby McAllister, who comes from a privileged, white upbringing, while Cuevas pens Malena Rosario's perspective, coming from a traditional Puerto Rican background. Rosario learns how to stand up for herself and her community, and McAllister learns what it means to be an active ally during protest. 
"Social media has created a toxic 'calling out' culture of division, which leaves very little room for dialogue and understanding," Cuevas said. "We wanted to create a space where we could call each other in, listen and exchange ideas in ways that bring about constructive change and create deeper human connections."
The intercultural friendship and camaraderie extend beyond the written story.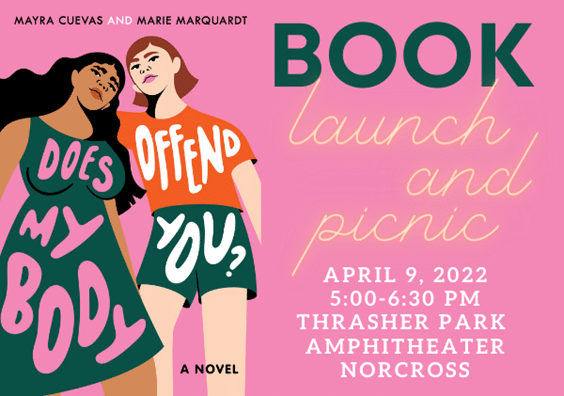 "For the last two years, it's been one of my greatest joys to work on this project with a person I love, respect and trust. Marie is more than my cowriter; she is my big sister. Not by blood, but by choice," Cuevas said in her blog post about the book. 
Cuevas said it took her seven years and hundreds of rejections to achieve a book deal. She was up against stacked odds. When she wrote the blog post in 2020, only about 6% of children's books were written by Latinx authors, according to the Cooperative Children's Book Center. In the two years since, that number has only risen to 7%, despite the fact that the Pew Research Center reports that 27% of students enrolled in public schools are Latinx. A significant gap exists between the little representation available and the many students seeking it out. 
"Readers can help diverse creators by buying our books from your local independent bookstore or requesting them from your library branch. Book clubs can select a diverse book for discussion and even invite the author for discussion. And schools and libraries can also invite diverse authors for a classroom visit and workshop," Cuevas said.
Cuevas and Marquardt's joint novel has been lauded by reviewers and has been selected for Target's Book Club. A description of the novel from the book club calls it "A timely story of two teenagers who discover the power of friendship, feminism, and standing up for what you believe in, no matter where you come from. A collaboration between two gifted authors writing from alternating perspectives, this compelling novel shines with authenticity, courage, and humor."
As a Spanish-speaking Latina woman born and raised in Puerto Rico, Cuevas understands the difficulty young Latinx people have finding positive representation, so she prioritizes it through her novels. Both "Salty, Bitter, Sweet" and "Does My Body Offend You?" put strong, passionate, young Latina women at the forefront of their own stories and their own lives. 
"I kept going, despite the odds, because millions of kids need our stories, now more than ever. They need to feel seen and validated. Stories are power," Cuevas said. 
In a tender letter on her blog addressed specially to marginalized writers, including Black, indigenous, writers of color and LGBT writers, she gave advice and support.
"After the next rejection, dry your tears and have another bowl of ice cream. It's okay. You are not alone. Get a good night sleep and the next morning wake up and write something — write something for the pure joy of writing. Because someone has been waiting for your story," she wrote.
The storytelling partnership continues for Cuevas and Marquardt as they work together on a second YA novel, which Cuevas describes as a "Romeo and Juliet-type story set between Atlanta and Puerto Rico. It explores themes of healing, colonialism, ancestry and traditions." Cuevas is also scheduled to release two picture books in 2024 and 2025, all while continuing her full-time occupation as a producer for CNN. She leaves young writers with two words to remember: discipline and resilience.
"Writers have to write, like we have to breathe. It is not an option," Cuevas said. "So, my final advice would be to write because it brings you joy and because it helps you keep your sanity in this insane world."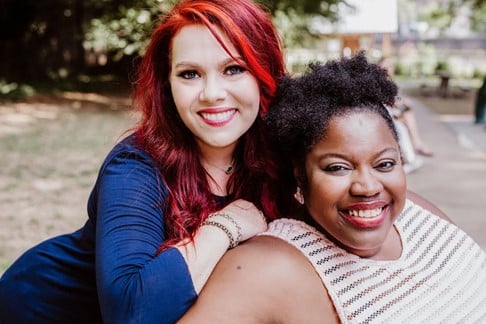 If you go
The picnic celebration of "Does My Body Offend You?" will be free and open to the public 5 to 6:30 p.m. April 9 at Thrasher Park Outdoor Amphitheater, 93 Park Avenue, Norcross. Cuevas and Marquardt will be in conversation with Kimberly Jones and Gilly Segal, co-authors of the New York Times bestselling novel "I'm Not Dying with You Tonight." Afterward, all four authors will be available to sign books, which will be sold on-site by Little Shop of Stories. 
For more information and packing tips for your picnic, visit the event on Eventbrite.
Ivy Clarke
Ivy Clarke is a nationally award-winning writer, editor, artist and aspiring literary activist currently studying English literature, creative writing and art at Mercer University. In addition to her work with Peachtree Corners Press, she writes and edits for The Mercer Cluster, The Dulcimer, Macon Magazine and Mercer University Press. She has also published poetry in Atlanta Review, Glass Mountain and The Allegheny Review.