There is something so universal about the desire to have a beautifully designed home. As many of us have transitioned to working from home and as we are now spending more time than ever inside our houses, it is increasingly apparent that having thoughtful and functional design enhances our lives.
While some have an innate sense of what goes where, there are certainly plenty who might find themselves a little lost or uninspired when thinking about the form and function of our spaces. Combine that with the sentimentality that comes from the accumulation of furniture and decor over the years, and it can prove quite difficult to see the overall design from a dispassionate and informed perspective.
That's where interior designers come in. These professionals are visionaries, able to conceptualize and implement a design that embraces your personal style while having a sense for the overall look and feel of the space. They are there to offer feedback, gentle guidance, and to handle the business of furnishing your home.
Need light renovations or a whole house designed? Perhaps you've just purchased a vacation home, or maybe you're welcoming a new baby to the house. For these and many other reasons, you should consider working with a local professional.
In this feature, I spoke with the creative forces behind three of Southwest Gwinnett's most esteemed and recommended interior designers. Read on to learn more about how they came to work as designers, what they love about interior design and what to consider when you're tackling a home design project of your own.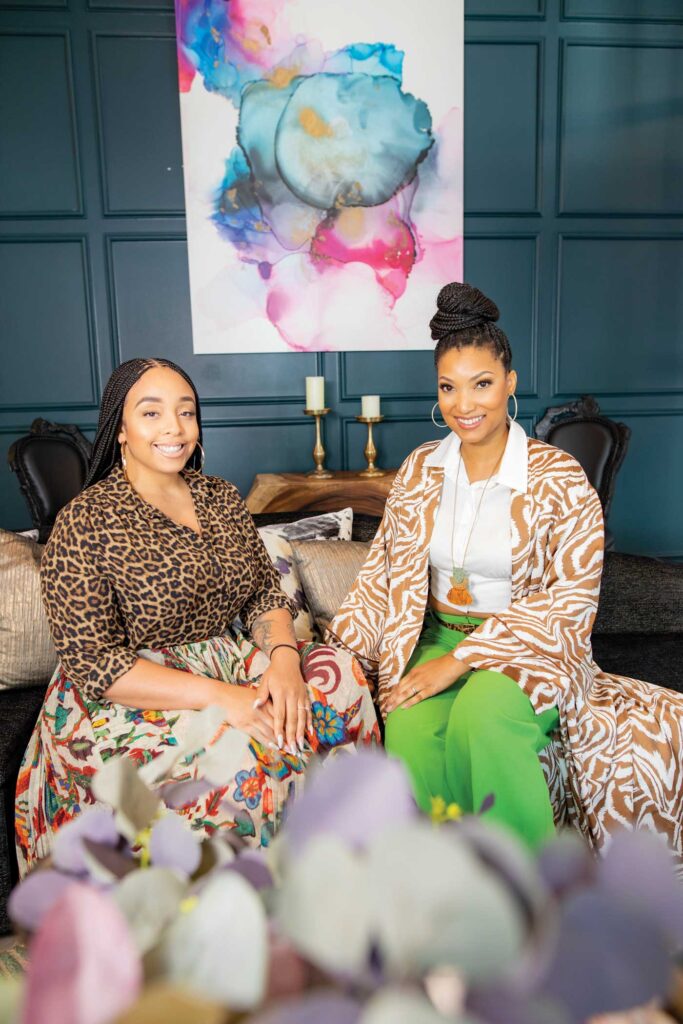 Designed for Life: Lauren Wesley Designs
It all began with a hair appointment. More than a decade ago, Jameelah Watkins was working as a hairstylist and makeup artist, and through a recommendation by her cousin Rachel, Ebonee Clark ended up sitting in her chair one day. Their friendship was limited to chatting during appointments until Rachel got married back in 2017 and asked Davis and Clark to help her pull the wedding together.
Together, the two handled the coordination, planning and centerpieces. It was a great success. This inspired Davis and Clark, along with Rachel, to start an event company called J Divine Events. After Rachel moved to Alabama, Davis and Clark continued the company and found success in the event planning industry.
"And then one day Jameelah gives me a call and says, 'Hey, I've got this opportunity; don't say anything until you hear me out," recalled Clark.
The opportunity at hand was a new angle for this design duo: interior design. One of Davis' colleagues was working PR for a record label and had called her to ask about recommendations for the actor Olurotimi Akinosho, known professionally as Rotimi, who needed someone to help design the spaces in his new house. Rotimi, an actor, model and singer, is known for his roles on the Starz show Boss as Darius Morrison and Andre Coleman on Power.
"I am the one who is a risk taker, I'm going to jump all the way in," said Davis. So, when asked for the recommendation, she instead offered that she and Clark could design Rotimi's home.
"We were doing renovations, furnishing every single space in the home," said Davis. "Light fixtures, wall hangings, everything. It ended up being something beautiful that we would show to any client."
And with that ambitious leap, the two found themselves at the beginning of an altogether new journey into the world of interior design.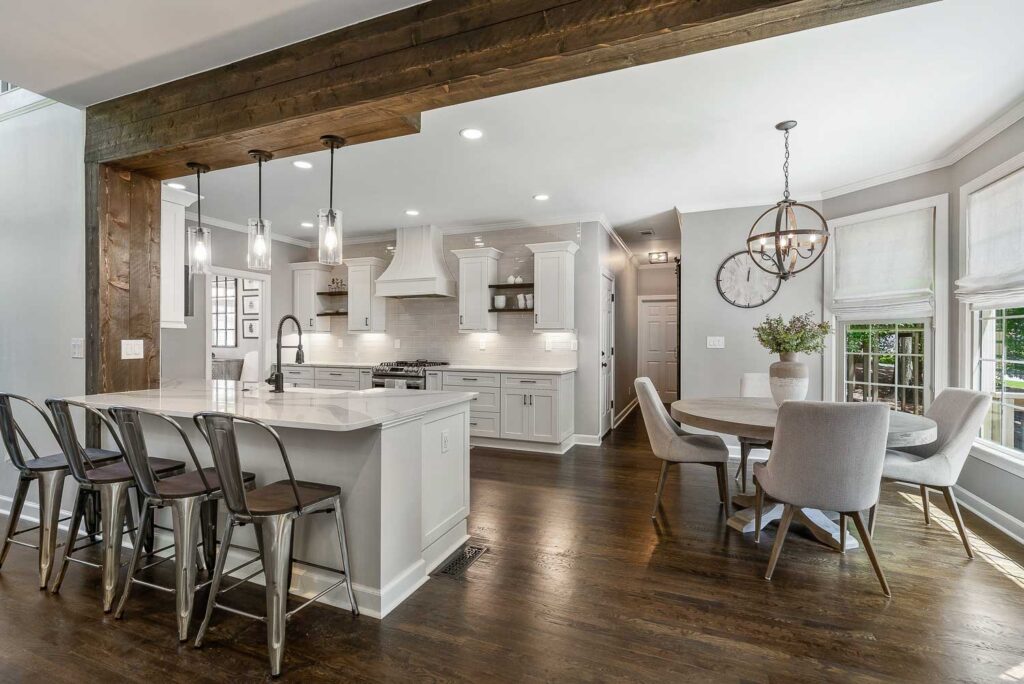 New name for a new path
With a rebrand and a new name — Lauren Wesley Designs, named after Clark's daughter Lauren and Davis' son Wesley — their business soon took off.
"It has just been up from there," said Davis. "Interiors came at an amazing time. We started at the end of 2019, and it was six months later that we hit lockdown, with no more events to be had. We had booked two projects right before the pandemic started and that carried us through the lockdown."
Their first two clients were sisters, and that job led to designing the father's home as well. Word of mouth and blossoming friendships with their clients have kept Davis and Clark busy in the years since. Realtor Egypt Sherrod, who had been working with Rotimi during their very first job, saw what they had done and later asked the team if they wanted to get on board with a show on HGTV called Married to Real Estate.
"It has been an amazing roller coaster of a ride," said Clark. "When it came to interiors, it just felt so natural. With every project we just get more excited, and we are amazed with the clients and projects we have found here in the city and out of state."
While getting into interior design has been a resounding success for Lauren Wesley Designs, they do still coordinate and design events as well.
"We call ourselves a lifestyle design firm because we walk our clients through the major milestones of a family, buying a home, decorating a nursery, throwing engagement parties…" Clark explained. "We limit our events to milestones for our clients."
Strength in sisterhood
For Clark and Davis, their work with Lauren Wesley Designs has been only one benefit of their partnership. Above and beyond the successes they have found professionally is the friendship and camaraderie that they have developed.
"This is the most satisfied I have ever felt in my life," said Clark. "I feel so fulfilled. It's amazing that I get to do this with Jameelah. When we first went into business, we were just acquaintances and now we are like sisters. She pushes the boundaries and I'm very reserved. I like to ask questions and analyze the situation. She jumps and asks questions later.
"I am literally living a dream that I didn't even know I had. It's amazing to be her partner, to grow as women, to grow as mothers. Jameelah has gone through all of this in the past two years, including a divorce. She's trying to do it all and I admire her to the ends of the Earth. I think she's absolutely amazing and gifted by God. The ideas she comes up with… she is absolutely amazing."
Davis paused, promising that she wouldn't cry, before sharing her deep gratitude for Clark. "Being in business with Ebonee has completely changed my life. I lost a daughter to SIDS, she was four months old, and I was trying to stay on a good path and not veer off and self-destruct. I think God sent Ebonee to me to keep me on that path and help me be who I am supposed to be."
She described the days when she was so depressed that she could barely get out of bed, and how her relationship with Clark helped her to pull through. "Ebonee was there. We have just always had each other's backs and always had our clients' best interests at heart, and always delivered 100% of the time. I know I have somebody in my corner."
Those who work with Clark and Davis have the opportunity to see firsthand just how powerful of a bond they share and how it manifests into beautiful homes and events that celebrate their clients. Davis handles the design while Clark is in charge of project management, and together they transform spaces into works of art.
CASE method
Lauren Wesley Designs typically embrace a transitional design aesthetic which allows for flexibility as they can incorporate elements of various tastes and preferences. They like to start with architectural elements that embrace clean lines and a light color palette, in accordance with their belief that a space should feel designed before even one piece of furniture or decor is brought in. Then they add color and texture, often choosing rich tones, warm woods, oil-rubbed bronze and burnished brass to lend the spaces a luxe, upscale look.
Davis developed a design process called the CASE method, which stands for Consultation, Anchors, Shell and Enhancements. By breaking it down this way, they're able to address every element in the proper order.
Of course, every job begins with a consultation, wherein the Lauren Wesley team comes to understand the personality and tastes of the client along with their needs and desires for the space.
The anchors represent the major elements of the space and how they will be incorporated into the design, which usually means the floors and any architectural details such as built-in shelving, fireplaces, and sometimes major furniture such as couches. The shell is the exterior edges of the room, like the floor, the ceiling and the walls, for which they consider paint colors, hangings, light fixtures or artwork. Lastly are the enhancements, which is every other detail that goes into the space.
"Enhancements is the part that people pay you for, because they don't care about the other part," said Davis, wryly. "They want to see pillows, vases… all the little things. We introduce those elements last to give it a finished look."
While that might be the first thing that people notice when they enter a space designed by Lauren Wesley, a closer look reveals every detail, no matter how minute, has been carefully chosen to become a part of the overall composition of the space.
The Lauren Wesley look
When discussing their favorite elements to implement in a space, there are a few common themes. One is luxurious fabrics. Clark mentioned the Tribeca Living Bed Sheets that she loves to use because they are clean, crisp and soft to the touch.
"We also use white matte vases," added Davis. "I think it just adds some contrast because we like to do a lot of rich tones, so when you start with a light palette and you incorporate the dark, you want to bring back the light a bit and it gives it a really modern look. Those elements lend itself to the Japandi aesthetic, and I like to incorporate that as it brings a little trendy freshness."
There is no doubt that Davis and Clark are forces of nature and they possess a passion for both business and design that is evident in their work. But after talking to this design duo there's another thing that becomes clear: they are women of faith and integrity.
"We put it all out there, we put ourselves out there," said Clark. "We want people to trust us. These clients are letting us into their private and intimate space, and we become part of their lives. We cry with them, we celebrate with them. It is not just a transaction for us."##
---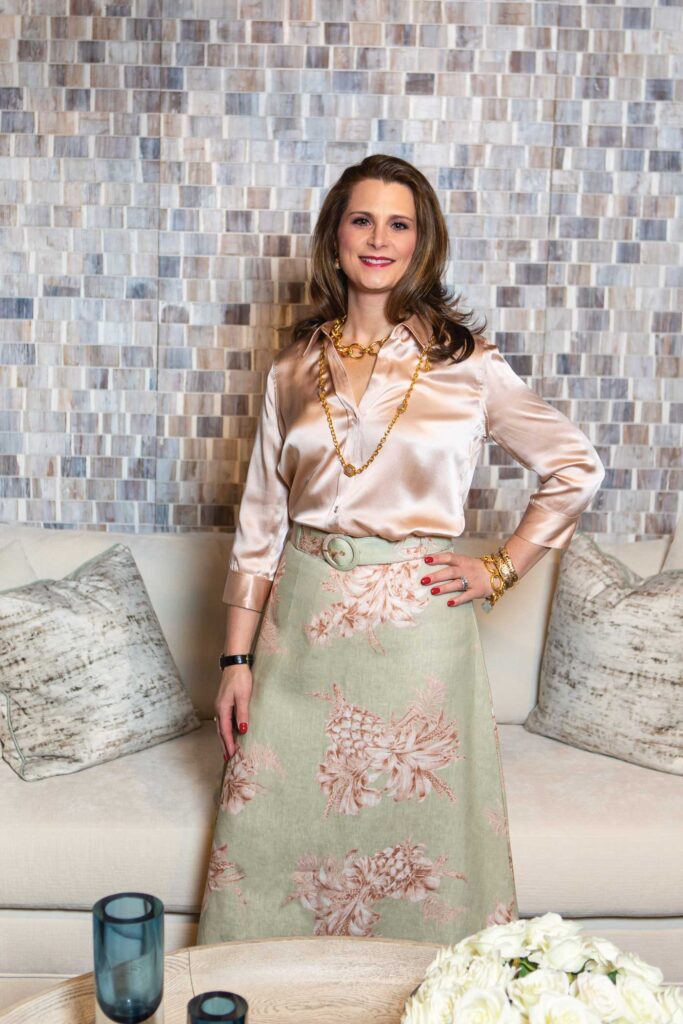 In The Right Light: Janie Hirsch
Janie Hirsch, owner of J. Hirsch Interior Design, has artistry and home design running through her blood. During her childhood, her father worked as an architect and was a watercolor painter on the side. Hirsch would often visit her father's office and speak with his fellow architects, asking questions and learning all about their work.
"He taught me all about design and architecture and art and how to appreciate all of it," said Hirsch, who credits her father's support as fundamental in her developing a love and passion for interior design.
When she wanted to take art classes instead of ballet, her father encouraged her to pursue her interests. "He just nurtured it and let me ask questions and watch," she said.
As a young adult, Hirsch entered college with the thought that she, too, would become an architect. She enrolled at Louisiana State University where she took some introductory architecture classes but soon determined that it wasn't quite right for her.
She was able to pivot and use those classes towards a degree in Interior Design with a minor in Architecture. The skills she learned in those classes — structures, physics, systems, calculus — have proven to be quite useful in her work as an interior designer.
"In everything we do there are a lot of calculations," Hirsch explained. "Whether in pricing, estimating, drawing or converting to scale, math comes into play." Having an understanding of math and how it relates to architecture has allowed her valuable insight into what is possible in the spaces she designs.
Following the light
One of Hirsch's college professors also played an instrumental role in her path. This professor, who also taught lighting design, saw her potential and encouraged her to enter a competition for lighting design. Hirsch won and inspired by that success, she applied for and was granted an internship with a lighting design firm in New York City.
For nearly two and a half years, Hirsch worked at that firm and was exposed to lighting design for a variety of purposes, including commercial, residential and retail. She gained an appreciation for lighting and how it affects all elements of interior design.
"A lot of people don't think about it, but it can make or break a space," Hirsch explained.
She described how she prefers to add layers of lighting to her spaces. What that means is that instead of relying solely on ceiling lights or only having tabletop lamps, homes should have multiple sources of light such as sconces, pendants, under cabinet lighting, floor lamps and table lamps.
"All of those options can allow you to see better, such as task lighting, but it also makes you look and feel better," Hirsch said. "Like in a dining room; most people just have a chandelier. You can of course have candles on the table, but you can also have down lighting to make your table sparkle. And then lamps on a buffet or sconces on a buffet, it all gives you different layers of light to give different feelings. It can make a space feel different."
Beyond the considerations for how a space feels in different lighting, Hirsch pointed out how different colors, fabrics, finishes and textures can appear in different lights. One shade of paint could look completely different if lit by warm incandescent lights versus cold LED lights.
"When I'm working with a client, I like to show them colors and fabrics in the space that they will be in because it can totally change if they were to put different light bulbs in their fixtures. Personally, I like warm light better, but for task lighting sometimes cooler light is better," she said.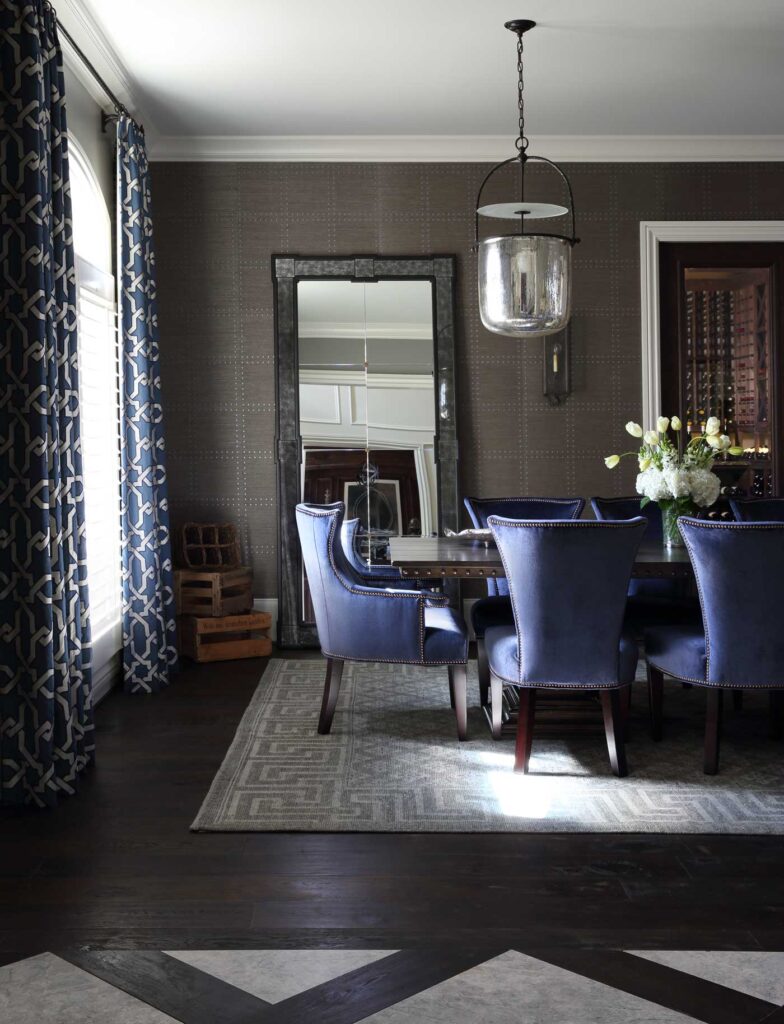 The jump to Atlanta
After meeting her now husband during her stint in New York City, Hirsch was ready to move back to the South. "I didn't want to get stuck in New York," she explained. "If you stay there long enough you can get stuck."
They first moved to Hilton Head for a brief period, where they enjoyed the slower pace but found that there weren't quite enough opportunities to work in design. By this time, she had made some great friends in Atlanta, so it was a logical next step.
For a period of 14 years, Hirsch was employed by a home builder based in Buckhead, and that experience added to her understanding of spaces and how they can be affected by architectural changes.
"When we would walk through a house after it was framed, I'd be able to see the space to make recommendations in knowing how materials are used and things like that. It translates into helping clients do renovations or gut a house: I can comprehend it," she said.
"I think you have to be able to visualize things in order to be a designer. You need to be able to translate it and explain it to the client."
Hirsch made the jump to starting her own Interior Design company 32 years ago and quickly found success. From her office in Berkeley Lake, she helps clients go from idea to finished design.
At every consultation Hirsch asks the clients a few crucial questions to help her come up with a plan. That includes asking about who lives in the space, how they plan to use it, how often they entertain and whether or not there will be children in the house. These questions are crucial to inform her decisions as she wants to ensure that the furniture design, fabric choice and layout all are conducive to their lifestyle — and comfortable for those who will be in the space — long after she has finished her work.
The Hirsch style
One thing that Hirsch is known for is using color "as a neutral." By painting all of the walls in a room in a soft color, such as the pale green she chose for her own house, she is able to make that color neutral in the space. "To me, color livens up a space," she said.
Some of Hirsch's favorite jobs include working with clients who own antiques or items with a great story. By carefully choosing the location for these signature pieces, or sometimes also refinishing or repainting them, she is able to give them a place of pride in the new design.
Her tip for smaller keepsake items is to display them in a collection with a shadow box or similar. In her own office she has a collection just like this, featuring some of the tools her father used in his career as an architect. When they are put together in a meaningful way these items can be a beloved addition to a space and get much more visibility than when they are stored away in boxes or drawers.
Many of Hirsch's designs also feature seating options that add to the function of her spaces. It's not uncommon to find that she has incorporated a bench to the end of a client's bed, which functions both as a place to hold decorative pillows at night and also for putting on shoes in the morning.
Another common design element is the addition of ottomans placed in front of a fireplace to allow the client to enjoy a comfortable seat by the fire as well as offer seating options when entertaining large groups of people.
"Besides being beautiful, you want it to be comfortable," said Hirsch.##
---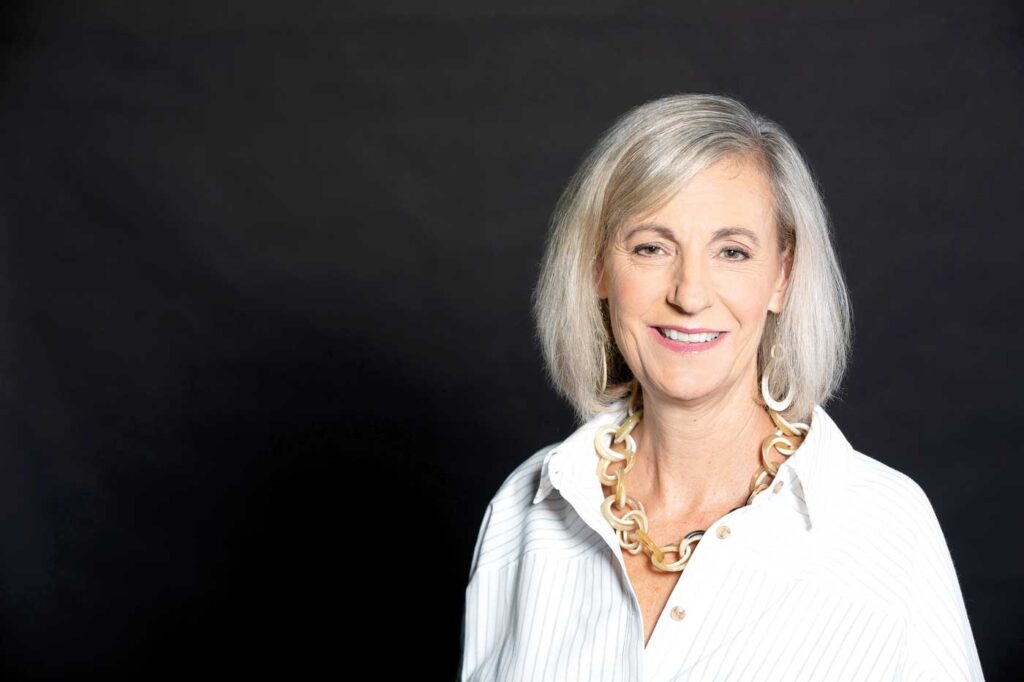 Make It Fun: Kim Schoone
"The industry has really kind of exploded in the last 20 years," said Kim Schoone, owner of K. Schoone Interiors, LLC. Based in Peachtree Corners, Schoone has been an interior designer for 22 years.
"I was always an incredibly artistic and creative kid; give me crayons and pens and paints and I'll be happy," said Schoone.
During her childhood, Schoone lived in New York City and New Jersey. Her father worked as a contract furniture salesman selling brands such as Pennsylvania House, and her mother was a nurse who had an innate talent for interior design. In fact, her childhood home appeared in an issue of the magazine House Beautiful.
Later, the family relocated to Michigan where her mother opened a gift shop with her best friend. "I had the best decorated dorm room," Schoone chuckled.
In college, Schoone studied French and then lived in France for a year, following which she returned stateside and got a degree in Marketing.
"I got into the financial industry simply because I wanted to live in Chicago," she explained. During her tenure attending St. Mary's College in Notre Dame, Indiana, she decided she really wanted to live in Chicago, but quickly determined that it was not the right fit for her. At the time, she was employed doing mostly sales, selling mutual funds to brokers and banks.
From finance to design
Seeking more of a creative outlet, she left that role and found herself in Atlanta working for legendary neo-futuristic designer John
Portman.
"He was a very interesting and creative person, a really very interesting man," Schoone recalled. Portman is best known for his designing hotels and office buildings with multi-story atriums, such as the Peachtree Center complex that includes the Hyatt, Westin and Marriott Hotels.
This exposure to design piqued Schoone's interest in the industry and following the birth of her second child around the time of the Olympics, Schoone stepped away from her role in downtown Atlanta. Later, when she approached an interior designer based in Buckhead and asked for assistance with designing her home, she was instead offered a job at the firm.
For the two to three years that followed, Schoone worked at the firm and relied upon her knowledge of business and sales. Over time, she came to understand the industry inside and out and decided to open her own company.
"My priority was my children and so I took my passion and talent and parlayed it into a business that allowed me to be with my kids," said Schoone. "It has been really fantastic for that. I worked very part time — I've always worked with referrals only — until my kids left home and then I went full time."
Relying on referrals, as opposed to the times when she worked with companies such as Houzz, has proven to be preferable for Schoone. "It's just a much more sane way to handle this insane business," she said with a laugh. "I've ridden the highs and the lows, the crash in 2008 and now the craziness of 2020 and 2021."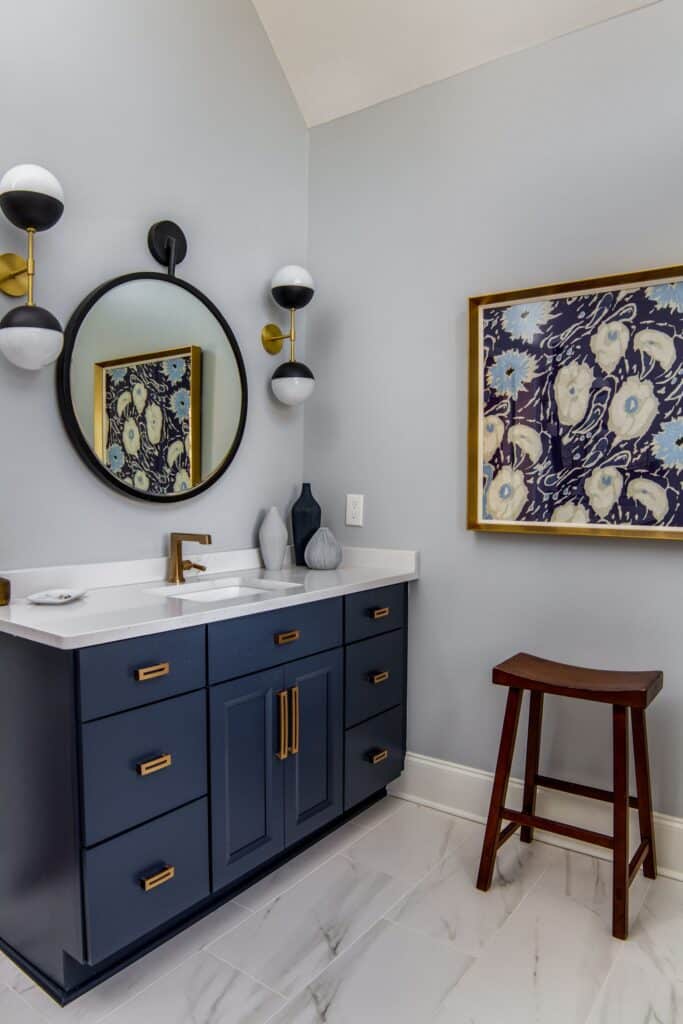 Head for business and eye for style
"It's hard to make it as an interior designer; it's very difficult," said Schoone. "It's not just talent and eye, it's a business sense. You have to be able to get along with people." Fortunately, the business side of her interior design work always came rather naturally to Schoone, who says that her skills gleaned from earlier jobs have helped her immensely as she developed her own company.
"Interior design is also sales. You're selling yourself, you're selling an idea and you're selling a concept," Schoone explained, reflecting on the many changes that have come to the industry since she started her company. "We didn't have CAD drawings or anything like that back then, it was a pure 'trust me.'"
Beyond having people skills, a good business sense and an innate eye for design, Schoone also highlights just how important it is to have good relationships with suppliers. After all, design is merely an idea until it is implemented with items that are produced by fabricators and manufacturers.
Many of Schoone's sources are members-only, such as the Atlanta Design Group located on Peachtree Industrial Boulevard. There, under one roof, designers are able to peruse an art room, a 10,000 square-foot showroom full of furniture, a resource room, a commercial side and the back of the whole building is used to receive orders.
Personal and playful designs
When Schoone is brought on to design a space, or even sometimes an entire house, she becomes invested in making the design extremely personal for the client.
"My first question is 'what color makes your heart sing?'" she said. Apparently, for a lot of people, the answer is blue. She then will consult with the client to determine which of their furniture pieces and artwork they want to incorporate into the new design.
The trend now is to say, "less is more," something that has changed since Schoone first got into the business. "It used to be more is more," she joked. "Design is a lot like fashion, it is always changing."
She often mixes styles, leaning toward transitional design that ensures a more timeless appeal. By learning about a client's story, family history and beloved personal items she is able to feature those elements in purposeful and meaningful ways.
One client that Schoone is working with, for example, has family from Maine. The client's grandfather worked with wood, so Schoone was able to display a ladder sent from his family, pictures of timber to frame and she even blew up a photograph of his hometown to cover an entire wall.
"I like to make it relevant to them and their family," she explained.
One common trend you might spot in Schoone's designs is a unique wall hanging. One of her favorite local suppliers will get dried grapevines and form them into a circular shape.
"It has great texture, it has just so much going on," she said, remarking that her eldest daughter often teases her for her affinity for the decoration. She prefers to incorporate organic items alongside art in her designs. "Everyone loves it," she added.
Schoone has earned a reputation for playful and intriguing designs that incorporate character pieces, such as lamps made out of other items, old metals and vintage finds. "Something really unique, I do enjoy doing that," said Schoone. "I want things that have a story. They are always so much more fun and unique." ##