11 Places to Indulge with Food and Drink and be Outdoors
With springtime and friendly weather arriving, more restaurant patrons will seek to dine at places that offer great outdoor venues. Whether it's a traditional open-patio setting, a screened-in patio that can still be enjoyed on a rainy day or somewhere that's pet friendly, Peachtree Corners, Norcross and Duluth have something for every outdoor diner.
Lena Ahn, an Atlanta-based Instagram food connoisseur who has a following just shy of 28,000 under her handle @atlbestbites, listed Lazy Dog Restaurant, Grace 17:20 and Pure Taqueria as her favorite outdoor patio restaurants in the Southwest Gwinnett County area.
"A restaurant with a great patio should have plenty of seating without being too crowded together and have plenty of shade," Ahn said. "The décor, such as plants, flowers and even lighting options, play an important factor in creating an ambiance in tune with the interior of the restaurant."
Grace 17:20
When Gail Johnson and the Johnson family opened Grace 17:20 at The Forum in Peachtree Corners 18 years ago, she wanted to create a restaurant that resembled her favorite place to travel — Italy. They first leased the building at The Forum, but there wasn't an outdoor patio, so the Johnsons decided to design and build one from scratch.
"Italy is one of our favorite places to visit. There's not a lot of restaurants like this where you feel like you're in Italy when you walk through the door. Anytime you go to a restaurant in Italy, there's always an outdoor seating area," Johnson said.
The outdoor stone patio at Grace 17:20 has plenty of shade provided by nearby overhanging trees, is surrounded by flower gardens and consists of an outdoor fireplace and a fountain.
"I think you have to have a place that's beautiful," Johnson said about her thought process in designing the patio. "We make it warm and inviting. People still want to sit out there even in the winter."
She also said the patio adds to the type of hospitable approach Grace 17:20 takes to serve their customers. They can walk in, take their time, enjoy the atmosphere — whether indoors or outdoors — and stay as long as they like.
"When you go out to a nice dinner, it's important to not feel rushed. People will come here and stay for more than two hours," she said.
The patio also makes Grace 17:20 an ideal restaurant to host events and special occasions such as an Easter Brunch, wine tastings, anniversaries and wedding rehearsal dinners. While the venue is Italian-themed, Grace's menu is largely upscale American dining, and its two executive chefs, Peter Washburn and John Dinzole, are always looking to add to the menu, Johnson said.
All dressings are made in house and patrons tend to favor the Cedar Planked Atlantic Salmon and the Prime Filet Mignon.
Taqueria Tsunami
On the other side of Peachtree Parkway at Town Center, Scott and Alexis Kinsey knew they had the perfect location when they opened their eighth Taqueria Tsunami location in 2019. It's the only restaurant in The Forum/Town Center area that has a rooftop patio.
Customers dining on the rooftop enjoy not only the weather but a beautiful view of the park-like Town Green behind the building. The Town Green is the site of numerous community events, which Taqueria Tsunami customers can experience while eating tacos and sipping margaritas.
"What attracted us to that space was the amazing green space behind the building and the Town Center," said co-owner Alexis Kinsey, whose husband Scott also owns the company and is the architect behind the Latin-Asian fusion menu.
Kinsey said their location in Roswell also has a rooftop patio, but it doesn't have the same scenery as the one in Peachtree Corners. "It's really a completely different feel at Peachtree Corners than any of our other locations," she said.
Scott Kinsey spent much of his career working for international restaurants chains, which allowed him to travel and experience different cultural cuisines. Those experiences inspired him to open Taqueria Tsunami, which combines the best foods of Latin America and Asia.
Kinsey said the Thai Chicken Tacos and the Shrimp Tempura Tacos, topped with Asian slaw and a hoisin-lime aioli, are among their best-selling tacos. The appetizers are also popular and creative, from the Avocado Eggrolls, with Santa Fe ranch and sweet and spicy Thai sauce, to Asian Nachos that are made with fried wontons instead of tortilla chips.
Bleu House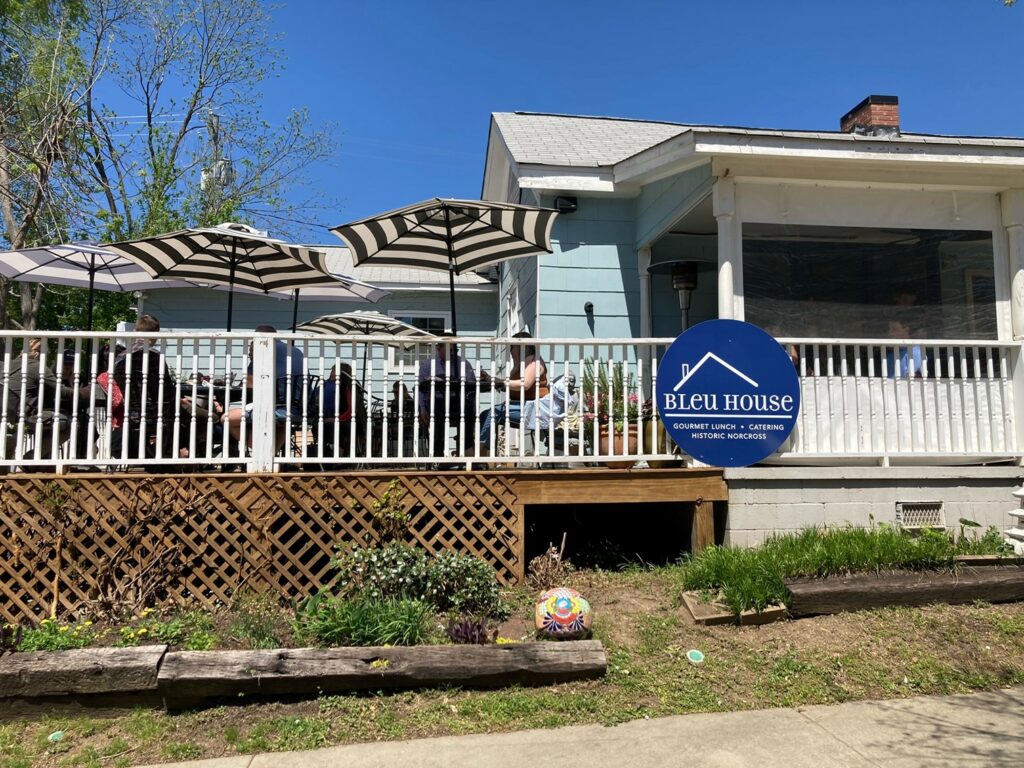 For an outdoor lunch date that allows you to enjoy the charm of downtown Norcross while listening to music by the Beatles, it's difficult to beat the scene and menu of The Bleu House.
The outdoor seating area is larger than the indoor, and it starts at the patio balcony and runs to the main patio area. The balcony is covered by an awning while the main patio deck is in the open with umbrellas positioned over every table.
"I love to eat outside," said co-owner John Adams. "With the [COVID-19] restrictions, you could only have people eat outside, so for a while we were ahead of the game."
The Bleu House caters specifically to the lunch crowd and is open from 11:30 a.m. to 3:30 p.m. from Wednesday through Saturday.
Adams and his wife, Maureen, have owned the Bleu House since 2002, when it was called The Bleu House Cafe. The couple also owned a sister restaurant called The Market before merging both businesses under one roof on College Street, where it's been since 2014.
Adams said the menu hasn't changed much and it serves anyone looking for any kind of lunch, whether sandwiches or salads or "Bleu Plate Specials" such as Meatloaf and Creamy Mashed Potatoes or the Barbeque Pulled Pork Plate with macaroni and cheese.
Over the years, the Funky Chicken sandwich, glazed with a balsamic vinaigrette and honey mustard, has proven to be a staple, while the Big Bad Brisket Sandwich and the Chicken Salad are also popular.
Falling Rabbit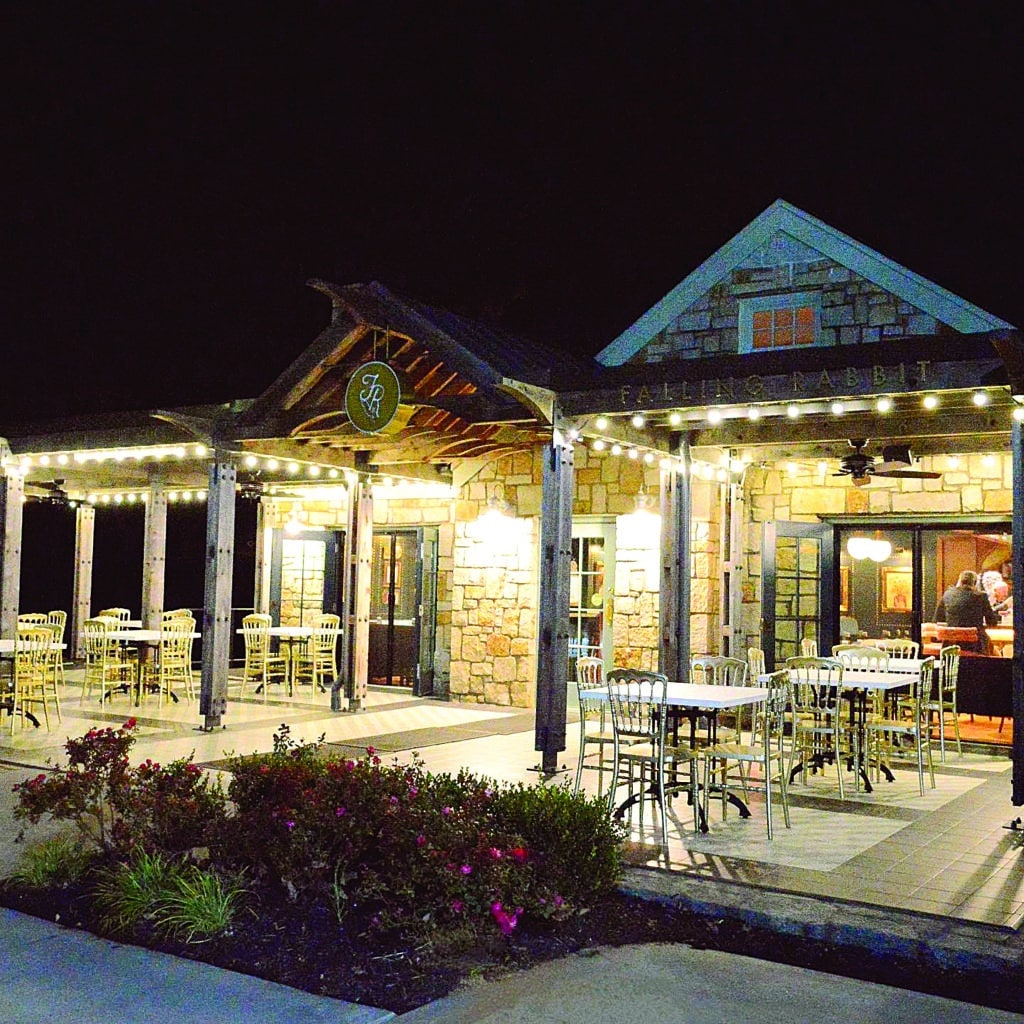 Walking around Parsons Alley and Town Green in downtown Duluth, it's difficult not to notice the front outdoor dining terrace of The Falling Rabbit. With its golden metal chairs and white tables placed across a black-and-white textile courtyard, the terrace grabs the attention of anyone passing by the restaurant.
"We want people to see it from the [Town] Green," said bar manager Chris Cotugno, who has worked at the restaurant since it opened in 2020. "It's one of those things where we really wanted to grab people. It matches the color scheme with the earth tones and the conjoining of the gold accents inside."
Cotugno said the building that houses the restaurant is more than 100 years old, and it has never been the site of a restaurant before Falling Rabbit opened. But designing the interior and exterior of the restaurant came with a challenge.
"We wanted to preserve the original aesthetics of the building," Cotugno said. "We didn't want to change that too much, but also elevate it in a way that says this place is quite new."
Falling Rabbit serves an elevated American cuisine with a "bit of flare," Cotugno said. "We want to make recognizable dishes and turn them into a unique experience," he said.
Owner Chuck Woods is also the executive chef and his wife and co-owner, Barbara, serves as the general manager. Falling Rabbit has made itself known for its rapidly changing seasonal menu. A new dish is rotated into the menu every week.
Other outdoor patio restaurants to look out for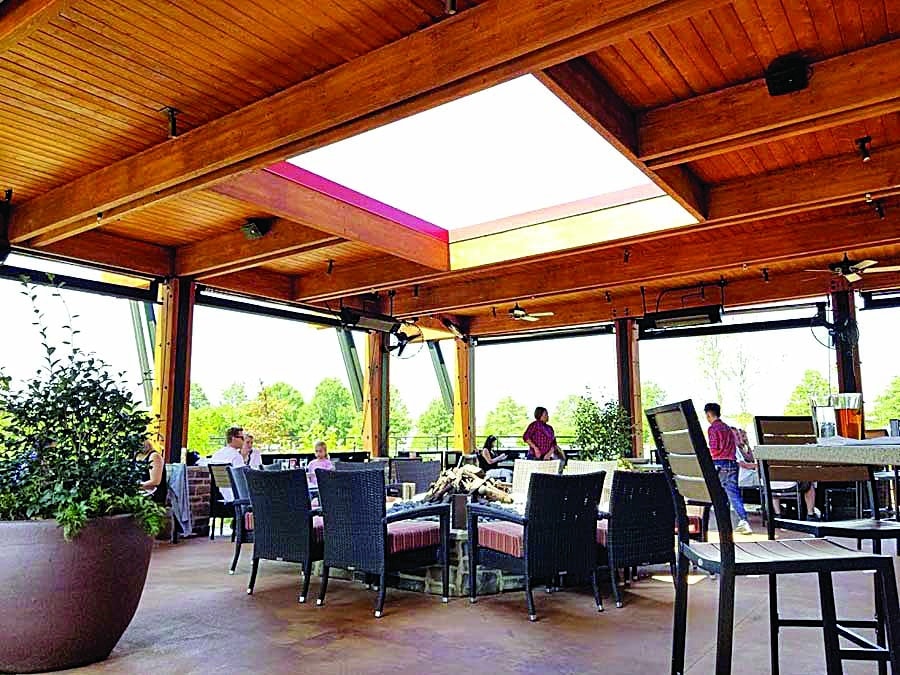 Lazy Dog Restaurant
5224 Peachtree Pkwy., Peachtree Corners
When it comes to pet-friendly restaurants, Lazy Dog has emerged as a top dining destination since its Peachtree Corners location opened two years ago at Town Center off Peachtree Parkway. Its outdoor, screened-in patio was built with pet-owners — dog-owners in particular — in mind.
The name Lazy Dog came from the environment originally envisioned by owner and CEO Chris Simms in which he pictured a place where someone's dog could curl up comfortably by a fireplace. Lazy Dog has a mountain resort vibe to it and offers traditional comfort food and their unique selection of house beers.
The patio consists of about a dozen tables that surround a fire pit at the center of the room. Dogs are only allowed on the patio and must be kept on a leash and lying down at al times.
Mojitos Bistro
35 South Peachtree St., Norcross |
5161 Peachtree Pkwy., Peachtree Corners
The original Norcross location of Mojitos has a handful of tables in front of the entrance and an open patio in the back, while the Mojitos at The Forum in Peachtree Corners offers a spacious outdoor dining area.
The Cuban American eatery has seen jam-packed crowds from people looking to enjoy a sporting event or live music at The Forum. A live band plays every Thursday night, and those choosing to eat outside don't have to miss the show. The patio is lined with garage door windows that can be pulled up so those outside can see and hear what's going on inside.
Mojitos is known for its Spicy Oxtail stewed in red wine and spices, as well as a diverse selection of beer from all over Latin America, and, as their name suggests, their mojitos.
Marlow's Tavern
5210 Town Center Blvd., Peachtree Corners
A modern atmosphere encompasses Marlow's Tavern at Town Center in Peachtree Corners. As one of Marlow's 15 locations in the Atlanta area, the Peachtree Corners venue is designed to accommodate anyone's taste in a restaurant environment.
Marlow's is equipped to host any sporting event watch party but also has an extensive screened-in patio for those who want to enjoy the outdoor weather and get away from the crowd.
The menu at Marlow's features traditional tavern and bar classics such as wings, firecracker shrimp, sandwiches and gourmet burgers.
The Crossing Steakhouse
20 South Peachtree St., Norcross
Located in downtown Norcross and converted from an old train station, The Crossing has garnered a reputation for being one of the area's top steakhouses. Its outdoor seating area is mostly screened in by window flaps, though there is an area of the patio that has three tables in the open.
The flaps can be raised for a day with a cool breeze, but assistant manager Yaneli Bueno said they usually stay down to accommodate cold weather and pollen during the spring.
"The outdoor experience we try to provide is very family oriented," Bueno said. "It's warm and inviting. We want people walking by on the sidewalk to see the people upstairs outside just talking, having drinks and having a good time."
Though it has a wide selection of premium steak cuts, Bueno said one of the most popular dishes is the Railway Chicken.
The building lies just mere feet from the railroad tracks that wind through downtown Norcross, and patrons can feel the vibrations of the train throughout the restaurant as it passes.
Zapata Tacos and Tequila Bar
15 Jones St. NW, Norcross
Founder Jesus Onate wanted to create an authentic Mexican cantina that made patrons feel like they walked in off the streets of Mexico City.
An authentic Mexican experience is as much about the drinks as it is the food, so Zapata Tacos and Tequila Bar offers a wide array of different types of tequila and mezcal that are only made in select regions of Mexico. Onate uses those to craft the margaritas Zapata has become known for.
The Corn Tortilla Street Tacos and the Enchiladas Verde, made with a homemade tomatillo sauce, highlight the authentic menu. Located on Jones Street in downtown Norcross, Zapata's has an outdoor patio behind the restaurant.
"I believe our patio is part of our experience," Zapata's general manager Diana Carrillo said. "When I go out, I love to sit out on the patio, have a couple of drinks in the fresh air. I feel like you enjoy it differently than when you're crowded inside.
"I try to keep the patio looking good. We have fresh plants out here all the time. This summer, I'd like to bring in some live music and have it out on the patio."
Pure Taqueria
3108 Main St., Duluth
Offering one of the best views of downtown Duluth, Pure Taqueria sits on the corner of Main and Lawrenceville Street and has a spacious patio in front of the entrance.
Tortillas are handmade each day for a vast selection of tacos that includes pork, chicken, steak, fish, shrimp, lamb and even cauliflower as a vegetarian option. Gluten-free tortillas can also be requested.
In addition to tacos, Pure has specialty dishes, including the Tequila-Lime Chicken — a grilled chicken breast topped with a tequila-lime cream sauce and roasted poblano peppers. Some customers stop by simply for drinks as Pure is also known for its quality margaritas, including one made with jalapeno tequila, cilantro, cucumber and lime.
Sweet Octopus / Empanada House
3559 West Lawrenceville St., Duluth
Sweet Octopus and Empanada House occupy the same two-story building on Lawrenceville Street in downtown Duluth. Sweet Octopus is on the first floor and offers a large outdoor patio area, while Empanada House operates on the second floor and has outdoor seating on its second-floor balcony, which provides a perfect view of Parson's Alley and Duluth City Hall.
Sweet Octopus offers a mix of fresh Asian flavors from Thai to poke to ramen, including their Bangkok Ribs, Kungfu Rito, made with fresh tuna and salmon, and their popular Miso Ramen made with pork belly.
In addition to their traditional beef empanadas, Empanada House infuses different cultures into their menu, such as a Hawaian Empanada and a Hungarian Goulash Empanada. They even have breakfast and dessert empanadas and serve a dozen different flavors of bubble tea along with their specialty smoothies.##