From finding books to creating videos, from 3-D printers to producing podcasts, the Norcross Branch, is a jewel in the library crown.
With summer in full swing, finding activities that adults, children and the family can enjoy together is always a chore. Once the Georgia summer hits full heat, many might be in search of a cool place to do some cool stuff.
Library personnel guarantee that you'll find just that at any one of the 15 Gwinnett County Public Libraries. But if you're seeking the absolute latest the system has to offer, the Norcross Branch may have what you're looking for.
If it didn't boldly say "Gwinnett County Public Library Norcross Branch" on the front of the building, you might mistake the county's newest library as a high-end architectural structure — and you'd be correct. The facility at 5735 Buford Highway was designed with a modern aesthetic where everything has a purpose.
Enter the foyer and the ceiling is painted a special shade of blue. The architect of the building, Chad Smith, was mentored by Michael Graves, who died in 2015. As an homage to Graves, Smith got permission to use a signature color called Michael Graves blue on the library project.
That's not the only interesting design element. The glass sidelight at the entrance into the library has a series of cubes set in a specific pattern. It spells out "enter good, leave better" in binary code.
"That's what should happen to everyone who visits a library," said Laura Dobbins, supervisory librarian at the Norcross Branch library.
But wait, when it comes to cool design elements, there are even more. Gwinnett County is one of the first library systems to move away from the Dewey Decimal system.
"We moved into the bookstore model to increase usability," said Dobbins. "I think a lot of kids and parents are really intimidated by walking into a library because the parents say, "I can't remember what the Dewey number was." And so, even for kids, this is a very visually oriented branch."
Adult-themed books are under blue signs. Those focused on teens have green signage and children's books are under red signs. The topics are simple. For example, adults' books include Mystery, Romance and Food, while for kids, the books are in groups like Non-fiction and Language.
The shapes of the overhead lighting fixtures also correlate to ages. The area for adult literature has square-shaped fixtures, the teen section has lights that form a cross — symbolizing that they're at the crossroads between childhood and adulthood — and the lights in the children's section are circular.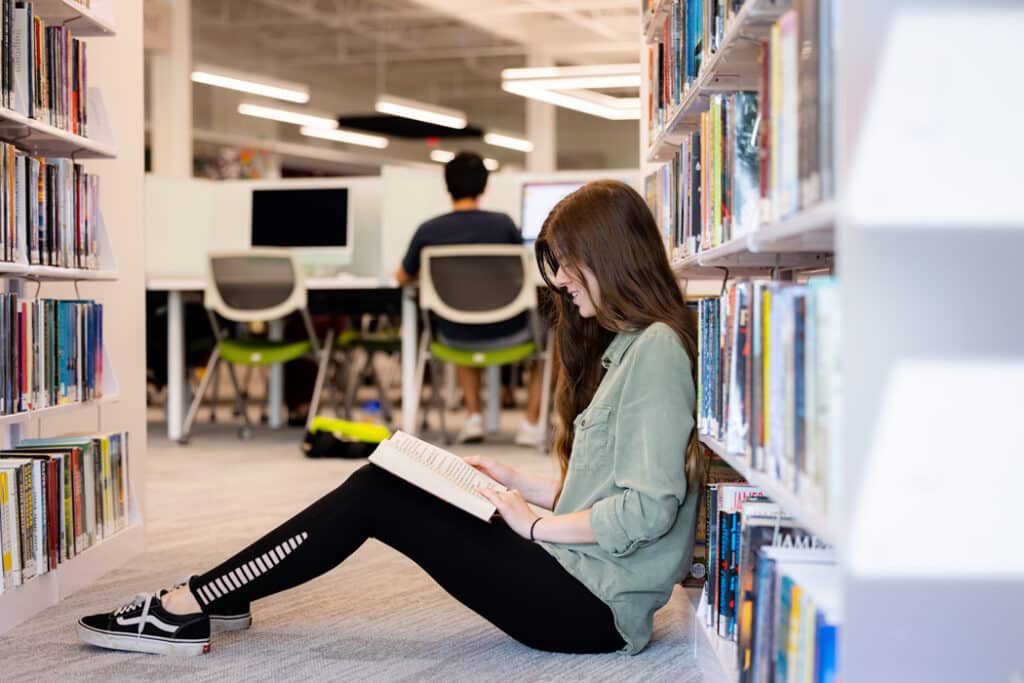 Another design aspect is that the building was built with Leadership in Energy and Environmental Design (LEED) standards. It's the most widely used green building rating system in the world. Available for virtually all building types, LEED provides a framework for healthy, highly efficient and cost-saving green buildings.
The library's design, lighting, building materials, HVAC and other components fit the criteria.
Welcome to technology
If you were of the mindset that libraries have nothing but books, you'd be mistaken. Some of the most up-to-date technology exists within the walls of the Norcross branch.
"This is really a blueprint for what goes on at all 15 branches," said Dobbins. "Because Norcross is the newest, it's got the most learning labs and the most creative spaces. But most of the other branches have them and we're adding them eventually to all the libraries."
With three spaces devoted to learning labs, the library offers equipment — and classes to learn how to use it — for producing film projects, podcasts and just about anything else that requires an audio / visual setup.
"This is the only branch in Gwinnett County that has an actual soundproof audio studio," said Kate Delaney, supervisor of the learning labs. "People can come in here and record music, record vocals, record podcasts. You can even hear the sound change as we step inside. The walls dampen the outside noise."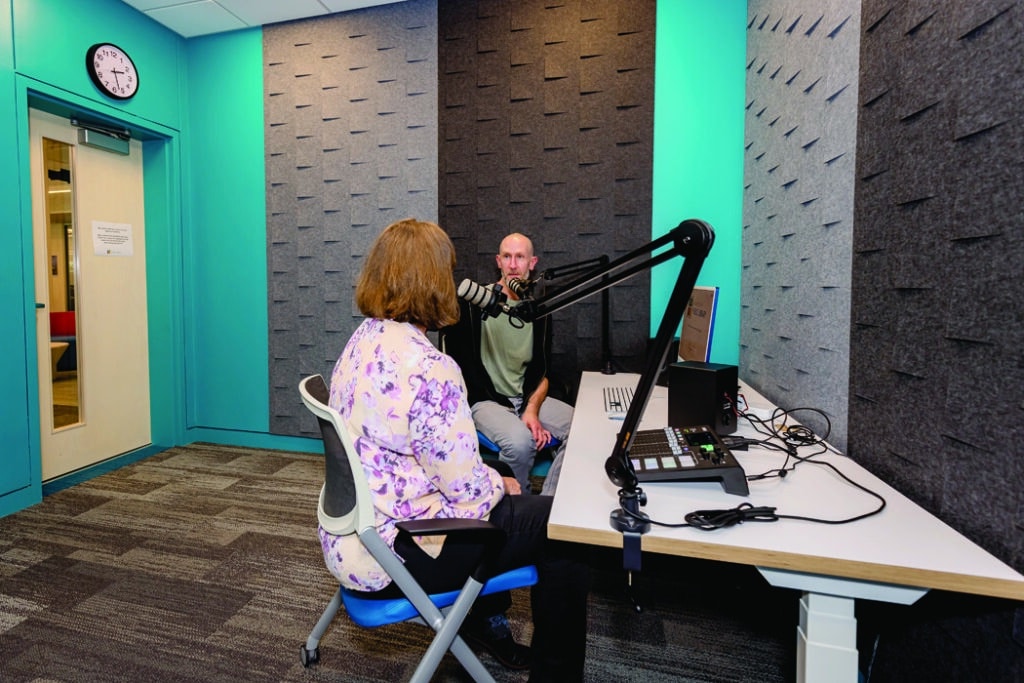 The room is equipped with all of the latest technology, including a podcasting station, editing and publishing software and a computer workstation. It's free for anyone over the age of 13 with a library card to come in and use," she added.
The Learning Labs have been around for about six years now. They started at Five Forks Branch and over the years, the library system has added more facilities and multiplied its customer base. There are currently labs at eight different locations.
"Right next door is our video recording studio, which actually isn't open to the public just yet, because we're still installing some of the equipment to hang lighting and microphones and things," said Delaney.
Once complete, there will be a green screen, a black screen and a white screen.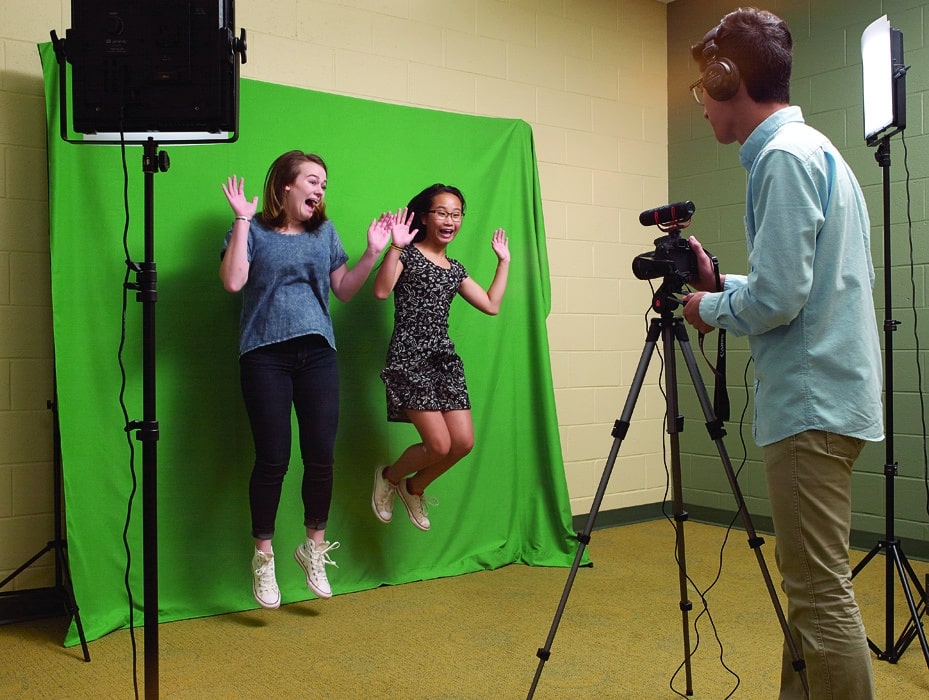 "We've got a state-of-the-art Panasonic 4K video camera, and we also have additional microphones, reflectors — and again, the computer workstation with all the editing software that you need," she added.
For those who are more into the tactile arts, as opposed to digital, MakerSpace has lots of hands-on equipment, such as 3D printers.
"We have lots of grade schoolers and middle schoolers and families who love to come in and learn how to use these and print all the Pokemon their hearts desire," said Delaney.
There's also a Cricut, which is a cutting machine that allows you to make custom designs for logos, etc.
"We have a heat press that people can use to make custom t-shirts, tote bags, things like that," said Delaney. "And for the photographers, we have an Epson film scanner for people who are doing it old school, taking pictures on film. They can scan their film here and make digital files.
There's also a museum-quality photo printer, which is a very expensive piece of equipment and is hard for a lot of home photographers to get access to, Delaney added.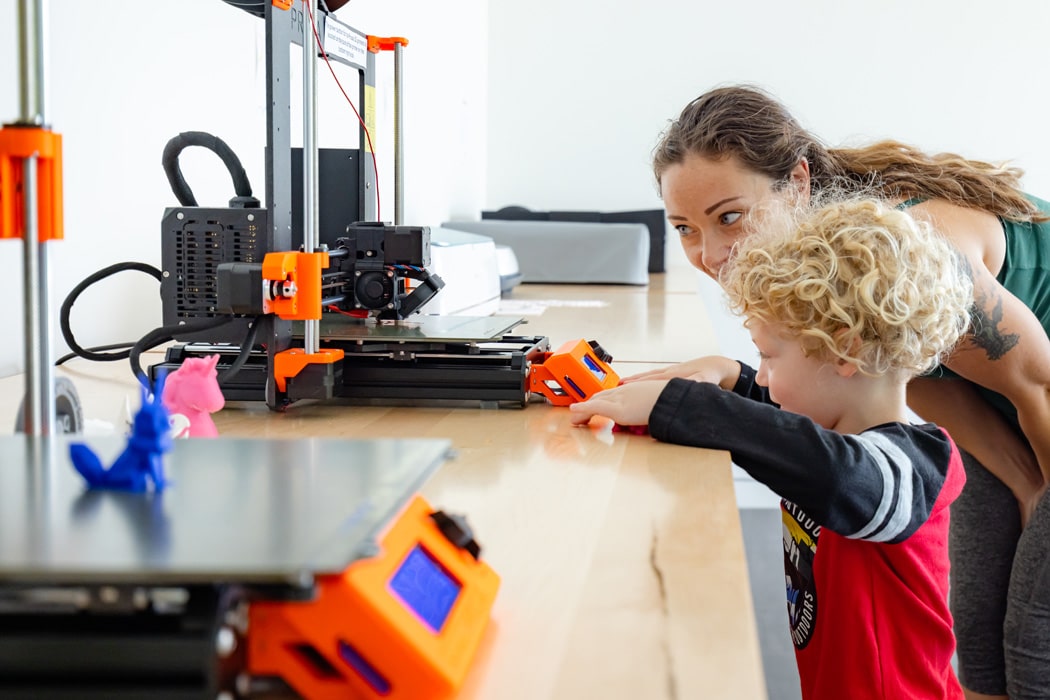 All of the equipment is free to use except the photo printer. There is a fee for paper and ink. "We don't make any money off of it," she said.
The library has a separate budget for the high-tech stuff that doesn't affect the books and other literary materials it purchases.
Although the Norcross Branch doesn't offer sewing classes, other branches have sewing machines, sergers, fabric and notions for public use.
If making things isn't your thing, there's also a game room with a PS4, and it will soon be adding an Xbox.
Serving the community
With all the offerings the library has, learning remains the cornerstone of its mission. Nearly 40% of Norcross residents are native to another country, so English language learning is a large part of what the library provides. It offers literature in Spanish, French, Korean and Vietnamese, as well as self-driven classes for speakers of those languages who want to learn English.
With 40 computer carousels, patrons are able to work at their own pace on a variety of educational materials. There are even more options for learning and checking out e-books and audio books through the library website, gwinnettpl.org.
Younger kids enjoy crafts and story times, and even hands-on cooking classes. For older kids, there are study pods equipped with HDMI plugs so a computer screen can be shared on a large-screen TV.
Outside of learning, the library reaches out to the community with meal distribution once a week for children.
"Depending on what branch you go to, they all have a very different feel. They have a different patronage," said Communications Director Duffie Dixon. "The beauty is these staff members tap into who their patrons are and make sure they're providing what they need." ##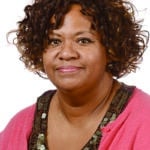 Arlinda Smith Broady
Arlinda Smith Broady is part of the Boomerang Generation of Blacks that moved back to the South after their ancestors moved North. With approximately three decades of journalism experience (she doesn't look it), she's worked in tiny, minority-based newsrooms to major metropolitans. At every endeavor she brings professionalism, passion, pluck, and the desire to spread the news to the people.