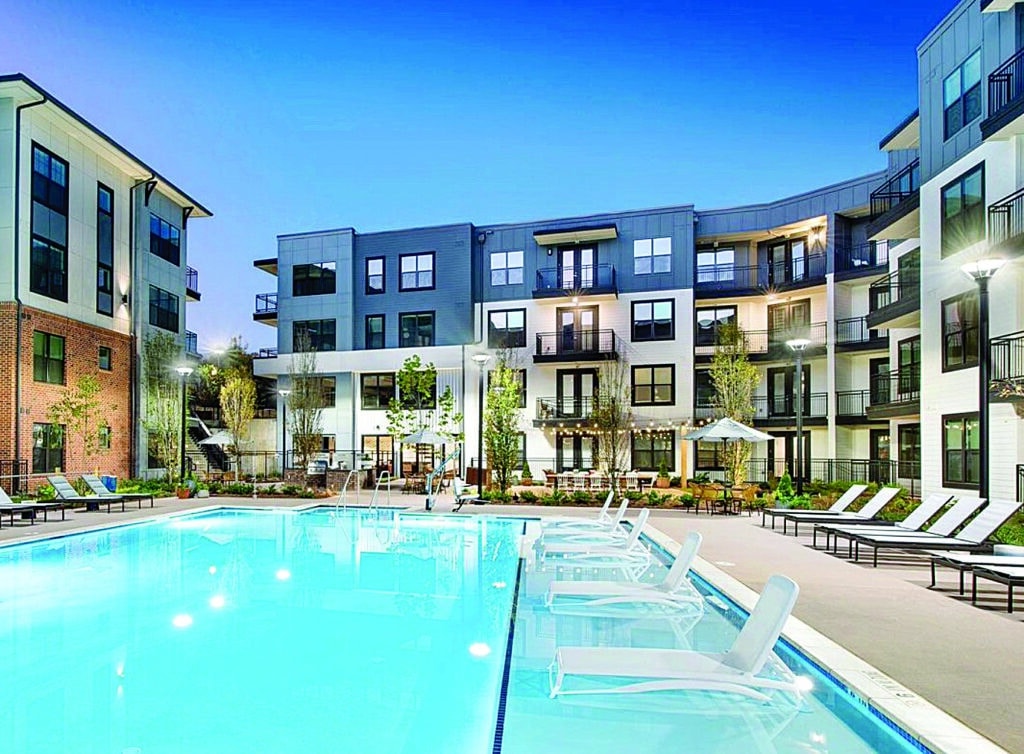 Floating on your back in crystal blue waters, the gently wafting smell of an outdoor grill drifts by reminding you that dinner is almost ready. You wave to your new friends who have a cocktail extended to greet you after your swim — a welcome reward after a long day in the office and the workout you completed in the clubhouse gym. A laughter-filled board game awaits after dinner with no worries that the lawn needs cutting or anything at home needs repair.
For Southwest Gwinnett apartment dwellers, every night, at least in theory, can be so relaxing. With a plethora of luxury apartment choices and 55+ Active Adult communities in the area, residents can choose the location and amenities that fit their needs.
Amenities
Luxury apartment shoppers need only look at their lifestyle, or perhaps the lifestyle they hope to attain, to make a list of the residential features to check off the list. Look for the following options:
Community Amenities (shared by all residents)
■ Resort-style pool and sun deck with outdoor grills, fireplaces and gather spaces
■ Secure parking, preferably reserved, covered parking for residents and guest parking
■ Fitness room with a separate space for yoga or other group classes
■ Resident clubhouse with kitchens and bars, Wi-Fi and HDTVs
■ Conference rooms with computer stations
■ Secure mail with large package room
■ Limited access for added security
■ Electric vehicle charging stations
■ Dog park
■ Fitness trails or access to nearby trails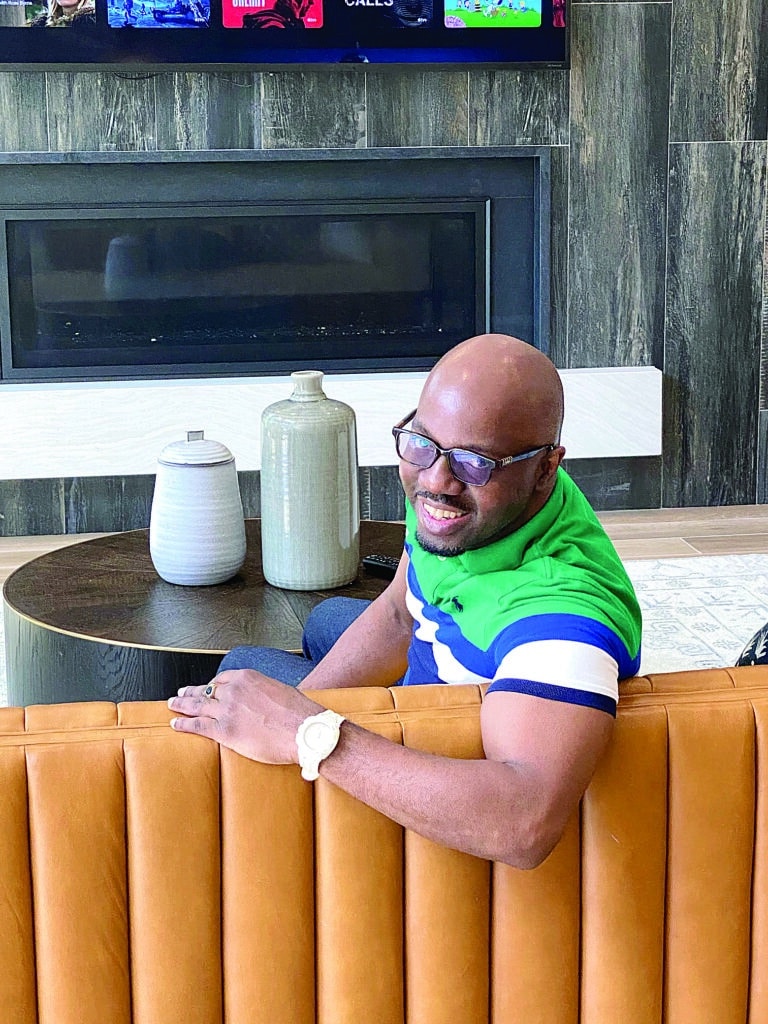 Stephen Thomas, a resident of The Brunswick in downtown Norcross, moved to the area from Brooklyn, N.Y. in November 2020. He found the city of Norcross charming with its historic homes and he appreciates the variety of amenities the apartment complex provides.
"It's a beautiful town, said Thomas. "It's an old town with such a refreshing type of a community, all the landmarks and everything — and the demographics. It's such a diverse community. I like that."
Thomas initially looked at renting a private home, but when he looked at The Brunswick, all the amenities fascinated him instantly. "Number one was the pool," he admitted. But it was the total package that intrigued him. As an entrepreneur with several business ventures, Thomas found the development's two conference rooms and secure mail for packages highly beneficial.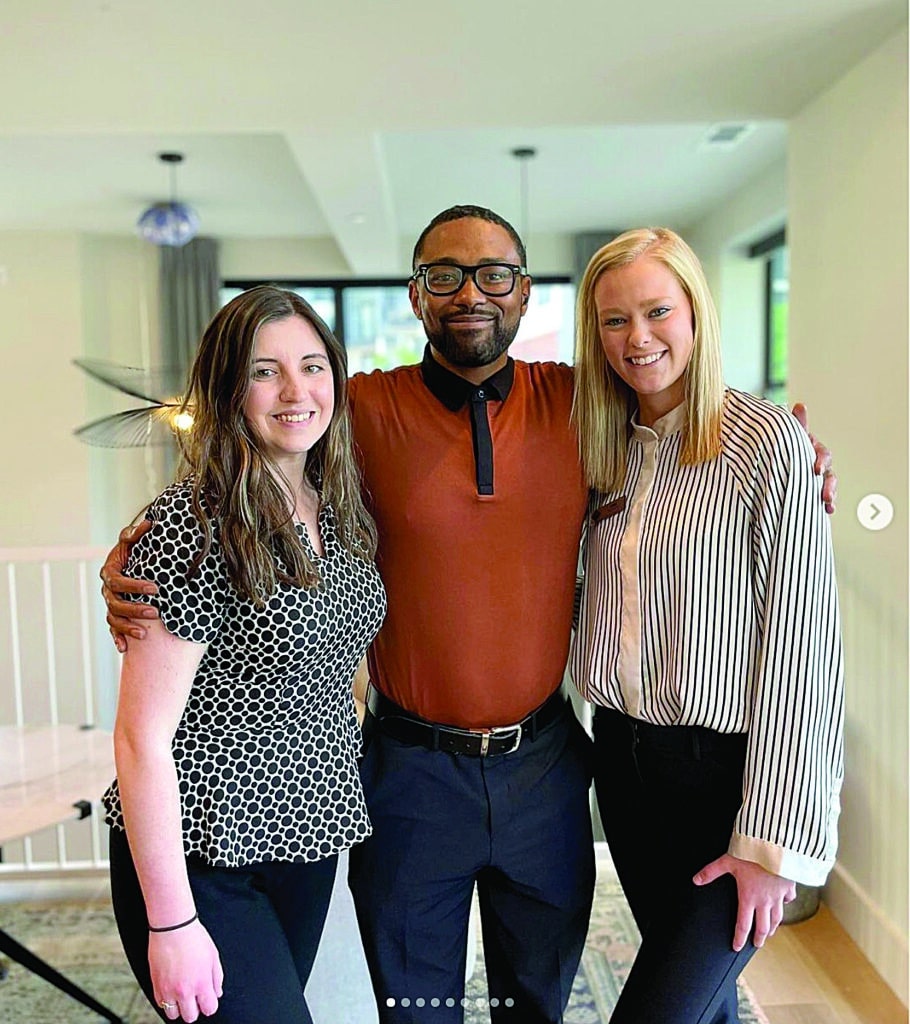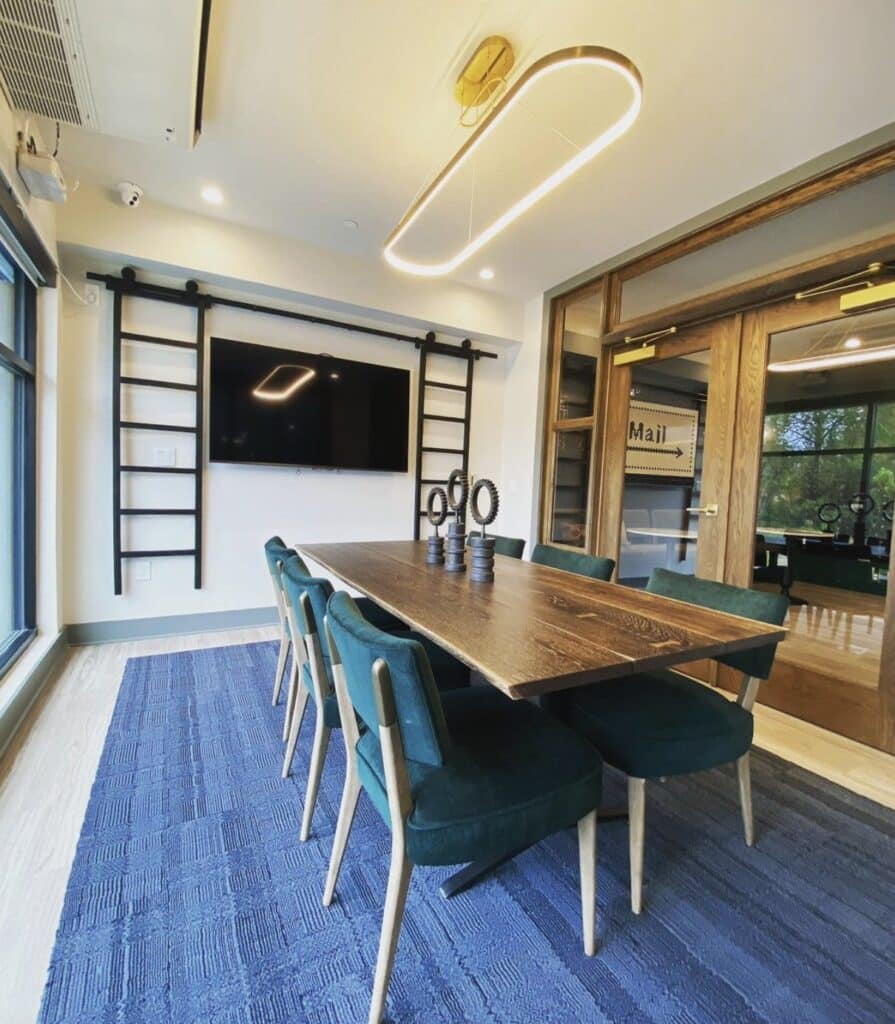 Quality construction
Probably one of the most significant features of luxury apartment living is the quality of construction and materials used in creating your new home. While you may still occasionally hear your upstairs neighbor bumping around, most residents we spoke to said their apartments were largely quiet, in part due to the quality of construction.
Look for:
■ Natural stone countertops
■ Stainless steel appliances with energy-efficient ratings
■ Custom cabinetry
■ Kitchen islands
■ 9- to 10-foot ceilings
■ Modern lighting
■ Garden tubs
■ Ceiling fans
■ Full-sized washer and dryer
■ Walk-in closets
■ Wood-style flooring
■ Double sink vanities
■ Private patios and balconies
■ Eco-friendly / green materials
Thomas made special note of construction at The Brunswick. When he was younger, he worked in a field that educated him on the difference between shoddy and quality construction. He likes the superior touches throughout his Norcross apartment community.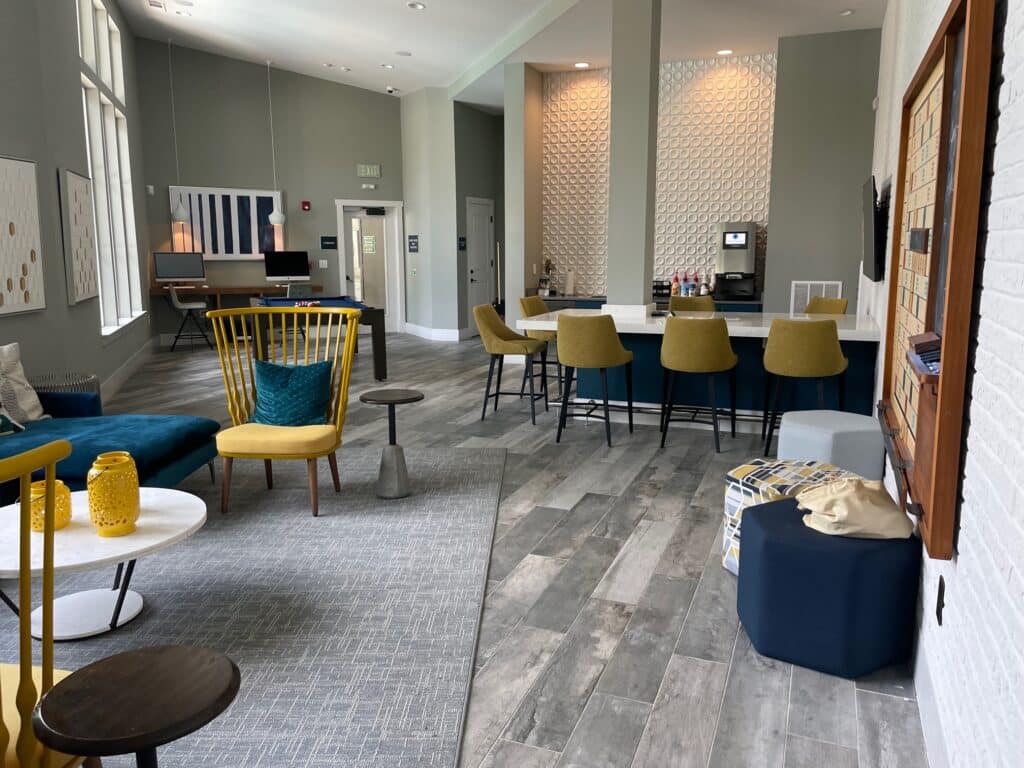 For Natasha Heard, a resident at Cortland Peachtree Corners, quality was probably her first priority. She had lived in several rental homes nearby and found all of them troubled with mold problems. As a mom of a 7-year-old daughter, Heaven, she was determined to find a safer home. Not only is she happy with the quality of construction at Cortland, but she noted that maintenance issues, when they do arise, are handled rapidly.
Apartment shoppers may want to consider asking to meet the maintenance staff or speak to current tenants to get firsthand answers to how and when problems are addressed.
Location, location, location
According to Derrick Glover, Community Director at The Brunswick, location is key. "Location and access to the highway," said Glover. "I love how this is probably one of the rarest communities that can hit I-285 going up the back way. We have access to I-85 from Beaver Ruin, Indian Trail, Steve Reynolds, Pleasant Hill and easy access to Lake Lanier. Plus, back roads to maneuver around the city to avoid traffic. You can even take Buford Highway all the way down into the city [of Atlanta] if you need to."
Access to metro Atlanta arteries is worth critical consideration, but so is the nearby community. Can you walk to restaurants and bars? How far away is the nearest grocery store? Will you have access to parks, playgrounds or nature trails? What about live music, art and festivals?
What will it cost?
Current pricing for luxury apartments begins between $1,500 and $1,900 per month for a one-bedroom apartment. Two-bedroom units range between $1,700 and $2,600 per month. Three-bedroom units are hard to find, but when available, prices start around $2,400. Most local apartment complexes offer six-month up to the more popular 14-month leases. Residents warn that introductory pricing almost always increases at the end of each lease.
What about 55+ Active Adult apartments?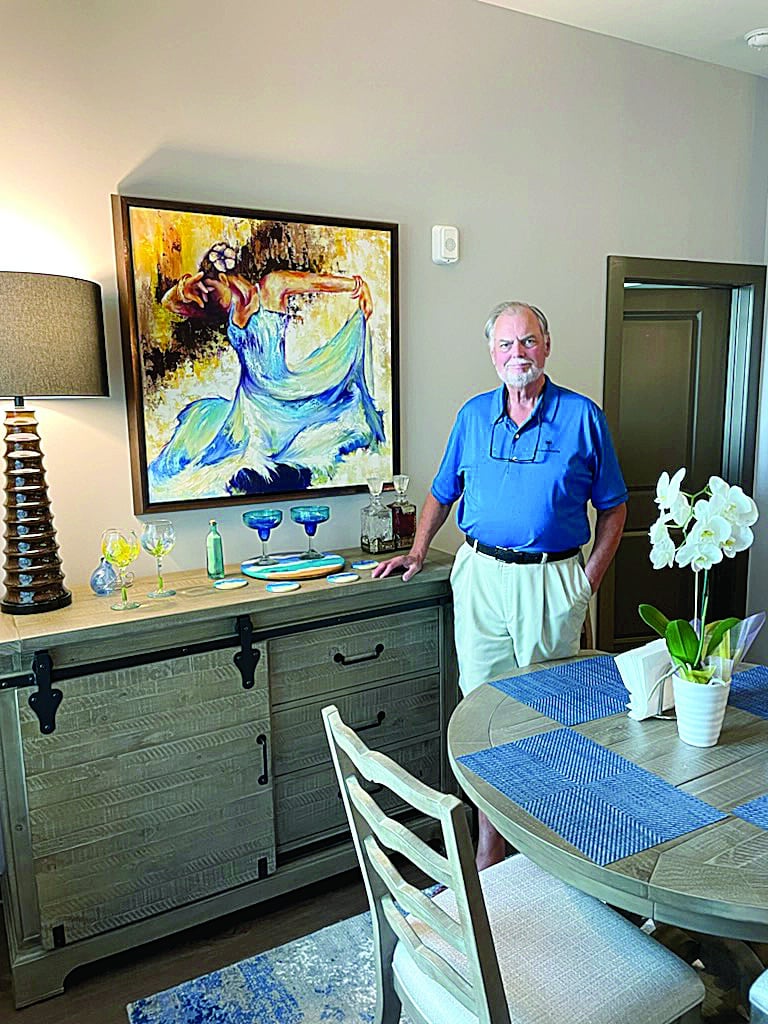 All of the above, plus more, applies if you happen to fall into the growing 55+ Active Adult market. Two communities serving the 55+ lifestyle are Everleigh Duluth, near downtown Duluth, and Annabelle on Main, closer to Peachtree Industrial Boulevard in Duluth.
Both properties place a great deal of focus on social amenities in addition to the physical ones.
"We sell a lifestyle," stated Precious McBride, Community Manager at Everleigh Duluth. "We practice seven dimensions of wellness — spirituality, social, fitness, well-being, intellect, pursuit and eco life."
Residents can choose from a busy month of activities, each of which focuses on one or more of those seven dimensions of wellness. In addition to free continental breakfast five days a week, residents might choose to participate in a grief support group, game night or mix and mingle event, a yoga or tech support class. Several events on the calendar take place just around the corner at the Duluth Town Green, like Fridays-N-Duluth that offers free entertainment and food trucks.
Successful communities seem to place a special interest in developing a partnership between their tenants and staff. A group of residents at Everleigh Duluth approached McBride about using some of their green space for a small community garden. The result is a shared herb garden any resident can access when they need a few sprigs of parsley or basil.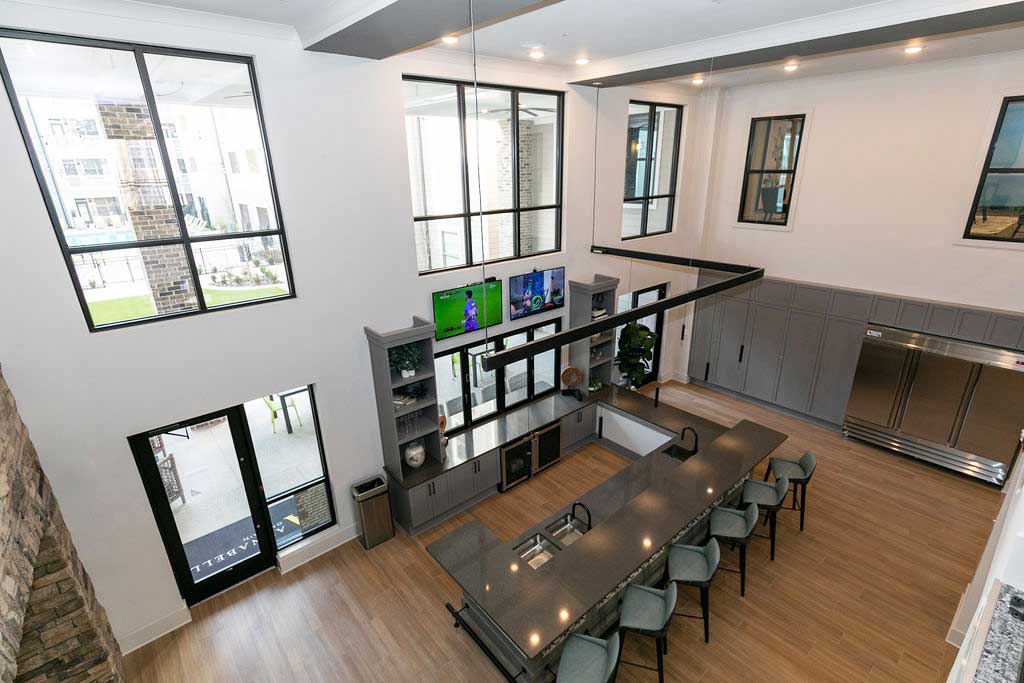 Monique Chandler, Community Social Director at Annabelle on Main shared a similar emphasis on providing personal contact with tenants. "Everyone has a wonderful product, but our staff is unmatched," noted Chandler. "We have staff here seven days a week, so residents know there is a presence all the time. Our staff wants to be able to connect with the people they are working with."
In addition to their own free continental breakfast, Annabelle on Main offers wine and cheese parties, walking clubs and trained fitness directors among the many included amenities.
Most 55+ communities set lower age limits, but the primary tenant must always be 55 years old or older. But it doesn't mean you are cut off from the younger world. "Our tenants are also highly engaged with their grandchildren," said Chandler. "We welcome their visits."
With a highly socially engaged community, Annabelle on Main notes there is something going on every day for their tenants that currently range in age from 55 to and amazingly active 92! Residents may be empty nesters or those seeking a change in lifestyle due to divorce or the death of a spouse.
McBride noted Everleigh provides assistance to residents who might need help adjusting to living in closer proximity to other people. "Some of our tenants have come from homes where they have lived for 25 or 30 years."
Attention to detail and quality of construction matter as much, if not more, to former homeowners. They are seeking a simpler way of life. "If something breaks down, they don't want to obtain three quotes for a repair," said Chandler of tenants at Annabelle on Main.
A new home and a new life
For Harold Shoulders, who moved into Everleigh Duluth last October, his top three priorities were the size of the unit — he wanted a spacious 2-bedroom, 2-bath unit — as well as proximity to golf courses and availability of nearby restaurants, shops and amenities.
Shoulders lost his wife of 50 years a little over a year ago. He looked at nine different properties, some in Greenville, S.C., before choosing Everleigh. His final decision was swayed by his granddaughter who lives in Johns Creek. She thought he needed to be closer to family despite his obvious good health and active lifestyle.
As one of the development's first tenants, Shoulders was able to pick the exact unit he wanted, a corner unit on the top floor with a beautiful view of the swimming pool and surrounding green space. He enjoys the amenities, especially the pool and fitness center, as well as game night and other social events.
"You never know where life is going to take you," Shoulders stated. To his surprise, he met someone unexpected while in the elevator one afternoon. A quick conversation led to a shared glass of wine and then — over the next months — lots of conversations and laughter.
Shoulders recently took a surprising next step and proposed to Christine. The two will be married later this year.
While finding new romance may not happen for everyone in 55+ communities, a simpler lifestyle with lots of options for intellectual and social pursuits can be expected.
As demand increases, new apartment communities are on the horizon for each Southwest Gwinnett city, and several are already under construction.##
---
Southwest Gwinnett Luxury Apartments and 55+ Active Adult Apartments
Here's a list of some of the apartment communities in Southwest Gwinnett are that are worth looking into. Visit their websites for details like availability, amenities and cost.
Luxury Apartments
2370 Main at Sugarloaf
2370 Main St., Duluth
herculesliving.com/apartments/ga/duluth/2370-main/
The Berkeley
2580 N. Berkeley Rd., Duluth
theberkeleyaptsduluth.com
Broadstone Junction
500 Thrasher St. NW, Norcross
broadstonejunction.com
The Brunswick
141 Holcomb Bridge Rd., Norcross
thebrunswicknorcross.com
Cortland Peachtree Corners
510 Guthridge Ct., Peachtree Corners
cortland.com/apartments/cortland-peachtree-corners/
District at Duluth
3465 Duluth Highway 120, Duluth|
districtatduluth.com
Highlands at Sweetwater Creek
2789 Satellite Blvd., Duluth
highlandsatsweetwatercreek.com
Parc85
2620 N. Berkeley Lake Rd., Duluth
parc85.com
The Rey on Reynolds
3360 Steve Reynolds Blvd., Duluth
thereyapartments.com
Rosemont Berkeley Lake
3475 Pleasant Hill Rd., Duluth
rosemontberkeleylake.com
55+ Active Adult Apartments
Annabelle on Main
2375 Main St. NW, Duluth
annabelleonmain.com
Everleigh Duluth
3215 Hill St., Duluth
liveeverleigh.com/communities/duluth/