Anglophiles can satisfy their passion for all things British at an Historic Norcross shop that has been around for more than 30 years.
When Brit Rukhsana Aguilar and her husband moved to the United States more than two decades ago, they settled in north Georgia and found the community friendly and comfortable.
As time went by, Aguilar, called Roxy by her friends, wanted to get away from the travel and stress of her previous profession as a corporate sales manager. So about 10 years ago, she purchased Taste of Britain from a woman named Edna Berkshire who'd been running it for about 20 years.
"It had already established a reputation, and it was in the same spot as it is now," said Aguilar. "I came in and did some modernizing but kept the same level of customer service and the same vendors."
Brits and Anglophiles find their destination
With Americans' obsession with all things British — from The Beatles to Ted Lasso — Taste of Britain has become a destination shop for Anglophiles across the country.
"There are other shops that specialize in British goods, but we hear from people all the time that they don't come close to our selection," said Aguilar. "People travel for hours to get to us. We have customers that come in from North Carolina, South Carolina, Alabama, Florida …they drive for hours. We have one lady that drives six hours to get to us."
Besides the anticipated fare, like proper English tea and the fixings for a real English breakfast, Taste of Britain offers some items from South Africa and an exclusive line of china made in England that's not sold anywhere else in the U.S.
Although you could probably bring in English tea, biscuits and sweets from a trip abroad, it's pretty impossible for a loaf of bread or a proper British meal to survive in one's luggage, said Aguilar.
"We sell a lot of frozen items that you can't get or can't bring with you," said Aguilar. "Meat pies, bangers, Bakewell tarts, Yorkshire pudding — things like that."
The store also has a service that can help trace ancestry through surnames. "We do what we call 'the Hall of Names Ancestry Scroll' where, if you've got a European last name, we do the certificate site where you can get your crest and the history on your last name," she said.
Aguilar looked up Broady and found an unusual Northern Ireland coat of arms.
(photos by George Hunter)
Truly authentic
Making sure that her products are the real thing is important — just as important as assuring people that she's "the real thing."
"Sometimes people ask me if I'm faking the accent," Aguilar laughed. "But it's authentic."
She was born in South London and when she was a child, her family moved to Colchester in Essex, the oldest recorded town in Great Britain. Although Aguilar doesn't sound as Cockney as Michael Caine, she's not putting on a show to sell merchandise.
At the end of the day, she said she enjoys interacting with customers and gets a special thrill when she hears someone screaming with delight because they've found an item they recalled from childhood or an exciting trip abroad.
"I really love what I'm doing. There's a sense of home for those customers that are the expats or the people that have lived in England," she said. "There's something comforting about being around the accents and everything you'd been used to growing up. …Bringing childhood memories is fun and a very satisfying career."
Anyone who's from Great Britain, had lived there for any amount of time or just wants to sample a different cuisine and find unique gifts can almost certainly find what they're looking for at the shop in Historic Norcross.
If you're not familiar with what HP sauce should go on, or what's the proper bacon for an English breakfast or the right cakes for afternoon tea, Aguilar and her staff can help you out.
"We do it all the time," she said. "We had one man who was a huge Ted Lasso fan and wanted all the food that they ate on the show."
And of course, Taste of Britain was able to accommodate him.
Taste of Britain
73 S. Peachtree St., Norcross
Open 10 a.m.-6 p.m., Monday-Saturday
770-242-8585, TOB@tasteofbritain.com
tasteofbritain.com
---
Daughters of the British Empire
After moving to Georgia, Rukhsana Aguilar discovered there was a Georgia chapter of The Daughters of the British Empire, a charitable, non-profit, non-political, non-sectarian, voluntary American society of women of British or Commonwealth birth or ancestry. Its members are professionals, businesswomen and homemakers with common interests and heritage, who meet regularly for business and social events with the common cause of philanthropy.
Founded in the United States in 1909 as the Imperial Order, Daughters of the Empire in the U.S.A., the organization became the National Society, Daughters of the British Empire in the U.S.A. in 1920.
"It was originally started to raise funds for English war brides who married Americans, moved to the States and were widowed when their husbands died in the war," said Aguilar. "So then, this wife was often left with no kids. When they got old, there was nowhere for them to go [and nobody to take care of them]. This senior citizens' home was created for them."
There are no more war brides now, but the home is still in existence. It is now open to everybody. "But we're still in the group, 20 years later, and we're still raising funds for this home that we support," she said.
A fundraiser tea earlier this year in celebration of Queen Elizabeth II's Platinum Jubilee brought in 160 attendees and raised about $6,000 for the charity.
A bit of trivia
Queen Elizabeth II is the longest reigning monarch in British history. Her Platinum Jubilee was the first in the nation's history. If she makes it to No. 75, it will be called her Diamond Jubilee; No. 80, Oak Jubilee; No. 90, Granite Jubilee.
Although the 100th anniversary is often called a centennial, experts predict that if she lives that long and remains queen, Brits will find a fancier name for the celebration of the woman who would be 127 years old.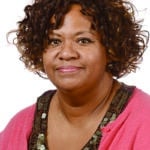 Arlinda Smith Broady
Arlinda Smith Broady is part of the Boomerang Generation of Blacks that moved back to the South after their ancestors moved North. With approximately three decades of journalism experience (she doesn't look it), she's worked in tiny, minority-based newsrooms to major metropolitans. At every endeavor she brings professionalism, passion, pluck, and the desire to spread the news to the people.