In a state resplendent with easily recognizable and long-time symbols of business, industry and commerce, it's no wonder that a strong brand logo means a lot here. The triangle or "widget" that represents Delta Air Lines, the green trefoil of the Girl Scouts or the fancy cursive lettering on a bottle of Coca Cola have evolved over the years to freshen up the image, introduce the brand to a new generation and/or include new facets of the company.
For similar reasons, owner North American Properties (NAP) has decided to redesign The Forum's emblem and give it a new logo and brand identity. The changes were announced at the Southwest Gwinnett Chamber of Commerce's First Friday Breakfast on Aug. 5. Similar to the previously mentioned companies, it's a subtle change that opens up new possibilities and conjures up an updated perspective on the familiar concept.
"We really have always approached our investments much more from a community perspective," said Tim Perry, managing partner at NAP. "We changed the jargon and our entire industry really started using words like 'community,' and marketing started using words like 'guests' instead of 'customers' and started using 'partners' instead of tenants and started referring to our own people as 'experience makers' and got so vigilant about it, we actually trademarked the words 'experience maker'."
For example, there are fitness classes every Wednesdays through summer and The Forum is back to sponsoring the annual Light Up the Corners Glow Run, a fundraiser for the Robert Fowler YMCA that takes place in August.
The new logo removes the sketch of the property and gives the name a slight change to "The Forum at Peachtree Corners." When the mall was built, Peachtree Corners hadn't yet become a city, so logically it was named The Forum on Peachtree Parkway at the time — but those times have changed.
Community mindset
"It really does start with the community," said Perry. "Despite what it had been called for 20 years, Peachtree Corners is now a city. …And it is time for us to embrace that. And that should be our identifier."
The Forum added an event called Friday Night Live that encourages gatherings for after-work drinks with colleagues, a night out with friends and family and a little tailgating before high school football games.
"Every Friday, now through the beginning of November, we'll have the event at 5:30," said Perry. "It's early so that everyone can come to The Forum to hang out with their friends meet up, drop off cars pick up cars — and there's live music!"
This is just another example of turning The Forum into a place for "experiences."
"There's plenty of parking… We want people to come and enjoy the property. And at the end of the day, what we want more than anything is really the traffic on the property," said Perry.
The old mall concept was a variety of retail offerings and that was pretty much it, besides seasonal activities like pictures with Santa or the Easter Bunny and trick-or-treating at various stores. Perry said the new way of thinking is to lure people to an event or a thing to do. If they eat at a restaurant, buy something at a store or utilize another service, it's an organic choice.
"We try to extend what we call the three-hour experience and make them last throughout an 18-hour day," he said.
For example, someone living in an apartment may come out at 6 a.m. to walk the dog and stop by a coffeeshop. Mid-mornings are time for workouts, such as Yoga on the Green or a toddler program where parents bring strollers. Around noon, nearby office workers may gather for lunch and there are early evening gatherings and dinners out. Maybe a light night crowd stops in after catching a football or basketball game.
"In essence, this is what we're talking about — connections," said Perry. "We look at our merchandising as not just putting in a food and beverage operator or retailer, but how do we create a vision for the property?"
The city weighs in
City leaders applaud the community approach to development that North American Properties is taking with The Forum and nearby properties. Still, they're cautious when approving any development. It has to fit into the Peachtree Corners Master Plan, and it has to make sense for current needs and those in the near future.
In July, city staff recommended approval of rezoning areas on The Forum side of Peachtree Parkway as well as a development of the Town Center side. However, the Planning Commission voted to recommend approval of the zoning request on The Forum side, but recommended denial of the request for rezoning on the Town Center side.
Although he's not a member of the Planning Commission, City Councilman Weare Gratwick was at the meeting and had conversations with its members and with officials at North American Properties.
"I think there was concern that — not so much on The Forum side, but on Town Center side — it was going back in history," he said. "The City Council had voted to zone that property to allow a hotel and apartments to go up at the same time. …But it expired at a certain date. Once it expired, it reverted to the original zoning, which was commercial."
In order to put in the Innovation Lofts project, which consists of apartments, North American Properties was required to seek rezoning. The plan is for apartments on the Town Center side and a hotel on The Forum side.
"That changes things," said Gratwick. "So, on the Town Center side, for lack of a better way of putting it, you have just an apartment building. And I think the concern was that there would be rental properties and no owner properties."
The positives of rental properties
On many occasions, Perry has explained his company's rationale for putting only rental property in close proximity to The Forum. "We need to have people coming to the restaurants three or four days a week," he said, explaining that with tenant turnover every two years or so, there will be a fresh batch of people who are more likely to eat out that often.
Young professionals, mainly single or empty nesters, deciding where they eventually want to buy a condo or smaller house are the target for those one- and two-bedrooms units.
"It's a downtown that has people who are there three or four days a week. It can support the population density which, in turn, supports the boutique that sells clothes, a candle store, a restaurant — those businesses need people over there all the time. They need a lot of traffic, a lot of energy," said Perry.
He cited Avalon as an example where, as the renters decided they wanted to be owners, a great many chose nearby neighborhoods.
Perry seemed confident that NAP and the Peachtree Corners government will find the right solution for new development. "We focus on places, not spaces — and community," he said. "We don't try to change what it is. …We just try to make it better."
He added that, in several decades, the needs and wants may be different. "One day someone is going to build something that's better than The Forum," he said. He encouraged city leaders to have an open mind then — like they have now — invest time and money into it and listen to what they community wants and needs.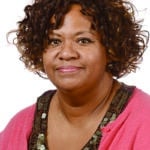 Arlinda Smith Broady
Arlinda Smith Broady is part of the Boomerang Generation of Blacks that moved back to the South after their ancestors moved North. With approximately three decades of journalism experience (she doesn't look it), she's worked in tiny, minority-based newsrooms to major metropolitans. At every endeavor she brings professionalism, passion, pluck, and the desire to spread the news to the people.