Oldest established community theatre in Gwinnett County
Here's the church. Here's the steeple. Open the doors and see Lionheart Theatre.
On a crisp October evening at the Rectory, a distinct, early 1900s era house on a hill with spires enhancing the downtown Norcross skyline alongside the old steepled church built in 1877 that now houses gallery space for the arts and Lionheart Theatre respectively, one can easily be transported to another time when the area was a popular destination for Atlantans escaping the city by train to stay at the Brunswick Hotel (demolished in 1951).
Polly Anne Lively, with her old southern charm and drawl (portrayed by actress Linda DeMaris) shines a light from her handheld lantern into the 1800s and 1900s, allowing onlookers — the audience — to witness the reenactment of true crimes and tragedies that befell some unfortunate souls who once inhabited Norcross and surrounding regions.
Lawless Spirits, co-sponsored by the city of Norcross, is a superb combination of history and the arts; it is valued live entertainment for many, as evidenced by the fact that all eight walking tours were sold out before rehearsals had concluded. A shoot-out in the street, a knife fight, a love triangle murder-suicide, a bride's calamity and untimely end are among the true stories uncovered by historian Gene Ramsey at the behest of Tanya Gilmer, thespian, founder, director, producer, seamstress and the heart of Lionheart Theatre.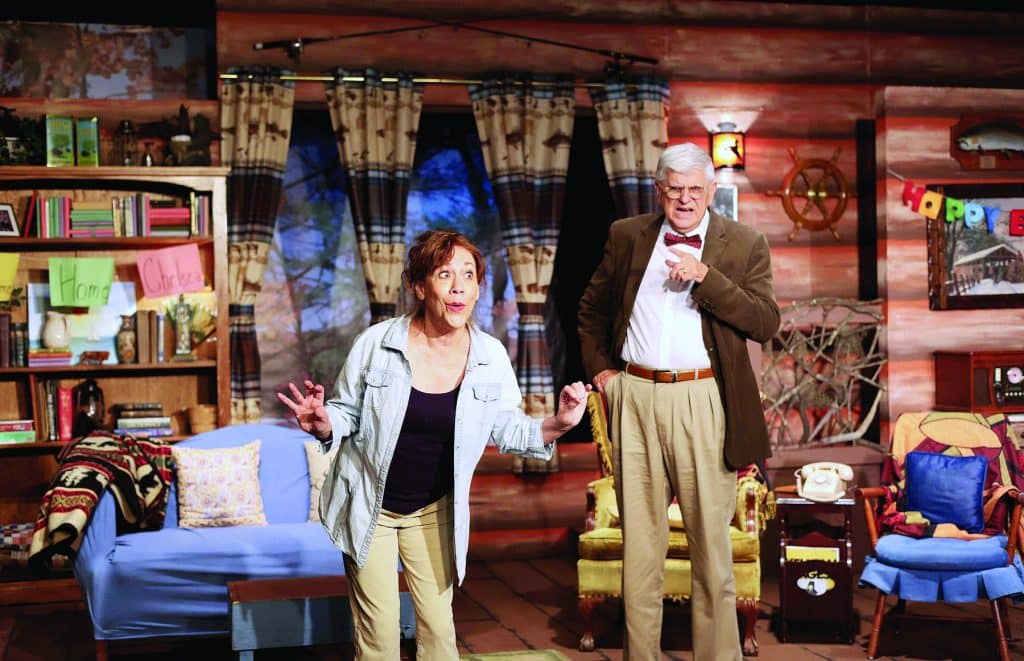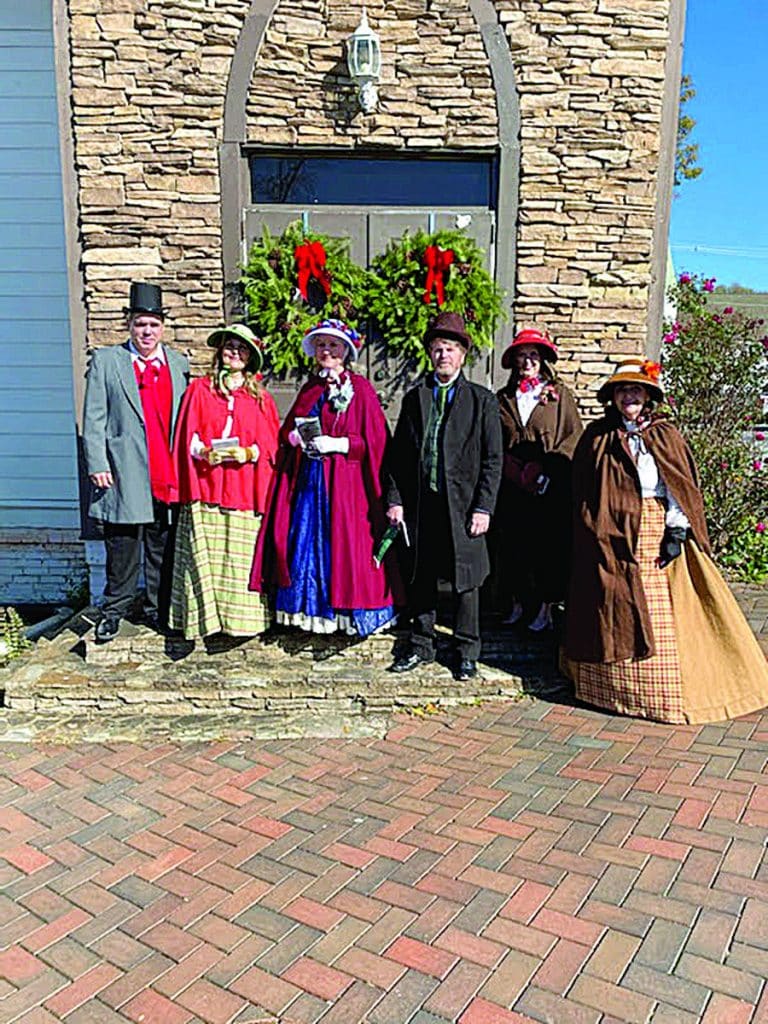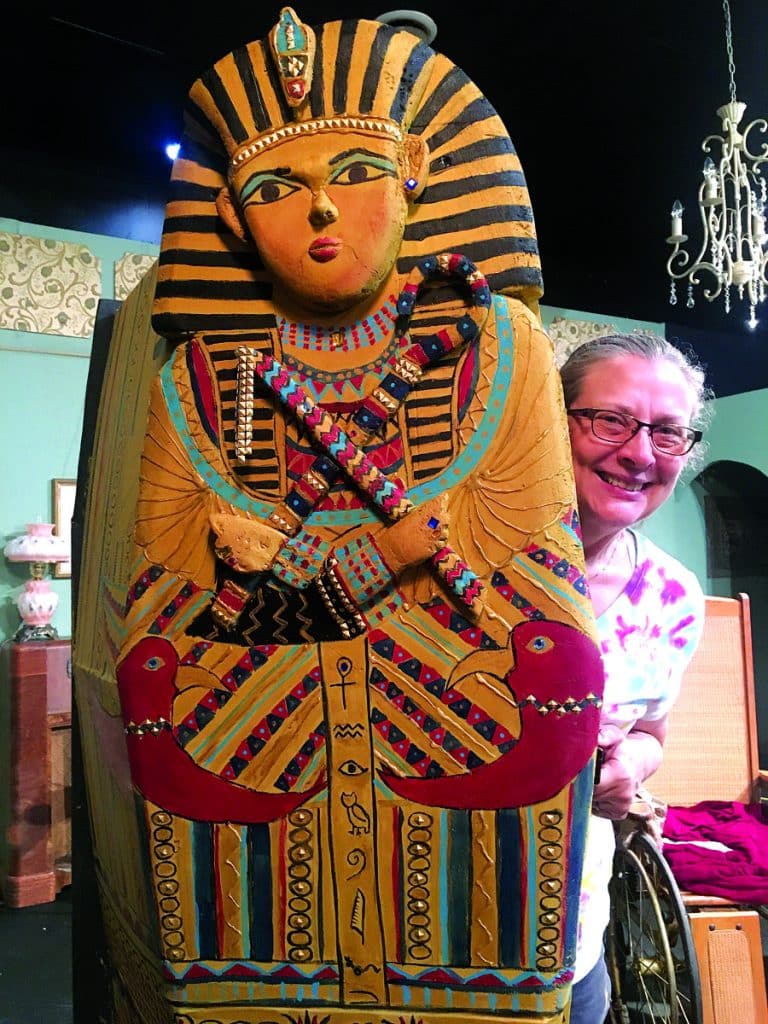 From intriguing little articles dredged-up from the past to live, on-location theatre, Gilmer enlisted some playwright friends to come up with scripts, allowing actors in period costumes to bring eerie, centuries old stories back to life during the ghostliest month of the year, October.
"We do two tours a night, Thursday through Sunday, but I'm thinking next year, this has gotten so popular, we may have to run it two weekends," Gilmer said. "Since the city sponsors this, the actors get paid, which is a rarity."
It's all out of love
How did Lionheart come to be the oldest community theatre in Gwinnett County? The stage has sparked excitement in Gilmer since her high school days in Connecticut. It became a second full-time job once she began helping with the Christmas nativity at Norcross Presbyterian Church.
They learned of her degree in communication arts and theatre from Georgia Southern College (now the University of Georgia Southern) and the Norcross Presbyterian Players troupe she had started out of her church in 1996 progressed from performing short skits to full plays, and then touring.
Gilmer had detected a need in the community for more drama — pun fully intended. They incorporated into Lionheart Theatre in 2000 with a built-in crew of people who were just as impassioned as she was.
"In those days I had to direct and be in shows. We didn't have a huge pool of people who wanted to audition. I still have some people from church who have been with me the whole time. No one gets paid a salary at Lionheart. Everybody is a volunteer; it's all out of love," Gilmer beamed.
Photographer Nancy Caldwell, Gilmer's former mother-in-law, takes all of their headshots and scene pictures. "It's a family affair," Gilmer chuckled.
Joe McLaughlin, prosecutor at Gwinnett State Court, believes theatre to be a vital part of the community. He's been in over 40 plays in 20 years at Lionheart and other theatres. He and his wife, Debbie met in the drama department at UGA and reconnected with acting as a way to have something to enjoy together once their children had outgrown being chaperoned to an exhaustive list of activities.
Debbie played Mrs. Ray in Lawless Spirits. Joe tended the bar in the Rectory. He's adjusted over the years to being overlooked for the love-interest roles he once played, like Bert Jefferson in "The Man Who Came to Dinner," and being deemed a better fit for more mature characters like that of Dr. Bradley. "I've had a great time with it. Now I call it looking for parts for old farts," he jested.
Award-winning Set Designer Tanya Moore had a "paying career" in IT for 33 years. She's volunteered building and decorating sets for 22 plays over the past seven years, joining the Board in 2019. Her favorite sets entail research to accurately represent period-specific decor and props.
"After so many years of working with my brain, it's a real treat working with my hands to create concrete, if terribly temporary, things. This is the lowest paying and most satisfying work I have ever done," Moore shared.
The reaction of actors and directors who get to "live" on the sets she's created tickle her. When asked about her process she said, "I start by reading the script for the basics: location, time period, economic status, number and placement of windows, doors, stairs. I then meet with the Director to get their vision," she said.
"Then, back to the script for furniture and props needed and how they'll be used. Need a coffee table strong enough to dance on? A trapdoor for an actor to "disappear"? …Last, I attend as many rehearsals as possible to hone the design and react to the actors' needs."
Photos by Patrizia Winsper
The show must go on
Before its current location at 10 College Street NW, where they've been for the past 12 years, Gilmer and her team performed wherever they could. For two years they sat 40 people in the tiny gallery next to the Iron Horse Tavern.
When the city purchased the chapel on the hill, they invited Gilmer to consider it as a location for her playhouse. She replied, "I don't even need to come see it. Let me have it!"
It took some work and creativity to turn the 19th century church into a theatre with a maximum seating capacity of 80 while simultaneously performing. The HVAC closet was converted into a box office. Risers were installed, 10-foot-long pews were replaced with comfortable chairs.
The city stepped in to build a stage. Two former pastors' offices were made accessible; they now serve as dressing rooms.
"We just wanted a roof! A permanent home builds your audience," Gilmer said.
In fact, merchants have noted the theatre's popularity. People who had never heard of Norcross were suddenly coming for dinner and a show. It's promoting the city. Restaurants take on extra staff when a show is coming because they get busier. Merchants are invited to offer discounts for audience members on show days.
However, Gilmer also pointed out, "We still have people who live in Norcross and don't realize we're here."
Patronage pays
Proceeds from ticket sales pay for the next show, the rent, classroom and rehearsal space, stipends for directors, tech people and sometimes actors, royalties paid to publishers for the use of each play, climate-controlled storage facilities for costumes, sets, props, furniture, walls and stairs.
A portion of sales goes back into supporting the community in the form of donations and drives. Gilmer believes the rent paid to Norcross for the theatre goes into a budget used to further the arts in the city. "Art for Art," Gilmer smiled.
If Aunt Caroline (portrayed by Valarie Taylor in Lawless Spirits) were reading your fortune as she famously did at the Brunswick Hotel in the 1900s, she'd tell you it's time to go to a show! You can't beat the price: $18 for adults, $16 for seniors and students, $14 for parties of 10 or more, $120 for a Flex Pass — 10 tickets to use however you choose. And dessert is included!
Gilmer would also encourage you to support local artists and businesses. "We may not be the Alliance, which is fantastic, or the Aurora Theatre, which is phenomenal, but there's some good stuff going on, some good talent that should be seen and celebrated. We just had one of our kids in Mary Poppins at the Aurora. He was amazing."
Have Lionheart add you to their quarterly e-blast newsletter. Norcross residents can keep an eye open for upcoming shows in the city's newsletter and on their utility bills.
Lionheart's sweet tooth
A dessert theatre? Indeed! Continuing a tradition stemming from their early performances at church dinners, Lionheart has always served dessert. Be treated to cake or pie, coffee and water. Donations are accepted for beer and wine.
Audiences select what they want from among plated slices of cake and pie to be enjoyed outside, at their seats or in the large lobby shared with the Norcross Cultural Arts Center as they peruse the art exhibits.
Regulars look forward to this sweet tradition and Gilmer is happy to oblige them. "The other night a man came in with his wife and asked, 'What's for dessert?' The minute the lights came on for intermission he said, 'PIE!'"
Family friendly thespians
For the most part, community theatre actors are individuals coming back to it after having been involved in high school or college, after they've had careers, kids and retired. Or, they have day jobs, and this hobby works for them.
Gilmer is adamant about directors keeping rehearsal schedules that are not too disruptive to family life for the talent — three nights a week for three months, as opposed to every night. Daily rehearsals are required only during the final two weeks with sound, lights and costumes.
"In the last five to 10 years, there's been an influx of younger actors wanting to build their resumes and move on to being professional. We've got a kid on Broadway now who came out of our acting classes," Gilmer said.
All volunteers are welcome on Lionheart's stage, including those who've never acted before. Auditions are posted on their website: lionhearttheatre.org.
Acting classes
Instructors Marla Krohn, educator, and Krista McGhee, musical theatre performer, have both volunteered in Lionheart shows. Children aged 8 to 16 can get a taste of the stage by taking Lionheart acting classes or participating in camps.
There's a holiday musical theatre camp coming up the week between Christmas and New Year's. Parents can sign their children up on the website.
In musical theatre, kids learn songs and how to incorporate them with lines, how to memorize lines and stage combat, or fake fighting. Fall musical theatre and drama classes are held for two hours on Thursday evenings.
The theatre's Summer Camp in June is two to three weeks long, with a variety of classes offered throughout the day.
"We encourage kids to audition. One of our summer camp participants caught the bug and wanted to do more. He's on Broadway now, with 'A Raisin in the Sun,'" Gilmer said.
One-night stands
In lieu of renting the theatre out to other groups, outside players are offered opportunities to perform one-night stands at Lionheart on whatever set is up at the time. The next one is, "Wet Hot American Psycho" by Mighty Shorts Comedy Collective on October 22.
Lionheart will sell concessions and split the door with Mighty Shorts, since the theatre does the marketing and runs the tickets.
"We've had open mics, play readings, musicians. It's good for us, for the community and for the people who don't have homes but want to perform their art," Gilmer explained.
Some upcoming events
November 4-20: "A View from the Bridge" by Arthur Miller. The ultimate betrayal — it's not a comedy.
December 8-18: "The Lion in Winter" by James Goldman. Katherine Hepburn and Glenn Close did the movies. Spend the Christmas of 1183 in a castle with a royally dysfunctional family.
January 13-22, 2023: Ten-Minute Community Theatre Play Festival. OnStage Atlanta, Merely Players Presents, Live Arts Theatre and Main Street Theatre join Lionheart in showcasing all-new 10-minute comedic plays written by local playwrights. It's an opportunity for the Norcross community to see what other companies can do, and for their audiences to come see Norcross.
March 3-19, 2023: "Deli" by local playwright Diane Dexter. A world premiere, it's never been staged before. Chains are killing a family-owned business. Is it time to hold on to the past, adapt to the present or bag it?
What the Dickens?
Gilmer credits the city of Norcross for supporting the arts and specifically, Lionheart Theatre. "The city has been very generous with us. Our rent is pretty low, compared to other theatres that have gone under because their landlords were a strip mall or someone who couldn't understand that community theatre has its ups and downs," she said. "We wouldn't be as popular or as successful without the city."
The next opportunity to see Lionheart Theatre actors meandering around the streets of Norcross will be in December. They'll be dressed in Dickensian costumes, Christmas caroling around town, while city retailers host their holiday open house. Don't miss the magic!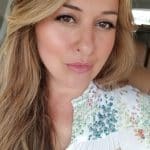 Patrizia Winsper
Patrizia hails from Toronto, Canada where she earned an Honors B.A. in French and Italian studies at York University, and a B.Ed. at the University of Toronto. This trilingual former French teacher has called Georgia home since 1998. She and her family have enjoyed living, working and playing in Peachtree Corners since 2013.