How to Fete in Southwest Gwinnett
Photography for Aomi and The Imperial Fez by George Hunter. Other photography is provided by individual businesses.
"It's party time. P, A, R, T…Why? Because I gotta!"

— Jim Carrey in the movie, The Mask.
We've embraced life's celebrations since time immemorial. After having been robbed of them to varying degrees over the last couple of years, fêting with our loved ones rouses more powerful jubilation than a pressure cooker on the highest setting, finally able to release steam. It's a fundamental part of the human condition to want to share our greatest joys and lowest slumps with people we care about.
Hence, I made it my personal mission to get acquainted with how and where we can finally come together and revel with colleagues, family and friends for any occasion. The unique options and venues available to us in Southwest Gwinnett won't cramp anyone's style, OTP (outside the perimeter of I-285) or otherwise. Allow me to share a smattering of them with you and let's have some fun!
Let Caterers Bring the Party to You
Figaro qua, Figaro là.
How many caterers can also be hired to sing an aria from the Marriage of Figaro or Madame Butterfly at your special event? Not many, but lyric soprano, Melissa Gunderson of Morsels by Melissa can!
Wedding Reception with plated Ceasar Salads. Plated Flourless Chocolate Cakes with Raspberry Coulis. Photos courtesy of Melissa Gunderson
After a decade of performances as an opera singer, moonlighting with illustrious catering companies and working as a personal chef for three years, Gunderson was ready to head home to Georgia, satisfied with the bite she had taken of the Big Apple. Leaving the bright lights of New York behind, Gunderson also set out to abandon the rigors of practicing and traveling to make a living in a manner more favorable to family life. So, she tapped into her passion for cooking and baking full-time.
Tasty morsels
Today the artistic show she finds gratifying is the presentation of her American gourmet cuisine crafted using time-honored French techniques. She loves the whole preparation process; chopping, slicing, dicing, marinating, grilling, smoking, making sauces.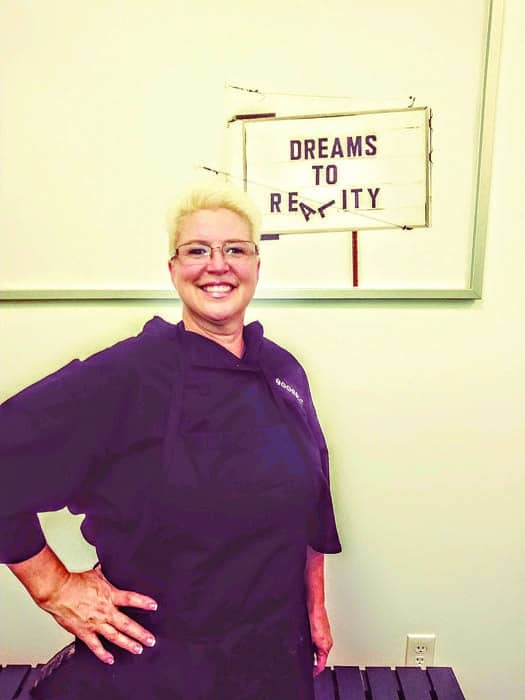 "Everything is from scratch — sauces, marinades. I butcher meat, not from the animal — I clean tenderloins, cut pork chops, carve my New York strip steaks from a 20-pound loin. I also smoke my own meats," she said.
Gunderson delights in seeing party guests rave about her food. Since 2000, Morsels by Melissa has been providing catering for any type of event, from family gatherings of 12 to corporate cocktail receptions and weddings of 300.
Do you require a special occasion picnic basket, boxed lunches, a buffet or a seated dinner, a simple food drop-off or full five-hour service? Gunderson can deliver in all scenarios with your cuisine of choice: Southern comfort food, Italian, French or Asian. It can be a casual affair or a fine dining experience. Gunderson's team has you covered, right down to floral arrangements, themes and tablescapes.
When food is flexible
Gunderson's menus can be adapted to each client's wishes and dietary needs. Restricted diet options are not a problem. When you plan a party with Morsels by Melissa, you'll speak directly to the owner herself, who oversees every last detail.
Popular event menus include pepper seared filet with cherry sauce, potatoes au gratin, grilled vegetables, green beans and chocolate cake with raspberry coulis. "My turkey burgers are like no other burger you've ever had; people love them — and my chicken salad. They're on every family meal menu," Gunderson said.
Fun facts
At 16, Gunderson was already an accomplished pastry chef, so it's no surprise that she makes tons of delectable desserts and cakes.
You can join her email list at morselsbymelissa@gmail.com to receive monthly meal menus which can be ordered for pick up or delivery.
All over the charcuterie board
[Editor's note: since publication, this establishment has closed] , this Did you know the newest maven of prepared food in Peachtree Corners, Evan Hanson of Evan's Urban Market, can also cater your next corporate lunch, birthday, bridal or baby shower, graduation or holiday party for up to 200 guests? Hours of operation are Tuesday through Friday, 7 a.m.-6:30 p.m.; and 8 a.m.-2 p.m. on weekends. Catered events can spill outside of those times.
This chic, urban style market provides fresh breakfasts, lunches and dinners that you'd make for your family yourself — if you were an excellent cook and had the time or the inclination. "It's homemade food that you don't have to make," Hanson explained. She also bakes custom cakes, cookies, pastries and desserts that you only wish you could make.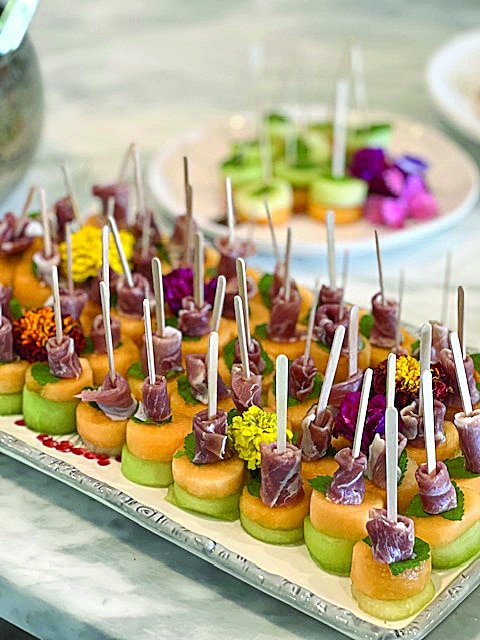 You may know someone deserving of fresh, superhero-themed doughnuts, or want some healthy prepared bowls to grab-and-go for yourself and those counting on you for their sustenance. Allow this mighty market to save the day.
Bonus: Pop-in to find some neat, locally sourced gifts because you're never too busy to be thoughtful.
This little market went to the party
Hanson's catering selections are trendy and elegant. "We can do appetizers to desserts, and anything in between," Hanson said. Her team will set out boxed lunches, appetizers, finger foods, or create and replenish hot buffets at your event. How would you like some dainty amuse-bouches, a grazing table, a colossal charcuterie board, bite sized chicken and waffles, or creamy garlic chicken at your next party? Perhaps you'd like to offer guests a taco, Mimosa or Bloody Mary bar?
Hanson is a pro at accommodating gluten free, keto, vegan, vegetarian, pescatarian, dairy-free and just about any other dietary restrictions. Usually, her food is picked-up or delivered, but she can provide patio and limited indoor seating on site.
When it comes to catering, this is how they roll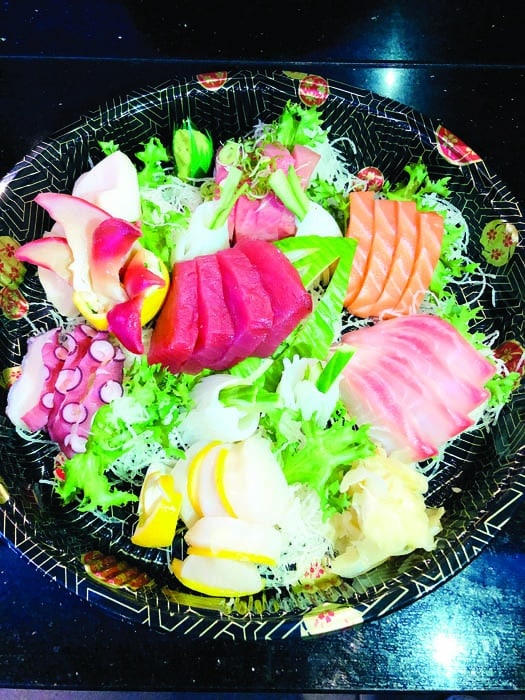 Manager Joyce Yuan at Sushi Osawa aims to meet your catering needs safely, with a commitment to providing good food and service. "We have successfully catered parties from corporate luncheons to birthday parties, grad parties and more. Our team members are here to help with your menu selections and unique needs," Yuan said.
With little advance notice required and menus for every event, from individually packed sushi, hibachi, poke or ramen boxed lunches to party trays, big or small, you can easily have your next shindig catered by Sushi Osawa and serve your guests centuries-old Japanese cuisine so beautifully arranged and presented, it looks like a work of art.
Hours of operation are Monday through Thursday, 11 a.m.-9 p.m.; Friday and Saturday 11 a.m.-10 p.m.; and 11 a.m.-8:30 p.m. on Sundays.
Keep it simple and fresh like sushi
You and your guests can enjoy appetizers like spring rolls, fried calamari and tempura. Catering packages combine appetizers, entrees, sides and sushi platters. Picture colorful trays of rolls, nigiri (a raw slice of fish like salmon or blue fin tuna atop a pillow of vinegared rice), sashimi (thin, raw slices of fish), hibachi with seasonal vegetables and fried rice. Flavorful salads and desserts are also available. Oishī! (Delicious!)
Visit ezcater.com/catering/pvt/sushi-osawa-norcross to select your desired catering packages. Orders over $100 can be delivered.
If you're also in need of a venue, six to 100 people can be accommodated for private events at Sushi Osawa. For parties of 60 or more, the whole restaurant would need to be reserved with a minimum spend of $25 per person. Tables and chairs can easily be rearranged to adapt to any group size.
For those who want to dance to a different tuna, let's visit some other interesting sites for our Southwest Gwinnett socials.
Host Parties at Unique Locations Around Town
From flaming onion volcanos on a hibachi grill to fiery swords balancing on the heads of hip-swaying belly dancers, there's no shortage of diversity and variety in Southwest Gwinnett, where you will find the perfect event space for any kind of party you can conceive.
Follow me for a glimpse into some neat locations I discovered around town!
Peachtree Corners
The only full-service Marriott in Gwinnett County
Catch a ride on an autonomous vehicle to the renovated Marriott on Technology Parkway. The hotel bustles with referrals for wedding room blocks, bridal suites, rehearsal dinners, welcome receptions and farewell brunches being that it's surrounded by wedding powerhouses like St. Ives Country Club, Spring Hall and the Atlanta Athletic Club.
Left, Wedding Salon at The Marriott Atlanta. Right, A winter look at The Marriott Atlanta.
It's open 24 hours a day, but the sales team can be reached Monday to Friday from 8:30 a.m.-5 p.m. Catering Sales Manager Christina Mathews has overseen thousands of events — mitzvahs, sweet 16 birthdays, nuptials, baby showers, holiday parties, family reunions and meetings.
"We have 5,000 square feet of adjustable meeting space, from boardrooms to ballrooms. Our 2,816 square foot ballroom can accommodate standing-only receptions of 300, 150 people seated at banquet rounds with a dance floor," Mathews said. "We also have a beautiful courtyard with a fire pit that can host ceremonies or cocktail receptions for 100 or less. Our garden area can accommodate 80 or less for a ceremony. Our secluded boardroom has natural light, sits on the second floor and can host nine guests in nice office chairs."
Perks like certified planners and more at the Marriott.
Get professional help with every detail, including budget, table arrangement and settings, vendors, entertainment and selecting a menu.
Known for authentic Southern cuisine, Executive Chef Kenny Botte creates guest favorites like Apple Glazed Salmon, Thyme and Caramelized Shallot Chicken Breast, Smoked Manhattan Rubbed Beef Brisket and Crispy Brussels Sprouts with Maple Gastrique and Sunflower Seed Gremolata. He prepares vegetarian, pescatarian, vegan or kosher requests and creates substitutions for those with peanut allergies and gluten intolerance. Outside catering is permitted for guests who would like a particular chef or ethnic cuisine.
Personalize the space with décor packages that include upgraded chair covers, satin overlays and up-lighting. AV equipment and high-speed Wi-Fi allow for sentimental slideshows to enhance the experience. Virtual access is available for those who can't attend the event in person.
The perfect sear for a smoking soirée
Kick off your next polished, casual event at Firebirds Wood Fired Grill at Town Center. The restaurant has been named one of ten 'Breakout Brands' by Nation's Restaurant News and Diners' Choice by OpenTable.
Nothing beats the flavor of food infused with the aromatic compounds of wood smoke served fresh off the grill. It's a terrific venue for birthdays, anniversaries, wedding and baby showers, corporate or civic gatherings. The intimate enclosed patio with garage doors, TV screens, ceiling fans and heaters is carpeted and accommodates up to 22 people for a private function.
Left, Filet and shrimp at Firebirds Wood Fired Grill. Right, Striped bass at Firebirds Wood Fired Grill.
Group dining menus are fully customizable and include vegetarian and gluten-free options. Enjoy a selection of mouthwatering choices like succulent shrimp-topped filet mignon, grilled chicken, baby back ribs, seafood, seasonal fresh vegetables, house-made tater tots and cider slaw. The kids' menu offers an assortment of delicious choices certified by the National Restaurant Association's Kids LiveWell program.
For Group Dining menus, visit peachtree-corners.firebirdsrestaurants.com/menus/group-dining.
"A fabulous dining experience is what Firebirds is all about. We host many private meetings and parties throughout the year. We love making special events come to life at the restaurant," said Marylou Metivier, Managing Partner. Metivier recommends calling or emailing to book an event at least two weeks in advance.
Catering options? Fire away!
For those who'd prefer to bring the special touches of Firebirds Wood Fired Grill home, the restaurant offers an off-site catering solution that makes planning a party a piece of cake. For more information contact Marylou Metivier at 770-225-4662 or marylou.metivier@fbgrill.com. Restaurant hours are Sunday through Thursday, 11 a.m.-10 p.m.; Friday and Saturday, 11 a.m.-11 p.m.
Not stage, Stäge!
Perhaps the most mispronounced eatery in town, Stäge is one of the newest on the Peachtree Corners restaurant scene. Early in their careers, chefs work as unpaid interns to learn new techniques under accomplished chefs they admire. It's a transfer of skill, knowledge and passion that occurs during a young chef's stäge, from the French word for apprenticeship.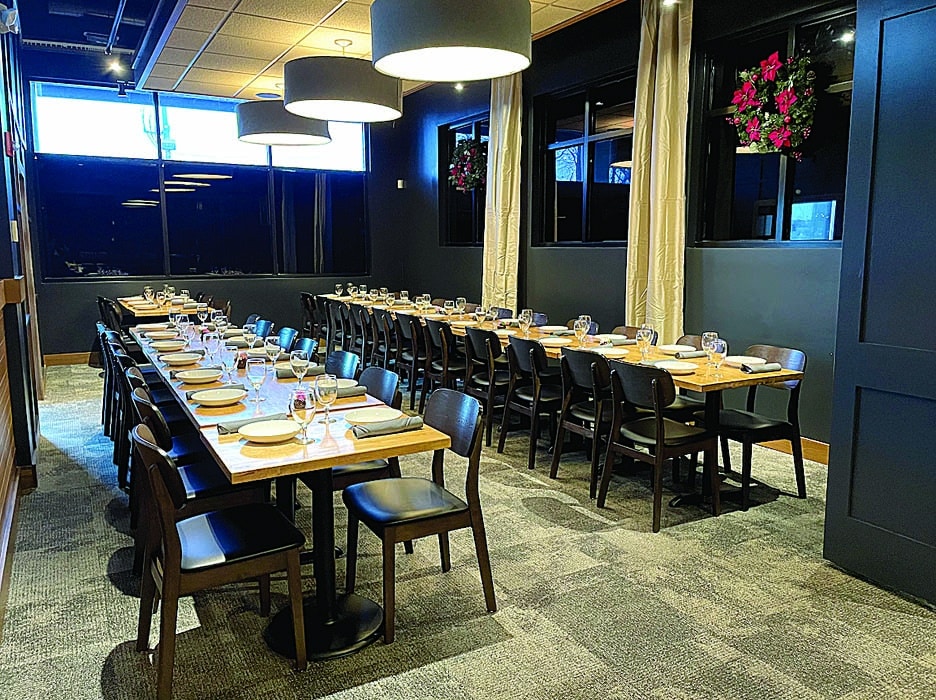 It's pronounced "staahj" — and it's time we get it right. They've been in business for over a year. Here's some help; hear the proper pronunciation at howtopronounce.com/french/stage/ by clicking on the arrow next to the word.
That ambitious spirit to try new things of a budding, adventurous chef is likely what's behind the seasonally changing menu, its international cuisine and the name, Stäge Kitchen & Bar.
You had me at seafood, steak, pasta, global tapas and elevated sushi
Director of Operations Raquel Stalcup provided guidance on hosting parties at Stäge. Their broad bill of fare is sure to have something for everyone.
"Our set menus are highly customizable and provide a variety of our most popular items. They can be two to five course menus. The menu selected most often is our three-course menu of starters, entrée and dessert," Stalcup shared. Dietary needs can be incorporated into the menu design.
One may elect to host a seated or reception-style party at Stäge. Two private dining rooms seat up to 36 guests each. For larger parties of up to 70, a door opens to combine the two spaces. The patio is large enough for 60 guests, seated or standing. The area between the bar and kitchen can also be used to host happy hour or cocktail style events.
Restaurant hours are Monday to Thursday, 11 a.m.-10 p.m.; Friday and Saturday, 11 a.m.-11 p.m.; Sunday, brunch 11 a.m.-3 p.m. and dinner 4:30 p.m.-9 p.m. If you'd rather have Stäge come to you, they do offer drop-off or off-site catering and service as well. Magnifique!
Toto, I've a feeling we're not at a typical party anymore
Be the star of your next function by treating invitees to an elevated movie screening experience as part of your celebration at CMX CinéBistro. Show the latest movie, bring your own content for special programming or play video games on the big screen, all in 4K digital projection and 7.1 surround sound.
Left, the Private Dining Room at CMX Ciné Bistro. Right, Cheese Board setup
All sorts of get-togethers can take place here: book clubs, birthdays, professional conferences, cocktail and dinner parties. Find comfortable, reclining theatre seats, movie concessions like popcorn and candy, a chef-crafted menu, beer, fine wine and hand-crafted cocktails for the ultimate in-theatre dining experience.
Alternatively, you can have lunch or dinner at the restaurant or bar, or in the private dining room before the movie begins.
A fête worthy of the big screen
Vice President of Culinary Development Andy King opened the curtain on their private party options. "We offer customizable service for any type of event, such as passed small bites, plated dinners or the classic buffet," he said. "Our highly skilled bar staff can create custom cocktails to really make your event one of a kind."
Gluten- free and vegetarian options are offered. CMX CinéBistro at Peachtree Corners can also adjust menus to meet food restrictions.
Prepare for a fine dining experience here with dishes prepared in a scratch kitchen. It's a restaurant that also shows movies with better sound and picture quality than you'll ever have at home.
King added, "Food is something that brings people together and it's a way to share and celebrate our diverse cultures. New American cuisine, to me, is the very definition of that. It is a melting pot of comfort food with a global influence."
Shelley Korenbrot, Atlanta Area Events and Sales Manager, recommends booking seven to 14 business days in advance. The number of guests and the movie start time will determine your party's timeline. The facility is equipped with "…six theatres; three screens have 101 seats and three screens have 95 seats. The lounge area — where guests can sit in booths, at tables or stand and mingle — can hold up to 150 guests. The private dining room can hold a standing reception for 20 guests or up to 15 seated guests," Korenbrot said.
There is something extraordinarily luxurious about feasting on delectable beef sliders or pan-seared Atlantic salmon on a convenient swing-arm personal table while sitting in a plush leather seat watching a movie shown with state-of-the-art projection and audio. Your guests will never forget this epic experience at CMX CinéBistro.
Another kind of dinner and a show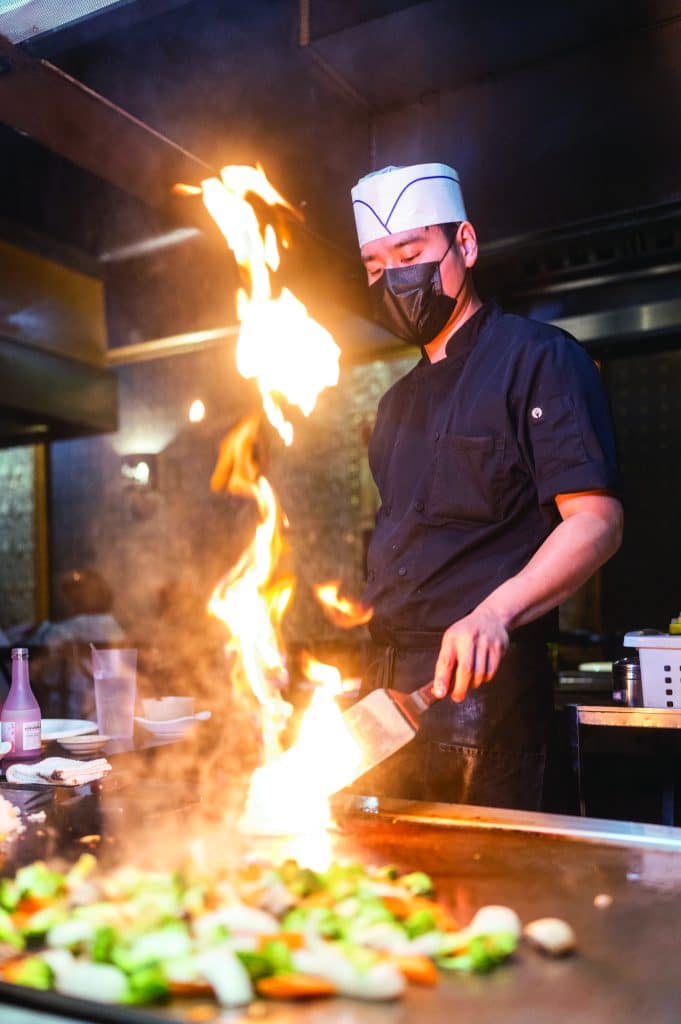 Aomi at the Forum serves up dinner and a show, consisting of chefs skillfully wielding spatulas during a sort of live cooking show enhanced by a pyrotechnic performance as guests look on tableside. It's Japanese cuisine on fire — literally. Hibachi means "fire bowl." Watch as steak, chicken, salmon and lobster are prepared on the hibachi grill with fried rice.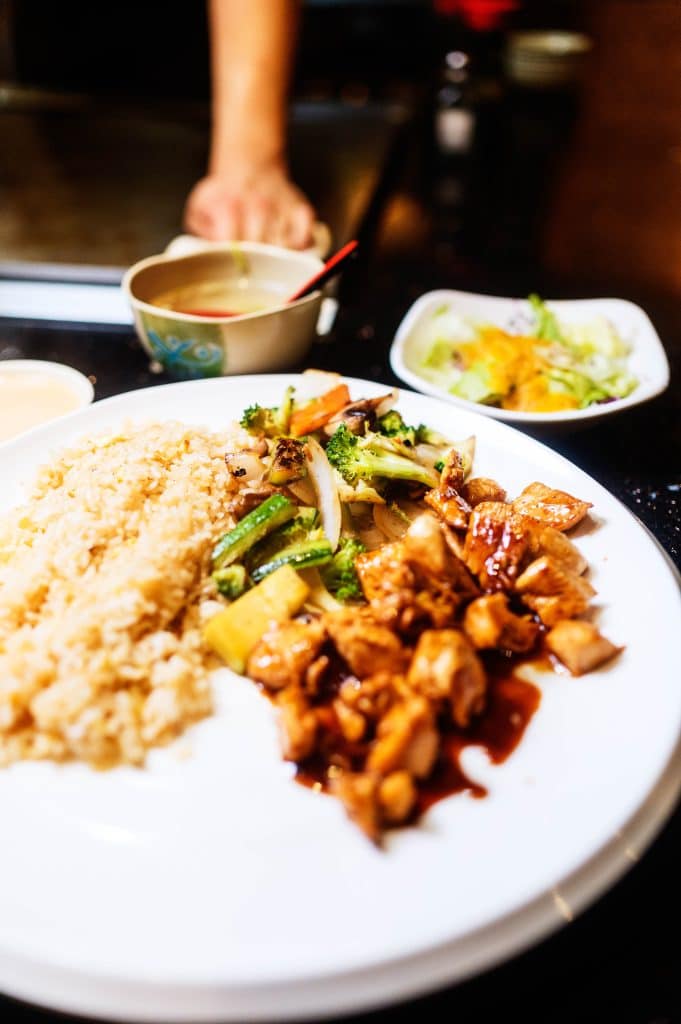 A sushi bar is also part of the Aomi experience during both lunch and dinner. They prepare all your favorites like sushi rolls, sashimi, nigiri and udon noodle dishes.
"What's special about a hibachi party is the social aspect of a large group getting together to have really amazing food and creating memories at the same time. It's entertainment. We provide the best quality we can," said Manager Kenny Park.
Gather by the fire to eat and drink
You can have up to 110 guests around different hibachi tables sectioned off for your private event. Parties of up to 140 people can be accommodated in the restaurant. A buyout option is contingent upon the size, start time and duration of your party.
Manager Scott Choi suggested grouping guests according to food allergies or sensitivities so one grill can prepare vegetarian meals only, for example. Business hours are Sunday through Thursday, 11 a.m.-9 p.m.; they're open until 10 p.m. on Friday and Saturday. Aomi often delivers to places of business during the week.
Norcross
Experience and elegance meet imagination
Gerise Janousek, Special Events Coordinator at 173 Carlyle House, says of this charming historic house in Old Norcross: "We are a family-owned business that has been doing this for 32 years. We have …long-standing staff that has been in the service industry for years. Delicious food is made on site by our chefs …in the restaurant business in Atlanta for over 50 years. We have spaces for all size parties that can accommodate any vision one may have."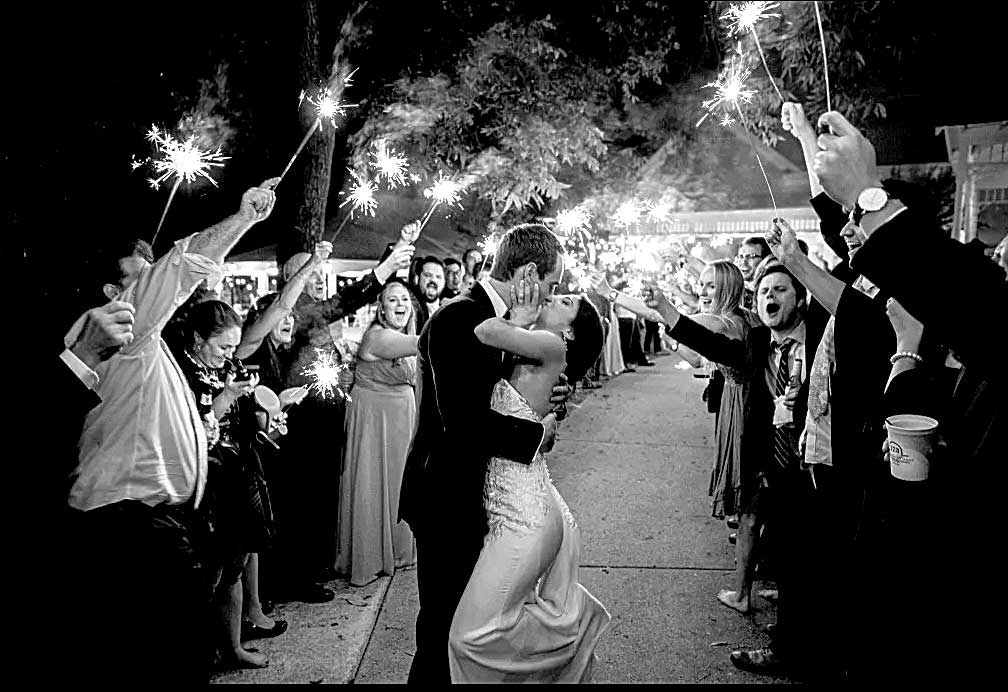 Any special event, from 20 to 450 people, can be hosted here. One hundred people can be accommodated for a seated dinner in the old house. The ballroom and terrace each hold 200 people, seated. Elegant surroundings, tall magnolia trees and nicely landscaped outdoor areas make this an ideal location for celebrations.
Vegetarian and gluten free options are available at 173 Carlyle House. Clients may discuss having certain cultural dishes brought in with their event coordinator. Delicious and attractive custom cakes are also made in-house. Schedule a tour of the facility Monday through Saturday by appointment only.
Fête in style at a stunning estate
The Atrium in Norcross is a two-story, white neoclassical building. Three of the ballroom's four sides are floor-to-ceiling windows overlooking an elegant courtyard and a quaint and unexpected Italian marble gazebo adorned with flourishing greenery.
The garden and ballroom are ideal for ceremony and reception spaces. The outdoor space is used during most events, whether for seating, highboys, an hors d'oeuvres table or a second bar. A built-in contingency plan to set up inside means you'll never have to worry about inclement weather; the final decision can be made as late as two hours prior to start time.
This dazzling property screams wedding, but General Manager Kristin Mintz shared the ins and outs of hosting a party at The Atrium, revealing it's the ideal location for any private, all-inclusive affair, such as birthday and retirement parties, company galas and and even celebration of life events.
There's a maximum capacity of 150 for a seated/served meal or a mingling cocktail reception. Starting packages include a buffet. Seated dinners allow the chefs to be more creative when plating. Sometimes buffet stations are added — for late-night snacks, for instance. An event revenue minimum, based on the season and day reserved, must be met.
You may tour The Atrium Tuesday through Saturday, by appointment only. Venue incentives are available for select dates with tons of customizable options for couples to chose from. Brides looking to get married in 2023 need to act quickly.
Everyone is still making-up for lost time since the great isolation of COVID-19, so for the prime months of September, October, May or June, it's safest to book a year in advance. "In this market, everything is booking up so fast. We're booking into 2024 right now," Mintz said.
Not just a pretty place
"Our food is locally sourced, but internationally recognized. We run the gamut, from Southern staples like fried green tomatoes, mac and cheese, fried chicken and pulled pork all the way to more eclectic options from around the world," Mintz stated. "A favorite is our Poke Station, which was created after the company owner traveled to Hawaii and was able to learn the secrets from local chefs. In order to create authentic Indian cuisine, our chef de cuisine spent time in India, which resulted in a delicious Indian fusion that has become very popular."
The chefs are comfortable providing gluten-free, vegan, dairy free and vegetarian fare. The experts here handle everything: cakes, desserts, florals and design, food, beverages and rentals like lounge seating and up lighting to make the room glow.
The Atrium is a powerhouse, thanks to the quality of its food and capabilities of its design studio. But Mintz credits her devoted team the most. "Our people make us stand out. They really make the event special; they love what they do. Several of our clients have all their children get married at one of our properties," Mintz smiled.
Make up for lost party time
This recently updated hotel offers 9,000 square feet of elegant, modern event space and aims to exceed expectations. Banquets for 20 to 500 guests can take place at the Crowne Plaza for any occasion imaginable. For standing-only reception-style events, up to 1000 people can be accommodated.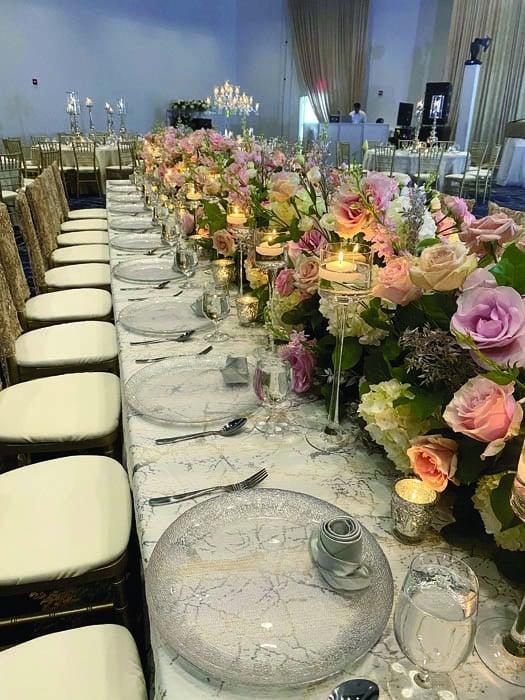 "Our menu varies from classic Americana to Caribbean, Italian, Ethiopian, street tacos and paella," said Director of Sales and Marketing Christina Howell-Scott. These can be served plated or buffet and reception style with unique action stations available. Groups may bring in kosher or Indian cuisine, provided they present the proper licensing.
Howell-Scott stressed the importance of booking your event the minute a date is set.
Ivy Tea House —Atlanta Tea House + Event Space
ivyteahouse.com
Par-tea with pinkies up!
My girlie eyes could not believe what they had spotted when I first scrolled onto an Ivy Tea House Instagram post. From the owners of the beloved Bleu House Café and Ginger Spice Bakery was born this little jewel of a tea house nestled in a verdant garden of monsteras, lilies and an avocado tree in historic Norcross. China plates adorn the walls, teaware is thrifted and expressly set in a mismatched fashion.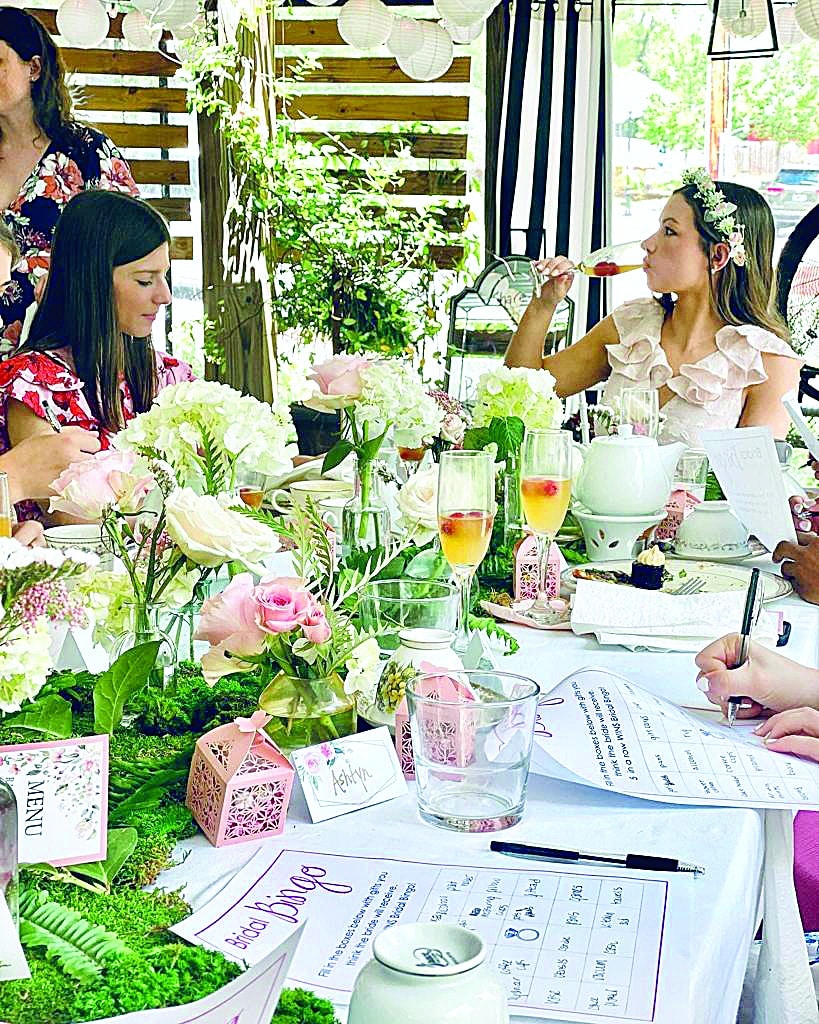 Escape to the small town feel of an exquisitely dainty, quaint cottage for a tea party. Ivy Tea House provides a picture-perfect ambiance for rehearsal dinners, wedding receptions, birthdays, bridal and baby showers. The newly remodeled house feels homey with an airy, modern edge.
"The tea-party, …has no …basis but delicate enjoyment."

— Jean-Anthelme Brillat-Savarin
Aranthza Fenimore, General Manager and Tea Consultant, is on track to become a tea sommelier by end of year. She shared the particulars of private functions at the tea house. Her enthusiasm for what she and the all-female team do there pours into her every word.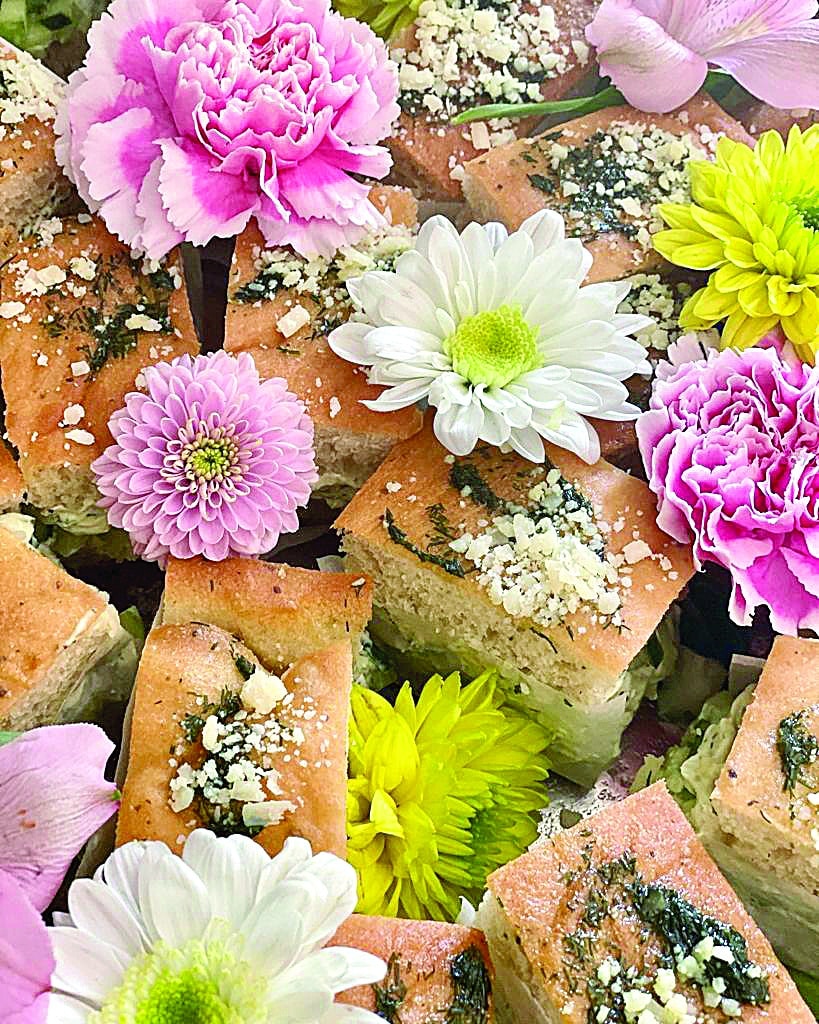 Partake in the tradition of afternoon or high tea and be treated to the attentive service of a by-reservation-only type of affair with delicate two- and three-tiered serving trays towering with savory and sweet selections like wild mushroom flatbread, sausage meatballs, cucumber and chicken salad finger sandwiches, cardamom-sultana scones, quiche and raspberry almond cake with rose glaze — all carefully garnished with fresh-cut flowers.
"Our towers are beautifully presented. So much effort goes into every little detail. People gasp when they see them. They bring a lot of joy and excitement," Fenimore said.
Discover your favorite tea blend. Is it Luscious London black tea with rose hip or Lemon Meringue?
Tea for two — or three — or 100
Two to 100 guests can enjoy a semi-private or private occasion in an indoor/outdoor setting, seated or buffet style, provided they book at least two weeks in advance for a Friday and one to two months in advance for a Saturday, either for a 12 p.m., 2 p.m. or 3 p.m. seating.
A pot of tea awaits you at your table when you arrive. As you enjoy it, elevated trays brimming with your food selections arrive. They are prepared as ordered, just before your arrival.
Anything on their afternoon tea, high tea or catering menu can be ordered for your event. You can also create a unique party menu. The chef is open to accommodating special dietary needs.
A pampering, self-care kind of experience is what they aim for at Ivy Tea House. The staff can provide a one-stop shop for party hosting with everything from décor and food to custom cakes, florals, balloons, garlands and rentals. Add-ons include a corkage fee for the glassware and serving of any alcohol brought in by guests.
Parties, special events and concerts welcome
The 3120 is a new, modern venue whose owners have been in the event space business for over 10 years; they also own KTN Ballroom in Duluth. With giant, customizable 4K LED screens, a professional audio system and full decoration packages with up lighting, this versatile space can take on an enchanting ambiance and be just the place for any stage of life celebration, holiday or company party, conference or seminar.
Even concerts can take place here, provided they remain within the 250-person maximum capacity.
Surrounded by nature, the private property offers plenty of lovely outdoor areas that make an ideal setting for photo opportunities. The facility includes a main hall or front lobby (3,000 square feet), a large buffet room with windows (2,500 square feet), a ballroom (4,686 square feet) and two convenient changing rooms.
Consider booking at least three months prior to your desired event date. Parties are held Monday to Friday in the evenings, and all-day Saturday and Sunday until 2 a.m.
Duluth
Planning feasts for over 35 years
Kurt's Bistro has relocated a few times over the years, but it's been serving delicious German fare like schnitzels, sauerbraten and apple strudel ever since its inception in 1985. Not at all limited to Oktoberfest delights, ribeye, seabass, lamb rack and a bevy of other scrumptious choices are on the bistro's menu.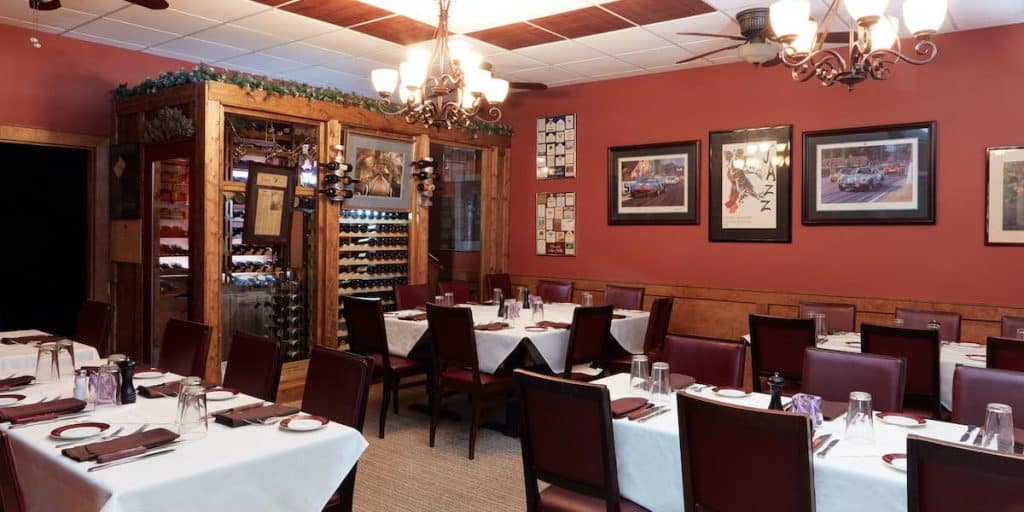 Their Black Forest Spätzle (soft egg noodles) with cheese and bacon is a supreme combination of irresistible texture and rich flavor. I met with General Manager Alexander Eisele, Kurt's son, who is in the kitchen daily, preparing all the basics before the staff arrives.
With his German-born father and chef at the helm, the family is united in its fervidness to serve delicious food.
In 2011, they downsized from a sizeable 1930s home to their current location on Peachtree Industrial Boulevard. Here, The Panoz Room can hold two to six guests for a private event. A cozy space known as The Wine Cellar accommodates get-togethers of 32 people, ideal for rehearsal dinners and other family festivities. It also works well for corporate groups of 10 to 14 who make use of the room's screen and audio system for presentations.
The covered patio can be a perfect place to get your party started before being seated for a meal. It's also rented for larger groups or casual cocktail parties. Renting the entire restaurant is also an option.
Guten appetite!
"We've been entrusted with numerous milestone events and corporate dinners. We will create the perfect meal to wow all your guests," Eisele said.
Celebrate at Kurt's Monday through Saturday, from 4 p.m.-9 p.m. You can create a customized menu to cover any dietary restrictions you may need and any variety of food choices you may like. Lunch and dinner Prix Fixe menus and an Oktoberfest catering menu are also available.
"If you want a Budweiser or broccoli cheese soup, don't come here. We try to be unique. That's one of the reasons we've been in business for 35 years," Eisele said.
He also cited their ability to evolve while avoiding trends, and keeping the quality of their food consistently high, as reasons for their longevity. "We encompass what we started with; we're a chef-based restaurant. That's why people should be going out to eat, for the food," Eisele said.
Berkeley Lake
Be whisked away to North Africa
Left, Chefs and Owners,Rita and Rafih Benjelloun. Top Right, Dancer Sigel leading the Guallett family in dancing at the Imperial Fez. From left to right, Joshua , Riaghan, Maesyn and wife Ariana
After a 30-year stint in Buckhead, Imperial Fez Mediterranean Restaurant moved to Berkley Lake. The OTP crowd gained a sensory escape to the faraway sights, sounds, aromas and flavors of North Africa.
Loyal Buckhead patrons willingly head northeast now for the unique ambiance, authentic Moroccan cuisine, excellent service and exotic entertainment they'd long enjoyed. What an exciting and surprising way to be able to fête in Southwest Gwinnett!
Have your next meeting or celebration at Imperial Fez and journey to Morocco for two hours with up to 125 of your dearest friends and loved ones. Private rooms are available for your special occasions, like The Rabat for intimate gatherings of up to 15 people or The Marrakesh room for a party of 30-35 guests. Larger parties of up to 70 can be accommodated in The Casa Blanca room.
Patio space is also available. Sit on low, lounge-style seating with pillows and sofas or at regular tables, chairs and booths.
Amidst the ethnic décor of richly colored fabrics and intricate patterns, you'll encounter traditional Moroccan cuisine and hospitality. I spoke to Chef and Owner Rita Benjelloun, who along with her husband, fellow Chef and Owner Rafih, takes great pride in sharing their customs.
Leave your shoes and worries at the door. Your five-course meal begins with a tableside washing-of-the-hands ritual. Using a "tass," an ornate sliver kettle and bowl set, a server pours warm rose water from the kettle onto your hands as you wash. The matching silver bowl catches the water below. Utensils are abandoned in favor of using your hands to consume the savory meal.
Shake it up
Indulge in dishes like Lamb Tajine, Chicken Kabobs, Couscous, Lemon Pepper Crispy Pompano and Roasted Pheasant with pomegranate sauce. Enjoy the meal as belly dancers move fluidly about with traveling steps and turns, entertaining diners as they accent the beat of the Middle Eastern music with staccato hip movements and relaxed shoulder shimmies.
For all that may seem foreign at Imperial Fez, familiar favorites like a full bar and VIP tables are also available. "A wide range of foods, including Caesar Salad and Mediterranean dishes with an Italian and Spanish influence, are also on the menu. It's not just Moroccan food," Benjelloun said.
Special dietary needs, including Halal, can be accommodated. Benjelloun recommends at least three to four days' notice for a weekday event, and as much advance notice as possible for weekend parties, as that is when they're busiest. Imperial Fez is open Wednesday to Saturday, 6 p.m.-10 p.m. and parties can be booked on any day. ##
Happy gathering!
With social event catering options to make it easy, and so many fascinating location possibilities in our region, I hope this guide has spurred some ideas for you and I hope it comes in handy as you organize soirées again.
I'll look forward to receiving more party invitations as we continue to come out of the pandemic-induced interruption of our usual social activities. So how will you choose to Fête in Southwest Gwinnett? I'd love to hear all about it!
Other Venues Around Town Where You Can Host Private Events
■ Anderby Brewing —anderbybrewing.com/private-events
■ Atlanta Tech Park —atlantatechpark.com
■ Chapel at Simpsonwood Park — 770.822.5450 or GwinnettHistoricRentals@GwinnettCounty.com
■ Flint Hill —magicweddingvenues.com/flint-hill
■ Gwen Tajz Wine Bar — gwentajzwinebar.com
■ The Hilton Atlanta Northeast — hilton.com/en/hotels/atlhphf-hilton-atlanta-northeast/events/
■ Mojito's the Forum —mojitosbistro.com
■ Nitro Zone — nitrozone.com
■ Norcross Cultural Arts & Community Center —norcrossga.net/153/Community-Center-Reservations
■ Pinckneyville Park Community Center — Info & Rentals: 678.277.0920, or email PCCenter@GwinnettCounty.com
■ Noona Meat & Seafood- www.noonaduluth.com/reservations
■ Bowlero — bowlero.com/location/bowlero-norcross/parties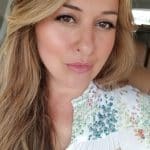 Patrizia Winsper
Patrizia hails from Toronto, Canada where she earned an Honors B.A. in French and Italian studies at York University, and a B.Ed. at the University of Toronto. This trilingual former French teacher has called Georgia home since 1998. She and her family have enjoyed living, working and playing in Peachtree Corners since 2013.