Featured image- Jeff Williams (right) gives instructions to team members. Atlanta Curling Club invites those curious about the ice sport to give it a try.
If your only acquaintance with the sport of curling is an episode of "The Simpsons" that aired during the 2010 Winter Olympics, it may be time to "brush up" on your knowledge.
In the episode titled "Boy Meets Curl," Homer and Marge Simpson form a mixed curling team with Principal Seymour Skinner and his mother Agnes. While the animated hijinks were all about laughs, the basic premise wasn't far off real life. For example, you don't have to be young or athletically built to engage in the sport.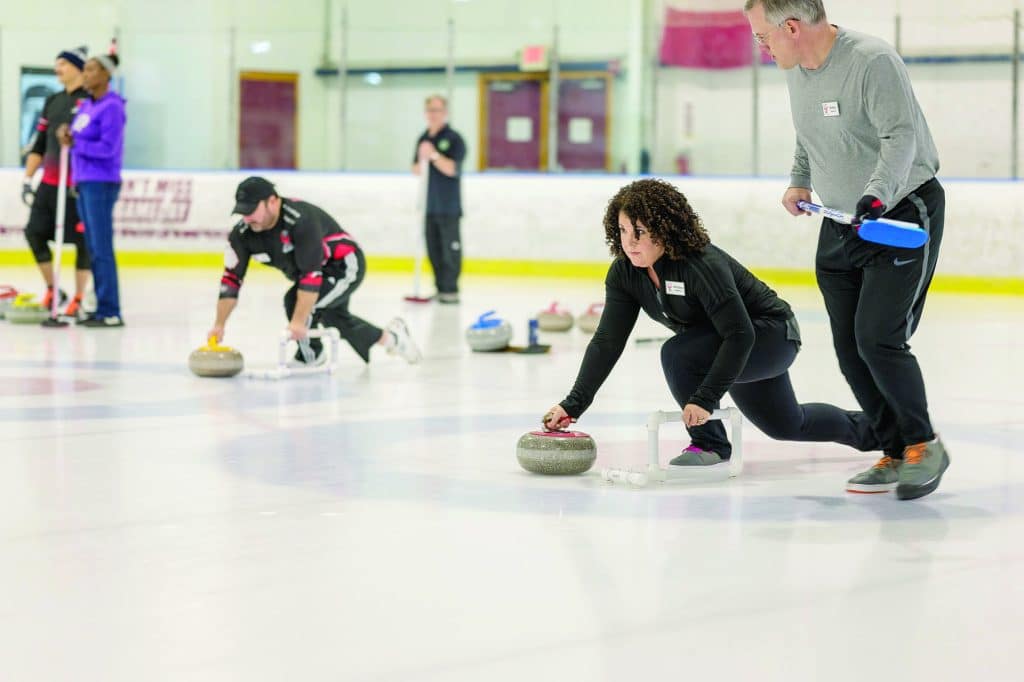 While the exact origins of curling are unclear, it is widely believed to be one of the oldest team sports in the world. According to the World Curling Federation, references as far back as 1540 describe the contests of throwing of large stones across the ice.
But the organization claims that what may have started as an enjoyable pastime of throwing stones over ice during a harsh Northern European winter has evolved into a popular modern sport with its own world championships, which attract fans and large television audiences.
Curling close to home
Thanks to modern technology, even a climate like metro Atlanta's, where ice is more likely to be found in cocktails than on lakes or ponds, curling aficionados can indulge in the activity.
Emma Ragauskas, the immediate past president of the Atlanta Curling Club, said she kind of discovered curling by accident.
"In 2018 I had kind moved to Atlanta from Athens and was trying to find something to fill my time," she said. "I saw curling on some television show because that was the year the U.S. won the Olympic gold medal."
She said it sounded interesting, so she did a Google search to see if Atlanta had curling facilities and found the Atlanta Curling Club online. She didn't want to try it alone and arrived to ask for a refund. Within the first 15 minutes, however, she was hooked.
"I was laughing and having the most fun I had had in years. So yeah, that was super great," she said. "Four years later, I'm on the board and volunteering probably more than I should. I've made so many really great friends and gotten to travel to a bunch of different places and just really enjoyed the sport."
The club was founded in 2010. Within the metro area, there are probably a few hundred curlers, if you lump everyone together, said Ragauskas. After moving around a bit, the club settled in Duluth, which is pretty centrally located for most of the participants.
"We're off of the Interstate 85 corridor, right off Satellite Boulevard at the Atlanta IceForum," she said.
Just last year, the club reached out to the Peachtree Corners community since it's so close to the current location — less than half an hour.
At one of the many festivals, several club members set up a presentation to expose a bunch of kids to the sport. They ended up connecting with parents and other adults as well. The club partnered with Anderby Brewing for a few social events and found several folks who wanted to give it a try.
Cold, but not too cold
Most Saturdays, they haul out the 42-pound pieces of granite and take to the ice. Where does one keep those heavy stones? one may wonder.
"We store those throughout the year in an industrial restaurant refrigerator," said Ragauskas. "Of course, they have to stay cold. …To be playable, so that they don't melt the ice, they need to be roughly around 35 to 40 degrees."
She explained that they can't be too cold, either. If they're frozen solid, they won't glide on the ice.
"They're just gonna get frost all over them. And they're not really useful when they're frosted over," Ragauskas said.
Depending on how many participants show up on a given night, there can be more than 100 stones on the ice. Each lane of play is called a sheet, and there are about 16 rocks per sheet.
Before the rocks are hauled onto the ice, however, the floor is covered with a mist of water. Using a device called a peddling can — which is like a backpack filled with water — the floor is prepared to provide traction for the blocks of granite.
Try it, you'll like it
Peachtree Corners Magazine staff was invited to hang out during a beginners' lesson and one of the first questions instructor Jeff Williams asked was, "Who's slipped on parking lot ice?"
He explained that the playing floor was nothing like that.
"When you walk, you're not walking on straight, plain ice," said Ragauskas. "So, it's not so slippery that you'll fall a lot, and it also allows the rocks to curl."
Ragauskas explained that moving the rocks down the sheet is like a car hydroplaning. The traction can be compared to driving a car on a street during a downpour.
Although most of the participants in the beginners' class were adults in their 30s or older, some with back or knee issues, nobody found it too taxing to play until the end of the two-hour session.
"The wonderful thing about curling is it's super adaptable," said Ragauskas. "You don't even have to be able to get down in that lunge position. You can do what's called stick curling. That's the same thing that you'd see like the Paralympics, like the wheelchair curlers."
Lessons in pushing the rocks, sweeping the ice and keeping score round out the fun. For anyone who'd rather be spectators, there are bleachers and even a restaurant and bar with a full view of the action.
"Explaining it doesn't do it justice," said Ragauskas. "The way to really appreciate it is to come and experience it."
Atlanta Curling Club
2300 Satellite Blvd., Duluth
atlantacurlingclub.com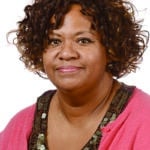 Arlinda Smith Broady
Arlinda Smith Broady is part of the Boomerang Generation of Blacks that moved back to the South after their ancestors moved North. With approximately three decades of journalism experience (she doesn't look it), she's worked in tiny, minority-based newsrooms to major metropolitans. At every endeavor she brings professionalism, passion, pluck, and the desire to spread the news to the people.