Live music matters to Eddie Owen. Always has.
He grew up in a home where music was being played or sung all the time. He's made a successful career over many years by providing venues for songwriters to share their music with audiences. And at every stop, he's worked hard to have a positive influence on the communities where he worked.
Music in the family
"Music was a huge part of my family," Owen said. "My grandmother owned the house we lived in. We had three families that lived there. A lot of musicians, a lot of piano players, a lot of singers. There was always someone playing and singing."
Owen grew up in a Southern Baptist family. His father was a minister and music was a big part of the church. So it's not surprising that Owen's church life added to the musical influences on his life.
In his 20s, Owen was in charge of the children's sports programs at Decatur First Baptist Church. It was while he was coaching the girls' basketball team that he met Amy Ray and Emily Saliers, who would go on to form the Indigo Girls, while the girls were in middle school. Even back then, they were performing, playing covers at a pizza parlor across the street from the church.
While serving as the Activities Associate Minister at Decatur First Baptist Church, Owen got to have dinner with the late folk singer Harry Chapin. The Senior Minister at the church was Bill Lancaster, who worked with Chapin on his World Hunger Year (WHY) project to alleviate world hunger. Lancaster was on his way to meet Chapin for dinner prior to a concert at the Fox Theater, and he invited Owen to come along, knowing how much he loved music.
"That's one of the reasons I'm in this business," Owen said. "Chapin was a great song crafter and storyteller."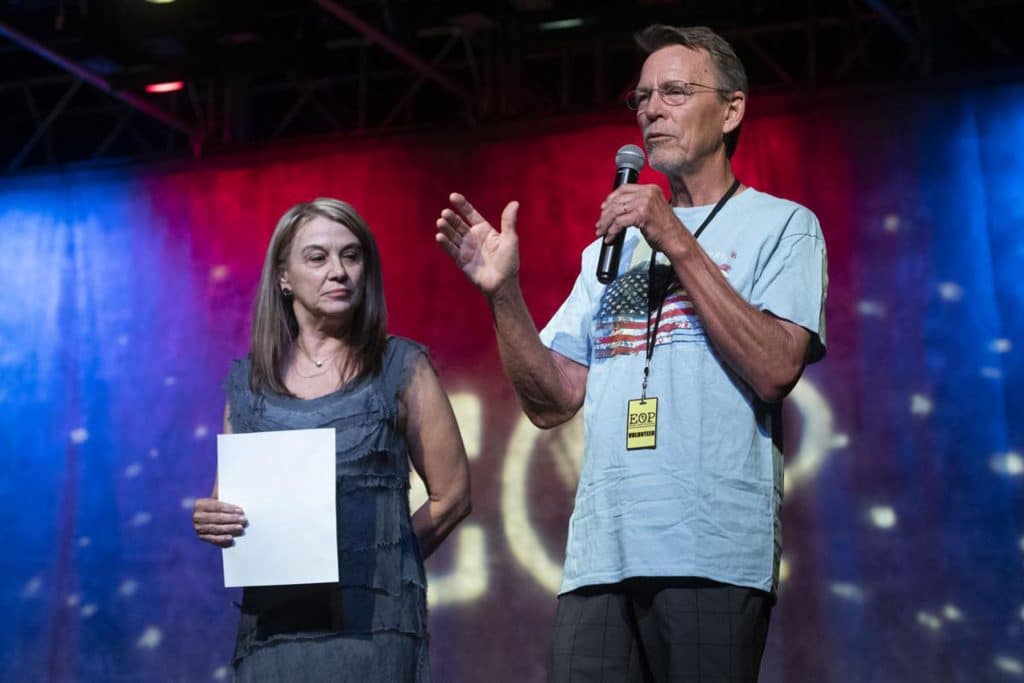 Providing opportunities
Given his background, it makes sense that Owen wanted to make live music a big part of his life. First in Decatur at Trackside Tavern and Eddie's Attic, and now at Red Clay Theater in Duluth, he has provided opportunities for artists to play.
He booked Ray and Saliers at Trackside Tavern before they hit the big time as the Indigo Girls. His lineup of artists at Eddie's Attic always drew large audiences because they knew that Owen only booked great talent.
He took that idea to Duluth in 2012 with the opening of Red Clay Theater and Eddie Owen Presents (EOP).
A passion for new artists
Owen's passion is giving new songwriters a place to perform their songs. In Duluth, EOP offers a concert calendar full of original music and songwriters roundtables. Owen is working to build that reputation of bringing original, undiscovered talent to the stage.
Attending a show at Red Clay, you'll notice the respect that Owen gives to each and every act that comes on stage.
It's a respect he feels deeply. "Every single person that is putting their soul on the line to sing a song they wrote in front of people is a hero," Owen said. "I don't think there's a higher calling than to be a songwriter."
Owen especially loves to give new songwriters a place to play.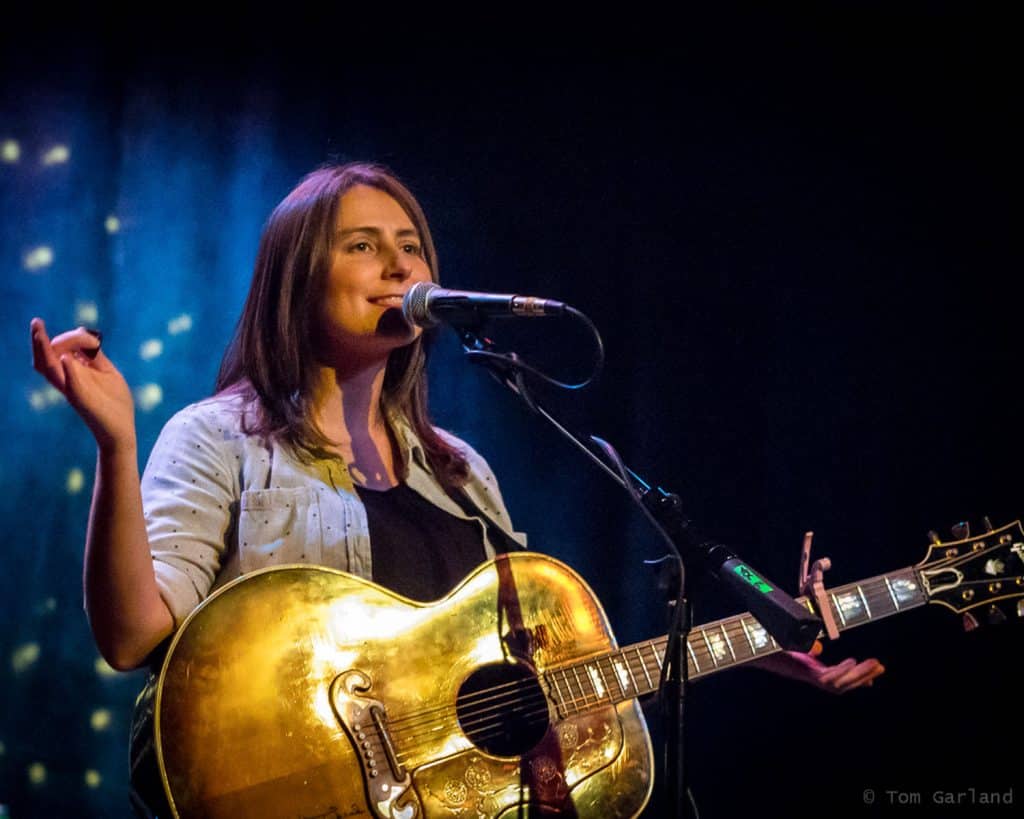 New. Not necessarily young.
"I don't think there's a timeline for being a songwriter," he said. "Some of the older songwriters are producing some of the more quality songs that are being written right now. With age and experience, the quality is going to improve. The older you get, you have more stories and tales to tell."
Outstanding acoustics at Red Clay
One thing that really stands out at Red Clay is the amazing acoustics for the shows. Owen and his sound engineer Shalom Aberle make that a very high priority.
"We work hard on it," Owen said. "Shalom and I never rest. Every week we're tweaking things and listening and talking about it. He really knows what he's doing.
"Shalom wants two things to happen. He wants the artist to hear perfectly what's happening and he wants the audience to have a perfect mirror image of what the artist is hearing. He works really hard to make that happen."
Owen and Aberle are very excited about upgrades they are about to make to the sound system, thanks in part to some SPLOST funds from the city of Duluth.
"I'm so, so, so excited," Owen said, "because with the SPLOST money that came through in November, the city has committed to having some of it go to upgrading our sound system. It's going to be really cool."
Artists, listener, venue come together
Everything is done with the goal of making a great experience for the musician and the listener. Owen visualizes the experience as three overlapping circles. If the artists and the listener and the venue all come together properly, it's wonderful.
"There's a medicinal thing that happens on both ends," he said, "for the writer and the listener. My goal has always been to hit that spot with the venue and create it for both the artist and the listener."
Benefits to the community
In addition to the music, Owen understands that his venue has a responsibility to be a positive contributor to its community. His mission for EOP includes Duluth as well.
When Red Clay opened in January of 2012, there wasn't as much in downtown Duluth as there is today. "I would walk out of the building," Owen said, "and the tumbleweeds would hit me."
He feels that Red Clay and EOP helped generate an energy that wasn't there yet and played a part in wooing some top quality restaurateurs and businesses to downtown.
He saw firsthand how that could work when he opened Eddie's Attic in Decatur. Initially, the downtown area of Decatur was in bad shape. Owen saw the city council and downtown development authority actively work to change it. "If the city didn't do their job," he said, "then the businesses weren't going to be there."
When he saw the same commitment from the city of Duluth, he knew he'd found the right location.
"That was the beauty of coming up here the first time," Owen said. "They already had the infrastructure done."
Working together
Owen is impressed by how the Duluth business community works together to help each other.
"The better we are as a whole," he said, "the better we're all going to be individually. And the better we are individually in a cooperative spirit, the better we're going to be as a whole. A community, not us against them. If there's one of us that needs help, one of the other of us should be the first to jump in."
And it's worked out well for both Red Clay and the City. Duluth Mayor Nancy Harris speaks highly of Owen's contributions.
"The Red Clay Music Foundry under the operations of Eddie Owen continues to be a steadfast economic tool for the excitement that can be found in historic downtown Duluth," Harris said. "People come from outside and inside the perimeter to experience quality performing arts in a unique music venue. Duluth's entertainment district attracts people that are looking for chef driven dining experience coupled with great music.
"Eddie is a pioneer in the music industry and his reputation alone has helped Duluth attract merchants that want to be a part of Duluth's authentic vibe."
And that's what Owen has always wanted. He wants to build something that will last long after he's no longer working. He likes what his team has accomplished so far, but he knows there's more to do.
"Am I happy with the progress? Yeah," he said. "Can we do a better job than we're doing? Oh, hell yeah."
That team also includes Owen's wife Allena. "She was the rock for our three children while I was living a crazy lifestyle making this happen," Owen said. His children, Clark, Eamon and Lucy-Blair are all talented singers.
Despite significant changes in the music industry from when he first started, he still believes live music matters.
"I think live music will always be a viable integral and important part of the industry," he said.
"There's nothing like it."