Gwinnett Clean & Beautiful (GC&B) will bring the community together for its annual "treecycling" event, one of the largest in Georgia. GC&B will collect live trees between December 26, 2022 and January 25, 2023 at fire stations throughout the county.
From there, the trees will be transported to Lawrenceville's Bethesda Park for "Bring One for the Chipper 2023," to be held Saturday, January 28, 2023.
GC&B, a Keep America Beautiful affiliate and award-winning 501(c)(3) charitable organization, is organizing this event in conjunction with its partners at the Gwinnett County Departments of Transportation, Parks & Recreation and Fire, as well as its community partners at Jackson EMC and Walton EMC.
GC&B hosted its first Bring One for the Chipper event in 1984. In all the years since, its numbers have grown steadily. During Bring One for the Chipper 2022, GC&B collected and chipped more than 1500 live trees into mulch.
"To make this upcoming event as successful as in the past – if not more so – we'll really need the help of the public," said Schelly Marlatt, GC&B's Executive Director. "We're calling on everyone who has purchased a live tree this Christmas to drop them off at our collection sites instead of putting them out with the trash to decompose in a landfill."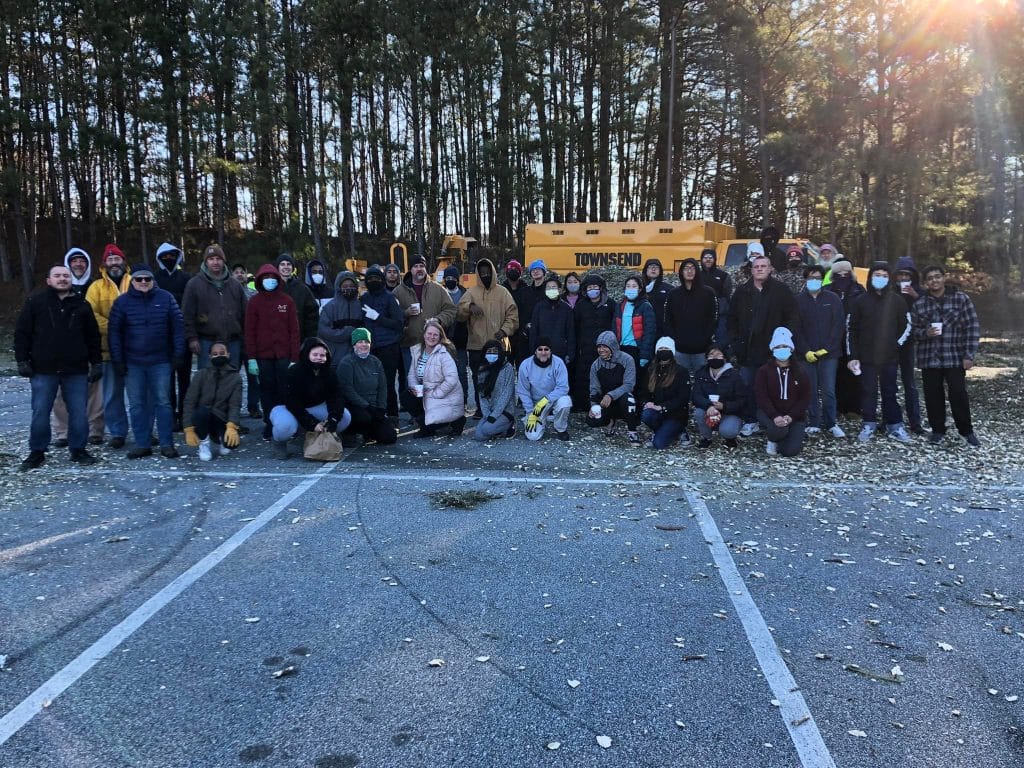 Volunteers needed
Marlatt stressed that on the day of "Bring One for the Chipper," GC&B will need volunteers "to help us haul those collected trees to the chipper, where they'll be transformed into mulch. From park pathways to school landscaping, this is our environmentally friendly way of extending the magic of Christmas all throughout the new year and all throughout the county."
There is a call out for volunteer for the Bring One for the Chipper 2023 event on Saturday, January 28 from 8-11 a.m. Volunteers must be 14 years of age or older and can include anyone from individuals and families to school clubs and civic groups to companies and neighborhood associations.
To volunteer, register online at Volunteer Gwinnett — Gwinnett. Gwinnett County. Questions may be directed to gwinnettcb@gwinnettcb.org or 770-822-5187.
Important info
Before dropping off live Christmas trees, they must be free of lights, tinsel, decorations and tree stands in order to be treecycled.
Peachtree Corners residents can drop off the trees at Fire Station 4, 5550 Spalding Dr. In Norcross, trees are being collected at Fire Station 1, 165 Lawrenceville St.; Fire Station 11, 5885 Live Oak Pkwy.; and Fire Station 23, 4355 Steve Reynolds Blvd.
The full list of Bring One for the Chipper Gwinnett drop-off locations is below.
Buford
Fire Station 14, 1600 Highway 23, 30518
Fire Station 24, 2735 Mall of GA Blvd., 30519
Fire Station 29, 2800 Thompson Mill Rd., 30519
Dacula
Fire Station 27, 2825 Old Fountain Rd., 30019
Duluth
Fire Station 5, 3001 Old Norcross Rd., 30096
Fire Station 7, 3343 Bunton Rd., 30096
Fire Station 19, 3275 N. Berkeley Lake Rd., 30096
Grayson
Fire Station 8, 2295 Brannan Rd., 30017
Hoschton
Fire Station 18, 1515 Mineral Springs Rd., 30548
Lawrenceville
Fire Station 9, 1900 Five Forks-Trickum Rd., 30044
Fire Station 10, 1131 Rock Springs Rd. 30043
Fire Station 20, 1801 Cruse Rd., 30044
Fire Station 25, 3575 Lawrenceville Hwy., 30044
Fire Station 31, 1061 Collins Hill Rd. 30043
Lilburn
Fire Station 2, 12 Harmony Grove Rd., 30047
Fire Station 3, 4394 Five Forks-Trickum Rd., 30047
Fire Station 22, 2180 Stone Dr., 30047
Loganville
Fire Station 28, 3725 Rosebud Rd, 30052
Fire Station 30, 1052 Ozora Rd., 30052
Norcross
Fire Station 1, 165 Lawrenceville St., 30071
Fire Station 11, 5885 Live Oak Pkwy., 30093
Fire Station 23, 4355 Steve Reynolds Blvd., 30093
Peachtree Corners
Fire Station 4, 5550 Spalding Dr., 30092
Snellville
Fire Station 6, 3890 Johnson Dr., 30039
Fire Station 12, 2815 Lenora Church Rd., 30078
Sugar Hill
Fire Station 26, 6075 Suwanee Dam Rd., 30518
Suwanee
Fire Station 21, 474 Old Peachtree Rd., 30024