The summer sunlight returns and with it, our favorite summer camps! It's best to book early for the best prices and to reserve your spot, so use this handy guide to make it the best summer yet for your kiddos!
Day Camps — The YMCA offers day camp programming for many of its Metro Atlanta locations throughout the whole summer. There are camps offered for a wide range of ages and special interests, such as sports, Leadership in Training, traditional camps and themed add-ons. The camps are open to non-members, but members get a discount. Visit the YMCA Activity Finder to explore options at tinyurl.com/ycampfinder.
Away Camps (Camp High Harbor) — YMCA Camp High Harbour offers overnight summer camps, day camps and more at two beautiful camp locations on Lake Allatoona and Lake Burton. At YMCA Camp High Harbour, campers forge friendships, strengthen confidence, sharpen character and create lasting memories. YMCA camp allows children to escape their screens and everyday stress to just enjoy the great outdoors. Learn more at ymcaatlanta.org/camp/ymca-camp-high-harbour.
EAA Aviation Camp
Time to fly high! Experimental Aviation Association (EAA) Chapter 690 offers an immersive aviation-focused STEM program in their chapter hangar, located at the Gwinnett County Airport in Lawrenceville, Ga. The 2023 camp runs June 12-16, with a free Young Eagles flight on Saturday, June 17.
The age ranges for the camp groups are from 7th to 12th grade. Topics covered include Aircraft Construction Methods, Principles of Aeronautics, R/C Modeling, Helicopter Flight, and Ground and Flight Instruction. There may also be possible visits to select facilities located at Briscoe Field.
The cost for the week is $300 for the Alpha and Bravo Camps. The cost of Charlie Camp (for serious students seeking to begin preparations for private pilot rating) is $375. A $50 non-refundable deposit (applied to the total) is required at the time of application, to reserve a spot in the camp of your choice. For more information, visit eaa690.org/summer-camp.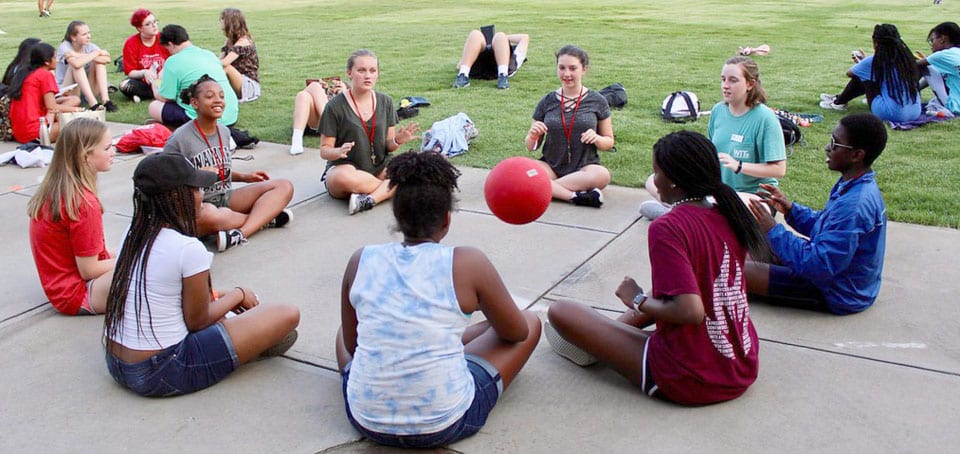 Club SciKids — Gwinnett
Club SciKids Duluth location is located at Notre Dame Academy. The address is 4635 River Green Pkwy., Duluth, Ga. Club SciKids will have four weeks of fun-filled day camps at their Duluth location, starting on June 12, June 26, July 10 and July 17. The themes differ each week and are tailored to specific age groups. The three age groups served are grades PK-K, 1-3 and 4-7. These are all five-day camps which cost $349 per child, unless otherwise specified.
The camp themes offered for grades PK-K are Jurassic, Little Scientist, Little Maker, Little Engineer, Little Space Explorer, Little Coder, Little Chemist and Little Robot Engineer. Grades 1-3 can participate in American Doll, Beginning Minecraft, Advanced Minecraft, Junior Scientist, Makebot, Grossology, Junior Robot Engineer, Junior Paleontologist, Junior Entomologist, Marvel Movie Maker and Pokemon Professors.
Grades 4-7 get to delve into more advanced topics with American Doll, Emergency Vet, Nintendo Labo, Wizarding World, Master Minecraft Java Coder, Special Effects/Zombie, Great Master and Advanced Lego Robotic with Spike.
For all Atlanta location options, visit atlanta.clubscikidz.com.
Greater Atlanta Christian School Summer Camps
The 2023 camps will run from June 6 to July 29, with seven week-long sessions available. The age range for the camps, as a whole, is 5-18. Over 30 specialty camps are offered, as well as weekly field trips and the option of extended hours of 7:30 a.m. to 6 p.m. Go to greateratlantachristian.org/campus-life/summer-camp/summer-camp for more detailed information on dates and cost.
Grow Day Camp
Summertime holds so much potential, so make sure your child doesn't waste it in front of a screen. Children will enjoy time on the beautiful GAC campus with top-notch camp staff. Campers will engage in a variety of activities — from soccer and flag football to jewelry making and cheerleading — in addition to daily pool time and weekly field trips. Each week is a little different, just to keep things exciting.
New this year is the GAC clubhouse, where campers will enjoy casual games of ping pong, air hockey, board games and arcade-style basketball. Regular camp hours are 8:30 a.m. to 4 p.m., though before and after extended hours are available.
THRIVE Day Camp
THRIVE camp is tailored for rising 6th to 8th graders, and will convene separately from GROW campers. Middle school is a uniquely different time, so GAC created a line-up that suits the specific needs of this age group. Activities, scheduling, field trips, choice opportunities and even leadership are carefully selected.
Get tweens off their phones — but rest assured that they will be among their peers engaging in real relationships and wholesome fun while enrolled in a robust camping program. Several different local ball games, an indoor skating party and a trip to the movies are just some of the field trips planned for maximum adolescent appeal.
Wesleyan School Summer Camps
January 2023 marks the beginning of registration for Wesleyan School's Summer Camp programs. Rising Pre-K kids are eligible for Junior Wolves General Day Camp. Rising K to 4th graders can join in academic camps, day camps and enrichment camps. Rising 5-8th graders have more choices, with academic camps, athletic camps, enrichment camps and fine arts camps. Take a look at wesleyanschool.org/programs/summer-camps for more info.
University of Georgia Summer Academy Camps
Summer Academy at the University of Georgia brings an exciting series of STEAM and career-prep summer camps in Athens for middle and high schoolers who crave amazing things. Whether your child has always dreamt of becoming a doctor, scientist or artist, they have the perfect summer camp to encourage it. The camp mission is to provide kids with an unforgettable summer where they can learn new skills and apply them to future career goals.
There are six available camp weeks, beginning June 5 and ending July 21. A sampling of compelling camp themes includes Jewelry Making and Metalworking, Zoology, Advertising and Public Relations, American Sign Language, Broadcast Journalism, Fashion Design and so much more. Visit georgiacenter.uga.edu/youth/summer-academy#courses for the full list. Registration opens Wednesday, January 11 at 10 a.m.
Pinecrest Academy Summer Camps
Pinecrest Academy has been hosting Summer Camps for more than 20 years. Besides being fun, the camps build virtue, confidence and friendships while teaching new skills in a safe and loving Christian environment. The camps are designed for children ages 5 and up.
Camp themes on offer include Culinary Arts Camp, Spanish Immersion Camp: African Safari, Spanish Immersion Camp: Space and Planets, Spanish Immersion Camp: Pirates and Mermaids, Paladin Basketball Camp, Pinecraft: Pinecrest Minecraft Camp, Soccer Camp, Spirit Club Camp, Sports Camp, Middle School Volleyball Skills and Summertime Fun Camp. Go to pinecrestacademy.org/campus-life/summer-camps for dates and information.
In the City Camps — Sandy Springs
In the City Camps is a Jewish day camp like no other, for boys and girls entering K to 8th grades. This day camp offers a unique opportunity for your child to interact with kids from all over the Metro Atlanta area. Six bus stops will bring campers to the camp location, The Weber School, 6751 Roswell Rd., Atlanta, Ga.
The full summer's camp runs June 12 to August 4. Each camp day is from 8 a.m. to 6 p.m. The Kids' Camp is for rising Kindergarten through 5th grades, and the Tween Academy is rising 6th, 7th and 8th grades. Registration opens Sunday January 8 for all families. Check out inthecitycamps.org for more details.
Still Waters International Academy STEAM Summer Camp
For Christ-centered programming with daily Christian-centered worship, Still Waters in the place to be. For children in rising 1st to rising 6th grades, there are seven weeks of themed STEAM activities planned. They include learning courses that teach students about STEAM and life skills, as well as field trips to local attractions and relevant fun-themed activities.
The seven themes offered are Adventurous Astronauts, Creative Coders, Astonishing Architects, Clever Chefs, Versatile Veterinarians, Exciting Engineers and Super Scientists. Weekly tuition is $225, not including the one-time registration fee of $75 dollars. The daily camp rate is $60 per day. Sibling discounts are available. Head to stillwaters.academy/steamcamp/ to learn more.
Camp Rockmont
Camp Rockmont is a Christian summer camp for boys, located in the mountains of North Carolina, that focuses on growth in self-confidence, independence, leadership ability and character. Young men come to Rockmont to have fun, make friends and grow as individuals.
Each age group and tailored program is designed to build confidence and self-sufficiency as well as a sense of community, as well as many skills and activities that campers enjoy, including adventure trips, free swim, arts and sports. Information is at rockmont.com.
Woodward Academy Summer Camps
Woodward Academy Summer Camps offer enrichment, athletic, academic and activity camps which are open to the public. Your child will be immersed in a one-of-a-kind summer experience from the moment they arrive.
They offer full-day camp — Odyssey Day Camp, daily 7:30 a.m.-4 p.m.) and after-care — WACtivity Camp options daily, 1-6 p.m. or 3:30-6 p.m. — to help meet your needs. Registration for weekly camps closes at noon on the Thursday preceding each camp.
There are two camp locations, the main Woodward Academy campus located at Rugby Ave., College Park, Ga., and the North Campus at 6565 Boles Rd., Johns Creek, Ga. Note that the main campus caters to Pre K to 12th grade while the north campus only takes Pre K to 6th grade. More information can be found at woodward.edu/summer/camps.
Safari Camp at Zoo Atlanta
Get wild! Registration for the 2023 Summer Safari Camp will open January 27. From pandas to parrots to pine snakes (oh my!), young explorers will be immersed in hands-on learning in a fun and safe environment.
Zoo Atlanta's Safari Camp: Summer Session a perfect summer break experience for children ages 5 to 14. Select an individual week that fits in your summer plans or let your kids spend the entire summer at the zoo. Upcoming dates are May 30 to July 28. Camp hours are 9 a.m.-4 p.m., with drop-off beginning at 8:30 a.m. Extended care is available for $75 per week (8-8:30 a.m. and 4:30-5 p.m.)
Examples of the types of camps offered include Wild About Wildlife, Animal Care Specialist and Junior Rangers. Journey to zooatlanta.org/program/summer-camp/ to get more details.