The mayor says the wealth isn't what makes this city special – it's the people.
Although Georgia is home to some of the largest companies in the world — Coca-Cola, Home Depot, and Delta Air Lines — it's also home to 17 billionaires, according to Forbes magazine. Just about all of those uber-rich individuals live in the city Atlanta.
But you may be surprised to learn that the wealthiest city in Georgia, by median household income, isn't the state's capital. It's not Sea Island, with its homes averaging around $4 million. Although the city in question is in metro Atlanta, it's not Druid Hills – even though that community's average home is worth about $1 million.
According to data released recently by the U.S. Census American Community Survey, Gwinnett County boasts the city with the highest average income. Have you figured it out? It's right here in Southwest Gwinnett — the affluent lakeside community known as Berkeley Lake.
With a median household income of $138,189., the poverty rate of Berkeley Lake is practically non-existent at 1.8%, according to Census data. Although the home values aren't typically in the seven figures, the median home value in Berkely Lake is $557,000.
What stands out most, however, is that Berkeley Lake probably has the highest percentage of homes that are occupied by the owners. With a rental rate of only 3.5%, an amazing 96.5% of houses have their owners dwelling within.
Although Mayor Lois Salter wasn't surprised by the numbers, she stressed that the city doesn't focus on them.
"I've lived here since 1985 and raised children here, and it has been a very great blessing to me," she said. "Apparently it is to other people because we don't have a lot of people moving in and out."
Biggest asset is the people
With a population of 2,054, according to latest Census figures, the small city has the benefit of being near a vibrant big city and even closer to Norcross and Peachtree Corners. Both of those cities are working on smart growth and economic development that benefit the entire area.
"We have been for many years the wealthiest city in Georgia per capita, but we think of ourselves as a small town where people know each other and look after each other in a way that I think is quite unusual," said Salter.
Berkeley Lake became a city in 1956, well before the main thoroughfare, Peachtree Industrial Boulevard, was even there. It was a place for people to get away from the city crowds and noise. Over time, people began to turn those vacation cabins into primary homes.
Salter said that she sees Berkeley Lake as a nice place to live with nice people.
"I don't know how to say this exactly, but people seem to be getting less patient with each other in the area beyond our city — in the larger culture. We have a history of people being willing to disagree with each other without being disagreeable. And everyone tries to keep manners about them," she said.
Years ago, Salter invited a member of the Carl Vinson Institute of Government at the University of Georgia to meet at length with the city council. It resulted in the City Code of Ethics.
"We hashed out a commitment that we made to each other. I bring it up on the record every January as a code of conduct that we renew to each other, that is based on civility," she said.
Salter admitted that it can be challenging at times because people do get passionate about things. "But we remind ourselves of that and we commit ourselves in a renewed way, at least yearly. And I think that has some effect on filtering out into our community," she said.
The chapel at city's center
One example is the chapel across the street from City Hall.
"Before Berkeley Lake was a city, that little building was built by residents, largely with their own hands," she said. "I was president of the chapel association for two years before I became mayor, and I loved the impact that the chapel has on our community."
The residents meet one Sunday a month with a visiting minister. That way, no single denomination is favored.
"But the thing is, we all get together. We hear who is sick …and we look after each other in that way," Salter said. "And after the visiting preacher preaches a sermon, we sing some songs and we have breakfast."
The short service is at 8:30 a.m. so everyone can get out early enough to make it to their own churches.
"The chapel, I believe, has a real impact on our culture that we cherish here," she said. "Besides the natural beauty, the beautiful spirit is what makes this a special place to live."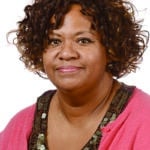 Arlinda Smith Broady
Arlinda Smith Broady is part of the Boomerang Generation of Blacks that moved back to the South after their ancestors moved North. With approximately three decades of journalism experience (she doesn't look it), she's worked in tiny, minority-based newsrooms to major metropolitans. At every endeavor she brings professionalism, passion, pluck, and the desire to spread the news to the people.