Born and raised in Gwinnett County, Major J.D. Griffin vows to 'police the way I want to be policed.'
Although you don't see the phrase, "protect and serve" on police vehicles these days, Major J.D. Griffin, the new commander of Gwinnett County's West Precinct believes that is the basis of good policing.
"I was raised by a couple of teachers, so I think there was already a kind of a sense of service in that household," he said. "But I didn't want to do teaching. I was trying to look for something that would cater more to my skill set."
Not wanting to stray too far from home, Griffin attended North Georgia College (now University of North Georgia) and earned a bachelor's degree in criminal justice.
"I grew up in Gwinnett County, went to Berkmar High School. Other than college, I've been in Gwinnett my whole life," he said. "I grew up in Lawrenceville, went to high school in Lilburn and worked all over. Now we live in Suwanee."
As a local, Griffin understands the concerns and priorities of the people he serves, he said. He's been with the Gwinnett County police since 2005, moving up in the ranks.
"I worked at our Central Precinct next door. I've worked in our crime suppression unit, focusing mainly on West Precinct and Central Precinct. And then I worked in special investigations in narcotics for seven years," he said.
Behavioral health unit launched
Most recently, before coming to the West Precinct, Griffin worked in the uniform division office. "From there, we launched large projects and created our behavioral health unit," he said.
He added that the behavioral health unit is already showing promise by partnering police officers with social workers for situations that call for mental health intervention.
"Its official start was around July of 2021," he said. "That was with one officer and a clinician. [We were] trying to figure things out and grow it.
"About two months ago, we finally got it staffed with a sergeant and six officers paired up with clinicians, licensed clinical social workers, or licensed professional counselors," he added.
As his largest project, Griffin is glad to see it fitting into the mix.
"Officers love it. The public loves it — mostly family members of people who are mentally ill appreciate it," he said. "It's great knowing that there are officers with additional training and social workers …working together as a team."
When the situation has more of a criminal element, the social worker steps back. When there is more of a mental health issue involved, the police officer steps back and lets the social worker take the lead," Griffin explained.
"That's something I'm pretty proud of. I'm glad that we accomplished it as a department. …It's still new, but it's going forward very well," he said, adding that it has already been useful in situations throughout the county.
Gwinnett Police held to high standards
Griffin stressed that the Gwinnett County Police force has standards of excellence that it adheres to in all situations.
"Gwinnett County has high standards that it sets for the officers, and high expectations," he said. "We have a culture of holding people accountable, to make sure that we're not condoning or tolerating officers that shouldn't be here. …I think that is something that we've done well."
As a member of one of the most diverse counties in the country, Griffin said the rights of all people are taken seriously.
"I've grown up in Gwinnett County, so that diversity, to me, that's just home. It's something that has just always been there for me. So, I don't look at it as an outsider," he said. 
"I like being part of that diversity and we continue to look for ways to improve as a police department," he continued. "Gwinnett County is incredibly progressive in that sense."
At the end of the day, the needs of all Gwinnett communities are a priority for West Precinct, said Griffin, but there is a hierarchy, and some issues, like violent crime, take precedent over property crime.
"That is not to say that we're not also focusing on other property crimes, like car break-ins, entering autos, or other problems. Again, our focus is on: what is the worst thing that we're facing right now?" he said.
Public safety is a community effort
Like Peachtree Corners officials, Griffin applauds the combined law enforcement efforts that thwarted a street takeover last summer, and the use of technology to track down the individuals involved in a homicide at a local gas station last year.
Like nearly every police department in the country, Gwinnett County is facing staffing shortages. "Our staffing levels are low at the moment, but it's improving," Griffin said.
He added that the current shortage is one reason that the plan to hire city marshals makes sense. Recently passed by Peachtree Corners City Council, the plan provides city-based support for the Gwinnett police.
"One of the issues that we run into is city ordinances versus county ordinances, and our officers' inability to enforce the city ordinances. A marshal program is one way to address that," he said. "And I think they tend to work pretty well."
He cited Grayson and Sugar Hill as examples. "I don't see any issues there," Griffin said, adding that it's probably a better solution than Peachtree Corners having its own police force.
In order for the police to be most effective, however, it takes a partnership with the community, Griffin said. He pointed out that Chief J.D. McClure recently started a gun crime initiative to address gun violence in the county. Statistics show that about 91% of guns stolen in the county are taken from cars.
"One thing I would like to impress upon people is to please stop leaving unattended firearms in cars," he said. "We're seeing kids as young as 13 with guns and most of them were stolen from cars."
Griffin welcomes the opportunity to meet with schools and community groups to show that crime prevention and safety is a partnership among residents, businesses, police, and local government. 
"The more opportunities we have to interact with the community in positive ways, the better," he said. "My mom still lives in this county. My wife and my kids live in this county. I want to police the way I want to be policed."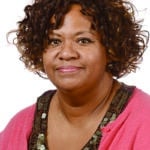 Arlinda Smith Broady
Arlinda Smith Broady is part of the Boomerang Generation of Blacks that moved back to the South after their ancestors moved North. With approximately three decades of journalism experience (she doesn't look it), she's worked in tiny, minority-based newsrooms to major metropolitans. At every endeavor she brings professionalism, passion, pluck, and the desire to spread the news to the people.