Local artist Amy Rader's neighbors must question why U-Haul trucks regularly come and go from her property. The self-professed introvert works out of her serene home studio and office near Town Center. "They probably wonder what I do for a living," Rader chuckled.
The evolution of an artist
Despite a lack of artistic influences in small-town Dalton, Ga., Rader was a highschooler with fervid creativity. "I was obsessed with art. That's all I cared about. When you're young you don't really understand ambition, you don't think that far into the future or know what you want to do for a living," Rader said.
Creating art was Rader's singular focus. "I had a great teacher that gave me a lot of independence because I was so self-driven. She encouraged me to apply for the Art Institute of Atlanta scholarship. They awarded one a year," Rader said.
It would end up being her one-way ticket out of small-town life.
Her father had asked what a degree in graphic design would bear. "He just had no concept, and I really didn't either," Rader said, adding, "It's easier now. You can get on the internet and research."
Today, 28 years into her career, the gallery-represented, full-time artist would tell you that it was her destiny to move to Atlanta for art school. She attributes her success to "hard work and dumb luck."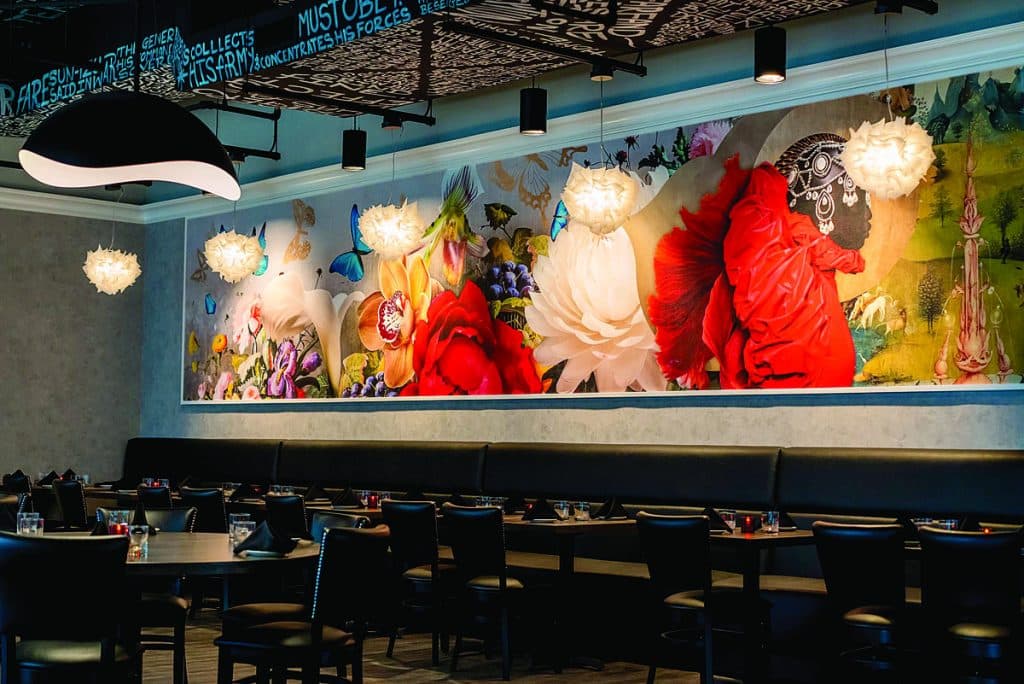 Baby steps
The Art Institute of Atlanta scholarship occasioned a Best Portfolio award and a degree in graphic design, allowing Rader to bypass the zero-appeal-struggling-artist stereotype. As a fine artist with digital know-how, she had a unique skillset would send her career soaring.
Initially, Rader designed websites and logos for Fortune 500 companies while creating her art on the side. Eventually, she shifted to artwork full-time. "It's more fun and gratifying," she said of the natural progression.
It was sensible to make the big move so cautiously. It set the stage for her next "baby step," spring-boarding from more traditional drawing and painting to creating imaginatively engineered, super-sized artwork — her biggest move yet.
Fine art
Rader's use of unconventional materials — including illuminated acrylic domes shielding responsibly sourced preserved butterflies from around the world, feathers, real crushed gemstones and quartz crystal points — add texture and characterize her nature-inspired, multimedia artwork. Additionally, acrylic paints, resins and the unexpected combination of provocative wilderness with vintage female forms merge to evoke a sense of boundless wonder.
Interior designers, curators, collectors and homeowners enlist Rader for unique projects. Her works are available at the Buckhead Art Company and on her website, raderdesigns.net. 
Going big
It was 2011 when Rader segued into adding large-scale art to her repertoire. An interior designer who was working on Vanquish Lounge in Atlanta commissioned something massive for the nightclub.
"I didn't really know how to tackle it, but took that challenge," Rader recounted. She believed she could figure it out — and she did. Her first large-scale digital murals were born of this project.
These aren't murals painted on walls as one might imagine. Rather, Rader creates them digitally in a carefully planned, highly detailed and intricate, multi-layered process. The time-intensive work results in file sizes measuring several gigabytes that are then printed onto panels of varying types, depending on the project.
Once assembled, they become seamless, massive, story-telling murals gracing commercial walls and huge architectural columns.
Internationally sought after, Rader's fanciful artwork can be found adorning ships, stately private homes, galleries, luxury residential buildings, restaurants and nightclubs. New projects are ever on the horizon, each one presenting a new set of logistical tests. Rader chronicles the complicated behind-the-scenes details in her blog.
Norwegian Prima
An elaborate yet remarkable project, Rader adored working with Norwegian Cruise Line.
Unable to conduct site visits because the ship was built in Italy, she relied solely on architectural renderings, collaborating with teams across the globe from Miami to London. This was the first of six vessels in the Prima fleet. Think: floating boutique hotel — not a standard cruise ship — characterized by high-end finishes, furnishings and art.
"They commission artists from all over the world. It's not mass-produced art. It's just stunning. They challenged me to create five different designs that were then reproduced in 1500 state rooms," Rader said.
Launched in 2021, Norwegian Prima caters to a sophisticated clientele of museum frequenters, world travelers and art collectors. Her murals span the accent wall behind the bed. Varying room sizes demanded images that could be scaled and cropped accordingly.
"You would think a drawing for a ship has to have water and that sort of thing. But you can create that feeling without hitting somebody over the head with it," Rader said, as she described her more subtle and elegant interpretation.
Icon Midtown
Since 2018, the 39-story Icon Midtown, a luxurious apartment building, has been part of the Atlanta skyline. Rader was commissioned to create modern murals for its common spaces: the lobby, the pool and the gym. 
Each project requires extensive research and attention to detail. The mural in the outdoor pool area was installed with the help of a general contractor on the 11th floor. It was created on panels that could fit in the service elevator, withstand harsh elements and be safely secured to prevent any accidents.
With the help of a specialized printer, Rader had signage-quality metal panels made with a special laminate.
"I did site visits with my hard hat and steel-toed boots. You have to figure it out. It's way more than just creating beautiful images. So much work goes into everything I do, but I love learning new things," Rader shared.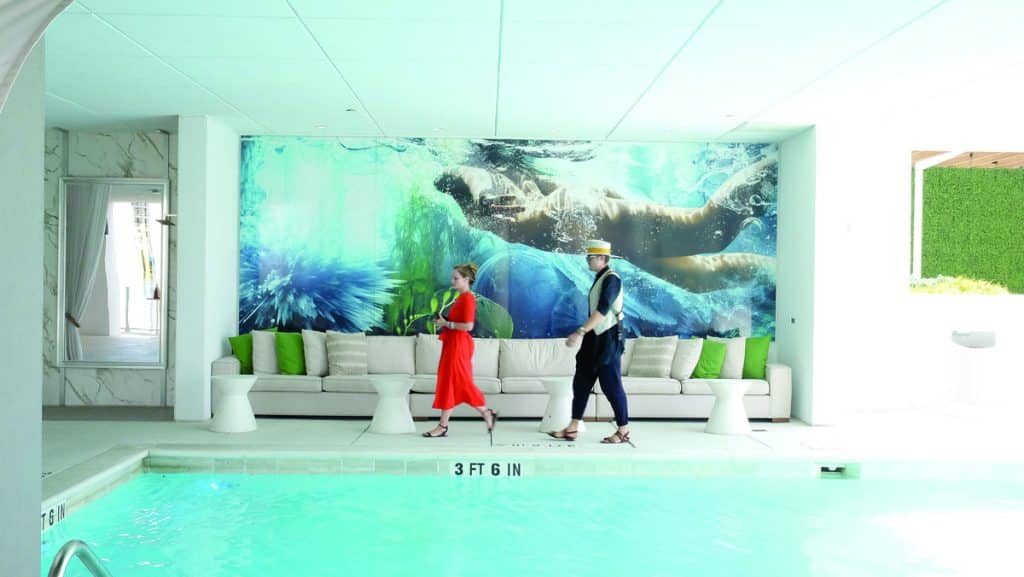 Solis Sugar Hill
For the high-rise building Solis, Rader is teaming with an architecture firm, interior designers and a New York based art consultant, all contributing to the aesthetic of the space. Her installation of 72 life-like Monarch butterflies in the Club Room is scheduled for next month. 
"I'm printing to metal then bending them. I'll apply them all over the wall. I'm constantly problem-solving new things like how to attach these," Rader said. In addition to having them look real, Rader must ensure their longevity since they'll be in a commercial space.
Lake Nona
For BACAN, a family-friendly restaurant in an artsy new hotel near Orlando, Rader was inspired by the surrounding lakes. She studied the native flora and fauna, incorporating birds, grasses and flowers in her mural. A tasteful nod to children can be seen in her whimsical silhouettes of butterflies flying above a child on a swing.
Peachtree Corners' personality
Rader champions an injection of panache into her own backyard, hoping to create pieces for the new hotel and apartments soon to alter the landscape at the Forum. In a meeting with North American Properties, she made an appeal to ramp up the "cool factor" to better reflect our community.
According to Rader, nice stores, restaurants and more original art add personality that would act as a draw to the city, just as quaint places like Avalon, Buckhead Village and Virginia Highlands have become destinations.
Loving what you do
Walking through job sites with business owners and interior designers, taking notes, examining swatches, crafting a space's identity, navigating wrangling opinions — it's not easy. Yet there's something about a raw space being transformed that Rader finds intoxicating.
It all begins with an in-depth investigation. Understanding her clients is paramount. "You're designing for them. Sometimes an artist's job is to figure out what people want," Rader said.
Every element in her work is intentional. Rader lights up when sharing the stories behind her pieces. Whether it's with a computer mouse on a digital mural or a paintbrush on a wood panel, Rader is still as passionate as ever about creating art.
There's a movement one perceives in her stylish work. It flows rhythmically. The skillful translation of her limitless imagination is beautifully executed in all of her pieces.
Works that have been installed in the most incredible locations one can imagine all started right here, in Rader's tranquil Peachtree Corners studio, where her puppy's tail can be seen happily wagging about until he falls asleep. Then, his snoring resonates off the hardwood floors.
Worldwide recognition is reserved for a select few, like our brilliant local artist. However, my wish for readers is that you're inspired to achieve the very best part of Rader's success, that of being an independent woman who knows herself well and has crafted — literally with her own hands — exactly the life she wants to live.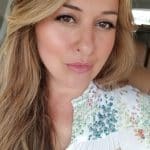 Patrizia Winsper
Patrizia hails from Toronto, Canada where she earned an Honors B.A. in French and Italian studies at York University, and a B.Ed. at the University of Toronto. This trilingual former French teacher has called Georgia home since 1998. She and her family have enjoyed living, working and playing in Peachtree Corners since 2013.