"If everything seems under control, you're just not going fast enough." – Mario Andretti
The deafening sound of roaring engines is muted by custom-poured ear molds allowing the engineer's voice to come through, keeping you abreast of your competitors' positions. Imagine losing a pound or two of sweat between the adrenaline rush of 165 mph speeds and 100 to 120° F temperatures while covered from head to toe in protective gear and strapped into a cockpit so confined, the steering wheel must be removed to get in it.
From start to finish, you push the car to the limit as though racing in a video game, only you have real skin in this one — your skin. A feeling of barely having control as you clutch the wheel — no power steering here — and the fear of spinning out and hitting a wall around each bend is conquered only by the desire to shave off even a fraction of a second from your lap time.
"If you're afraid the whole time, you know you had a good lap. You have to mentally calm yourself and remain in control," Peachtree Corners teen Dane Scott said.
A little boy who once fancied go-karting on family vacations, Scott watched NASCAR with his grandpa and rode in a vintage car at the Indy 500. He was never able to shake his urge for life in the fast lane. Today, the 18-year-old is a Formula 4 (F4) racer pushing the pedal to the metal in pursuit of his dream – competing in the highest class of open-wheel, single-seater racing in the United States. 
Ladies and gentlemen, start your engines
Having raced for the first time this past February, Scott is a novice, but he's determined to blaze a trail to the pinnacle of American motorsport.
"There's a ladder: F4, USF 2000, USF Pro 2000, INDY NXT, then INDYCAR," Scott said. Scott said he would speedily entertain offers to compete in Europe's highly competitive Formula 3.
The F4 category was created by the Fédération Internationale de l'Automobile (FIA) — the international sanctioning and administrative body for motorsport. As such, a universal set of stringent rules and specifications apply to the countries who host championships. It's not exactly an easy sport to break into.
"It's hard to find the right connections," Scott shared. He got his lucky start after meeting F4 racer Joe Ostholthoff through an acquaintance. Ostholthoff got Scott started on a simulator and became his trainer in 2022.
"He helped me learn a lot about racing and find a team. We had meetings about what I was getting into," Scott said. With three years of F4 experience, a father who was a Porsche Club President and driving instructor and raced in the Sports Car Club of America, Ostholthoff has proven to be a terrific mentor for Scott.
Jay Howard Driver Development Team
It's advantageous for drivers to belong to a team. They provide more affordable and easier access to everything required. "Cars, mechanics, a pit crew, transportation, food, storage facilities, changing rooms — they bring all that to the track," Scott said.
Among the conveniences provided by a team like Jay Howard Driver Development are having access to multiple mechanics and Howard's valuable IndyCar experience. "He gives great insight into how to get your car positioned and how to do everything right," Scott shared. 
There are currently eight drivers on Howard's team, seven of them racing in the 2023 F4 US Championship. The first race took place at NOLA Motor Park in New Orleans.
"That was fun. I had a couple of great races. We have 18 races over the year at six different locations — three per location," Scott said.
Total points determine a driver's ranking in the championship. The competition is fierce. Prizes include money, trophies and endorsements. Drivers contribute to their team's points. Team prizes are typically something like 10 sets of new tires.
Changing gears
Next year, changing FIA regulations will necessitate new F4 cars that meet the latest requirements for safety belt, crash and rollover tests. The most important specification is the addition of a halo — a carbon frame suspended around the driver's head and able to withstand thousands of pounds of force to prevent head injuries.
The team boss foots the bill for new cars. Howard may elect to advance his team from F4 to US F2000 cars. One can pay to move up to US F2000. Or the team boss decides based on a driver's talent.
"The US F 2000 car is significantly harder to drive. It's lighter and more powerful. It spins around quicker and it's about seven seconds faster. That's a big difference. One tenth of a second is huge. If someone is one tenth of a second faster, after 10 laps they're gone. You can't catch them anymore," Scott said.
Don't mow the lawn
Tires form a grip with the road. The greater the contact patch, the greater the traction and steering ability. When things go wrong and cars go into a spin, drivers are good-humoredly said to be "mowing the lawn," suggesting they resemble gardeners circling on the grass, mowing.
When spinning, the car goes around backwards. Rolling back with a manual transmission destroys the gearbox. The gears grind; it's a $12,000 extensive repair.
"We're taught to move our feet all the way to the left, stomp on the brake with our right foot so the car stops, and push in the clutch fully with our left foot so the gears don't crunch. The clutch takes the shaft out of the gearbox, preventing it from destroying everything," Scott said.
Scott shared a personal lawn-mowing moment: "The left side of my front wing got crunched in by someone. Wings create 80 to 100 pounds of downforce from the airflow, keeping the suction to the road. I lost several pounds of downforce from that hit. My car became unstable, and I spun off the track."
Howard's team sustained $45,000 of damage in New Orleans. "We had to replace three engines and a transmission due to an opponent's reckless driving," Scott said.
Race ready
Endurance is the focus. It takes strong arms to turn the steering wheel, but Scott avoids bench-pressing as it can damage joints.
Instead, the iRacing simulator keeps drivers primed. AI allows for the hostility to be turned up for wheel-banging fights. The turning force can be cranked up to 120 pounds.
"The more downforce on a car, the harder it is to turn. If you get to Indy, cars have bigger wings. It gets pretty hard to turn," Scott said.
Maintaining an ideal weight is also essential; too heavy and you slow down, too light and weights need to be placed under the car seat. At 5'10" Scott weighs in at 142 pounds.
"Drivers should weigh 150 to 155 pounds with gear on, including helmet and fire suit," Scott explained. Weight gain would also make for a difficult fit in the custom-made car seats. They're molded to each driver's body for minimal sliding around.
Familiarizing themselves with their cars and the tracks is vital for drivers. While the cars have the same specifications, each one handles a little differently.
"Some are heavier in the rear, so they turn more. Some are front-heavy, so they don't turn as easily," Scott said.
Practice time before races helps drivers learn the idiosyncrasies of each track. Any mishap gets the track closed for 10 minutes. Usually a month before a race, Howard rents the racetrack for a few days giving drivers unlimited practice.
"I tested in New Orleans in February. It's super valuable. You tell the engineer how the car is handling on the track. The rear end might be sliding, for example. He learns how best to set up your car. You don't have to deal with that come race weekend," Scott shared.
Besides counting on their abilities and quick reflexes, some drivers adopt luck-enhancing superstitions. Scott steers clear of odd habits he's observed.
"They'll snap five times on their left hand, four times on their right hand, click their heels and spin around twice before they get in the car. I enter always from the left side of the car and pray for safety and victory," he said.
Double podium
Scott glowingly shared some close calls and successes during the pre-season races in Sebring, where he twice finished third.
"After spinning over a tricky bump, I went down to seven out of 10 drivers. I was starting almost from the back of the field. I managed to climb my way up to sixth," Scott recounted.
"A group of four were fighting for third place. I'd be in front by the next lap. In front of me, an incident happened. I barely avoided crashing, went past and around this guy's front wing as he spun and finished third," he continued.
"Race three was my most impressive. I started in fifth position [P5]. I missed the start a bit and fell back to P7. Then I was in P5 again. I overtook them. P4 broke away by a huge seven-second gap. I made that up, overtook him."
P3 was out of sight, 14 seconds ahead of Scott with 15 laps to go in the race. Scott embraced the challenge, gaining 1.2 seconds on his opponent.
"I was lapping quicker and quicker. I finally caught up and passed him with one lap remaining. Unfortunately, he sent it too hard into the hairpin turn, hit me in the rear, breaking my wing off," Scott said.
With diminished downforce due to a missing rear wing and unable to corner fast, Scott managed to "limp" around the track and finish in P3.
Sponsorships welcome
Securing sponsors is a crucial part of this costly sport. Scott hopes to add to the supporters showcased on his website. Sponsors benefit from the image enhancement and brand exposure the spectator sport provides.
Backing a motorsports team helps solidify professional relationships and incentivize employees with merchandise, paddock passes for behind the scenes access to the garages, cars and a chance to meet the team owner.
Perks like heightened visibility and positive publicity exceed most advertising budgets, considering the exposure companies receive in electronic media and print.
"Each race weekend we stream across platforms and get up to 20,000 views [live people] per stream. It's not just the organization and drivers sharing. Accounts with hundreds of thousands of followers post about smaller teams knowing we need a boost to get to IndyCar," Scott explained.
Whether it's an exclusive sponsor or a small army, benefactors can come from anywhere in the world. A $5000 donation gets a company's logo painted on the car. The contribution amount corresponds to the size and placement of the logo.
"It can cover the whole side of the car," Scott said.
To help fuel the ambitions of this talented, home-grown youngster, contact Scott via email at danescottracing@gmail.com, on Instagram @danescottracing and visit his website, danescottracing.com.
Keeping up his momentum
On May 18-21, look out for number 4 when Scott will be racing at the Road America SpeedTour in Wisconsin. You can follow this dedicated IndyCar hopeful the rest of the season at Midway Speedway in Crooksville, New Jersey Motorsports Park, Virginia International Raceway and Circuit of the Americas in Austin.
Here's wishing our local speedster plenty of straights, long corners and minimal breaking zones on his journey. Keep up the good pace, Dane Scott!
Photography by RTD Media (@rtdmediaandmanagment) and StayReelMedia (@stayreelmedia)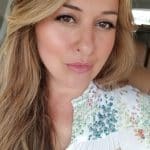 Patrizia Winsper
Patrizia hails from Toronto, Canada where she earned an Honors B.A. in French and Italian studies at York University, and a B.Ed. at the University of Toronto. This trilingual former French teacher has called Georgia home since 1998. She and her family have enjoyed living, working and playing in Peachtree Corners since 2013.