Pendergrass Law stands by core values of integrity and community well-being.
The decision to start your own business is never an easy one. Philip Pendergrass graduated from law school in 2014 and expected to work for a firm like many of his classmates. After clerking for a judge one summer and working in a large firm, he came to the realization that he wanted to be in a smaller firm, getting to know staff and clients on a personal level.
"I like the idea of working with people as opposed to corporations. Instead of answering to a big corporation …It's fun to have individual clients and get to know them," he said. "One thing I took away from both firms is I thought I could do things differently and do things better [on my own.]"
In March, Pendergrass Law celebrated its four-year anniversary with offices in Peachtree Corners — just minutes from where Pendergrass grew up in Lilburn. What started out by maxing out credit cards and clearing out their savings has become a firm with about 15 employees and over $35 million in judgements.
Although the company isn't a household name yet, Pendergrass has garnered recognition in a short time.
Pendergrass Law was selected as one Gwinnett County's Best Personal Injury Firms for 2022.
The firm was nominated by the Gwinnett Chamber as a finalist in the Small Business Awards Category.
Owner Philip Pendergrass was selected as a recipient of the Gwinnett Young Professionals 35 Under 35 Award.
The business has collaborated with Anderby Brewing on a new beer called "Punitive Damages."
Not an easy job
Personal injury lawyers don't have the most sterling stereotypes. Images of the Emmy-winning series "Better Call Saul" and "Seinfeld" character Jackie Childs may come to mind for many people. But Pendergrass and his staff are working to thwart those myths.
"I want to give back to the community, but I don't want to give back to the community [to enhance my business]," said Pendergrass. "We don't publicly announce what we do, but we've paid off student lunch debt at a high school and we support local high school sports teams. We've supported the giving center and stuff like that because it's part of being a good neighbor."
He admitted he's in a complicated business where he benefits from tragedy.
"People might focus more on the image when you're in court," he said. "They might forget that there's a heart and a brain inside of that suit. …At the end, when your clients are winning these big settlements, everybody is doing cartwheels, but they don't take into consideration all the effort and energy and research that went into it."
But a necessary job
Personal injury cases can be overwhelming and confusing to those who are unfamiliar with the legal system. That's why having an experienced attorney by your side is imperative. As a personal injury lawyer, Pendergrass said his main goal is to assist clients in navigating the legal system and pursuing proper compensation for catastrophic injuries.
Pendergrass and his firm handle a wide range of legal cases, including:
Motor vehicle accidents — This includes car, truck and motorcycle accidents, as well as accidents involving bicycles and pedestrians.
Slip and fall accidents — This includes accidents that occur on someone else's property due to a dangerous condition, such as a wet floor or uneven pavement.
Medical malpractice — These cases involve a healthcare professional who has been negligent in their treatment of a patient, resulting in injury or harm.
Product liability — This includes situations where a product has caused injury or harm due to a defect or design flaw.
A plan for future growth
At the end of the day, Pendergrass is a father, a husband, a community member and a lawyer. When he started his career, he was doing some mass tort class action work and really liked that.
"We're finally getting to a position where we can take on something bigger like that," he said.
As he looks to the next four years and beyond, Pendergrass plans to continue on the same trajectory that have brought success — increasing his client base, growing his firm and contributing to his community. He's already brought in interns and staff members from colleges and law schools in the area to continue that "keeping local talent local" aspect that keeps Gwinnett County strong.
"I've heard some old attorneys say the easiest way to get a million-dollar result is to have a $2,000,000 case, so you're not maximizing the recovery for clients. Those are the people who are in it for quick gain," he said. "I had a $9,000,000 settlement in the fall. We had to walk away from the settlement table at one point when they were only offering $3,500,000, which was a ton of money. But we knew it wasn't enough."
Pendergrass shared that everything goes back to the philosophy of putting the client's best interest first and focusing on the core values. "Everything else seems to fall into place, or where it should, when you have your priorities straight," he said.
Photos by George Hunter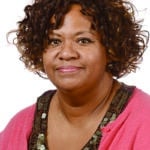 Arlinda Smith Broady
Arlinda Smith Broady is part of the Boomerang Generation of Blacks that moved back to the South after their ancestors moved North. With approximately three decades of journalism experience (she doesn't look it), she's worked in tiny, minority-based newsrooms to major metropolitans. At every endeavor she brings professionalism, passion, pluck, and the desire to spread the news to the people.