Peachtree Corners, Norcross and Berkeley Lake leaders give insight into triumphs and challenges in Southwest Gwinnett County. Photos by Bruce Johnson.
A highlight of the Southwest Gwinnett Chamber of Commerce (SWGC) calendar is the annual Mayors Panel featuring mayors Lois Salter of Berkeley Lake, Craig Newton of Norcross and Mike Mason of Peachtree Corners.
This signature event took place June 14 and allowed the elected officials to discuss municipal policies and investments in their cities and share their goals for the area's future.
The Southwest Gwinnett area mayors shared their experiences in governing the region. The panel format provided an opportunity for the mayors to share their collaborations and collective strategies to improve one of Georgia's most culturally ethnic and economically diverse communities.
Affordable housing
Starting things off, Salters explained that land use is a major concern over the next five years.
"We are mostly residential, but we have a good bit of commercial and industrial property that is ripe for redevelopment," she said. "We are also studying housing issues after [Gov. Brian Kemp] made his statement about how he was expecting all the cities to look into affordable housing."
With the median home price in the city at $655,000, according to Realtor.com, it would be impossible for a low-income family to purchase a dwelling in that ZIP code.
The U.S. Department of Housing and Urban Development defines affordable housing as housing where the occupant is paying 30% or less of the gross income on total housing, including utilities. With the average family income in Georgia around $65,000, even middle-class residents would be hard-pressed to obtain a mortgage and pay utilities on a home that's more than a half million dollars.
Salters said the city is looking at zoning ADUs (accessory dwelling units) such as standalone carriage houses or apartments above the garage or in a basement as ways to provide affordable housing in Berkeley Lake.
Diversity and inclusion
Conversely, the city of Norcross has processes in place to preserve its diversity.
"We are one of the most diverse areas in the state, whether it's racially or ethnically, but also in residential, commercial and industrial. …It's actually one of the greatest strengths of any community because it brings a unique perspective and an experience," said Newton.
To leverage that advantage and remain responsive to unique needs, Norcross promotes inclusion by providing forums, online surveys and multilingual resources to ensure that everyone in the community can access information and services.
"We organize events that celebrate the different cultures and traditions and backgrounds of our community," Newton added. "This not only fosters mutual respect and understanding but it also enriches the cultural fabric of the city."
Newton mentioned that Norcross is a member of Welcoming America, a nonprofit leading a movement of inclusive communities becoming more prosperous by ensuring everyone belongs, including immigrants.
"Cities can promote fair representation by ensuring that the city's leadership and staff are representative of the community's diversity by encouraging participation on our councils, our boards and our committees," Newton added.
"Transparent decision-making processes that diverse community members can understand are also important. When we understand how and why decisions are made, we can all become better participants in providing solutions," he continued. "And lastly, we can actually create safer neighborhoods by training, law enforcement and public safety officers in diversity and inclusion. They can do their jobs much better if they're cognizant of the unique needs and perspectives of this community." 
Adding arts, culture and housing
In addition to its great strides in economic development, Peachtree Corners has a goal of adding enhancements to its quality of life.
"We're currently working to see the city enrich some of the arts and culture along with what we've done economically over the next several years," said Mason. "When we became a city, back in 2012, one of the first phone calls I got was from a guy who said, 'I'd like to start the Peachtree Corners Playhouse. So why don't you build it or buy a theater and then I'll run the place?'"
Even though the mayor was all for the idea, other things took precedence, and the funding wasn't available in those early days. Mason pointed out the great work in Dunwoody and other nearby cities and has had many conversations about getting a project off the ground.
Mason noted that one thing that needs more immediate attention is development on the city's south side. "There's a housing project in Mechanicsville that will provide affordable housing," he said. "We need to be persistent on that issue and stay focused, because we can get it done."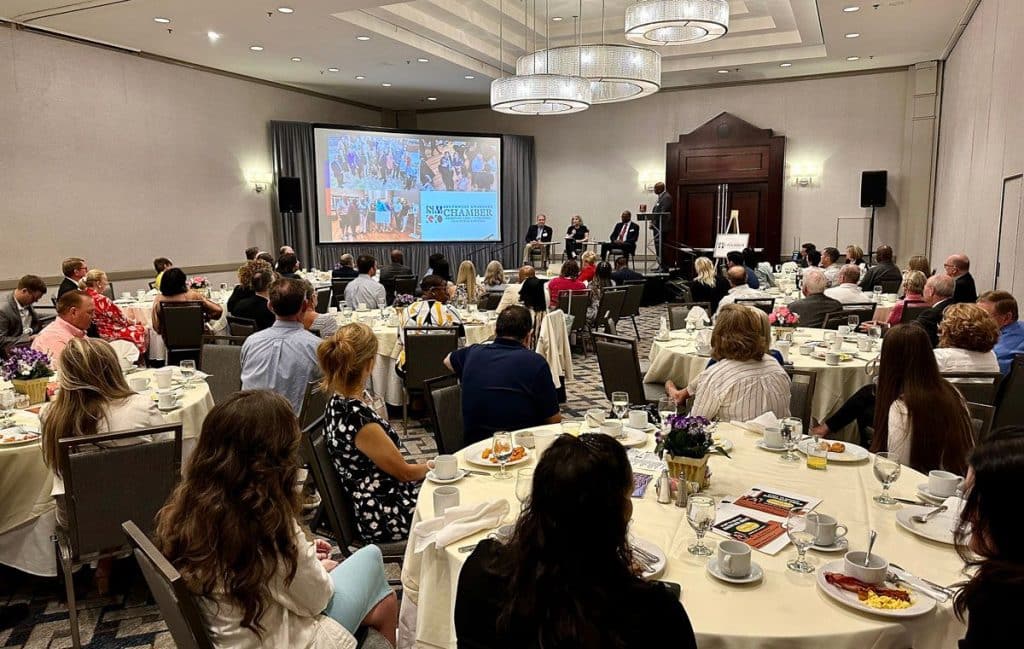 Teamwork makes the dream work
One thing all three cities have in common is their dependence on each other.
"Our city is really very grateful to these two guys — they do a wonderful job," said Salter, referring to the mayors of Norcross and Peachtree Corners.
"I think often politicians are in their offices for one of two reasons: either to be genuine public servants, which is almost self-sacrificial at times, or as a sort of an ego boost for themselves," she said. "Both of these guys have been the kind of public servants that you would want. They've been supportive to people in my city whenever we asked them."
Salter mentioned how Mason's staff helped get a Peachtree Corners business whose stormwater runoff was affecting Berkeley Lake property to take care of the problem. She also shared how Newton hosted a session for state legislators to hear about area concerns and invited her and Mason.
"We have good leaders here and we work together," she said.
Both Mason and Newton pointed out that the economic development they enjoy wouldn't mean anything if the businesses that are bringing hundreds — if not thousands — of families didn't have the option of housing in nearby communities.
"People who work in the tech industry in Peachtree Corners might choose to live in quieter neighborhoods, commuting to work from Norcross, thereby increasing demand for housing, retail and services in the neighboring city. And, of course, that boosts our economy," Newton said.
Mason concurred. "It's true that economic prosperity and whatever we can lead to increase trade, tourism and commerce causes a ripple that I call economic spillover. But our three cities understand that collaboration is important," he said.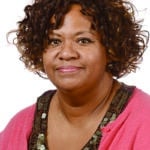 Arlinda Smith Broady
Arlinda Smith Broady is part of the Boomerang Generation of Blacks that moved back to the South after their ancestors moved North. With approximately three decades of journalism experience (she doesn't look it), she's worked in tiny, minority-based newsrooms to major metropolitans. At every endeavor she brings professionalism, passion, pluck, and the desire to spread the news to the people.