In a world that often whirls at a frantic pace, Clint Bussey has crafted a musical oasis of friendship and camaraderie in the heart of Duluth. "The goal was to create a way for people to get together, have a place to come to make music, to meet new friends, to eat, to drink. Just hang out without any cost and without any intention to make money," Bussey explains.
That is how Bussey describes Pot Rock, his combination potluck lunch and open mic get togethers at WP Jones Park in Duluth.
Open to all
Bussey started Pot Rock last spring. He'd been thinking about creating this type of event for quite a while before that. "I was trying to set something up where you can play music and not have any overhead costs," he said.
Pot Rock is open to anyone. You can bring an instrument and play and sing. Or not. You can bring fruit or pizza or desserts for the potluck. Or not.
Bussey just wants people to come, have fun, relax and hang out.
The July Pot Rock was a perfect example of how he wants the event to go. Everyone dug into the pizza, the hummus dip, the cookies and the sparkling water.
While the food was being enjoyed, there was a wide-ranging discussion covering enlightenment, the meaning of life and the best portable guitar amp.
Then Bussey and his friends, Jordan and Tori, took turns playing guitar and singing. The kids went to the playground. Everyone continued enjoying the music and food.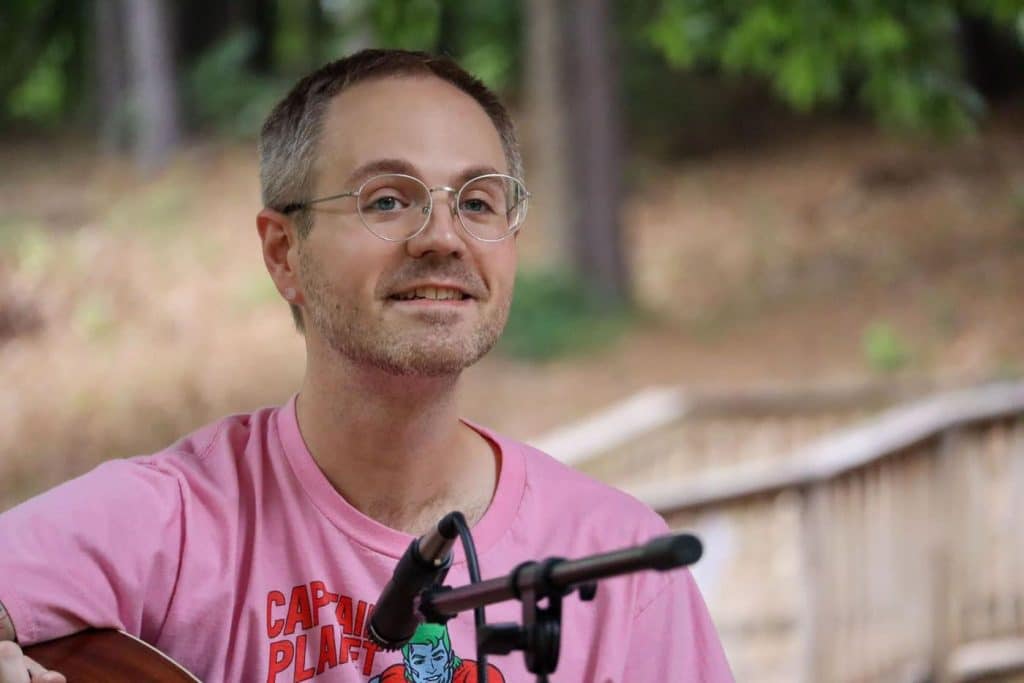 There was no schedule. No agenda. No rules. And that's just how Bussey likes it.
"I'm always going to want to play music," he said, "but if it ended up that all we wanted to do is talk, that'd be fine too."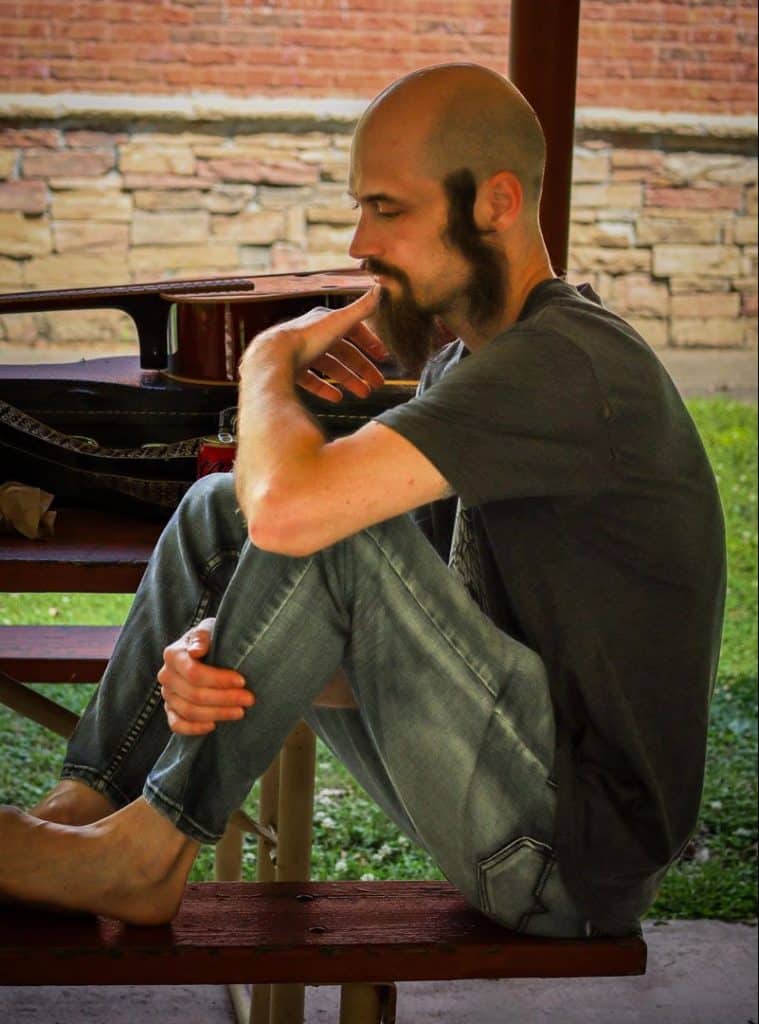 Lifelong love of music
It's understandable that Bussey wants to play music. It's been a big part of his life since he started playing the piano at age four. "My mom had a piano and I just started picking out sitcom theme songs," he said, "like The Wonder Years."
Eventually his parents started him in piano lessons, and being a quintessential kid, he then decided he didn't want to play piano anymore. But his love for music didn't go away and Bussey started playing guitar when he was 13.
The switch from keyboard to fret board wasn't easy. But he stuck with it and is now an excellent guitar player, songwriter, performer and guitar instructor.
Singer/songwriter
Pot Rock is informal and so far, has had small crowds — 12 people is the largest gathering so far — but Bussey loves playing there. He's demonstrated a wide range of guitar styles while taking his turn playing at Pot Rock.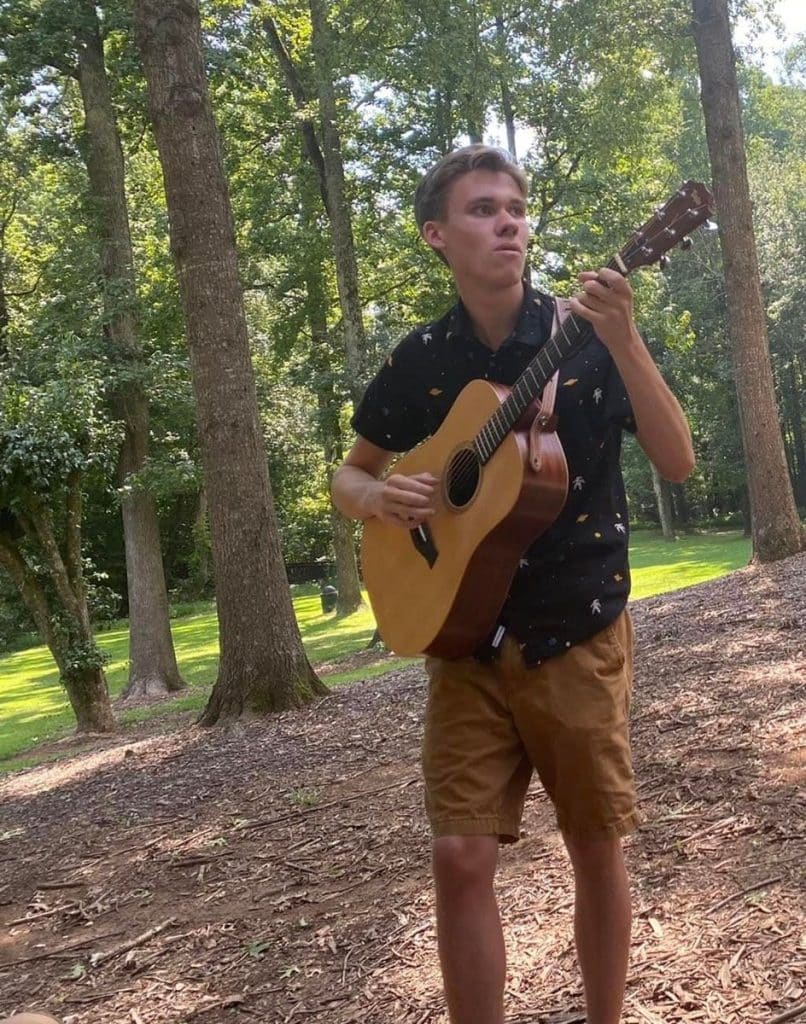 He's got a nice catalog of cover songs that are familiar to everyone, but during Pot Rock he also performs original songs that he's written.
Bussey started writing songs as a teenager, and estimates he's written more than 120. There's no set method for him to write. Sometimes he starts with a chord progression that he likes and then adds the lyrics. Sometimes he starts with the lyrics and finds the melody in them.
What's most important to him is that his songs are genuine to him. "I try to go to a place where nobody's around and it's nice and quiet. I want to really hear what's going on inside of my internal dialogue. What am I really feeling?"
The title of his song "Alien" may make it sound unusual, but it's a beautiful song with a message that resonates with everyone who hears it. "Forest of Distractions" is another Bussey-written original that he delivers powerfully at the park.
Free to play, free to attend
Having Pot Rock be a place for people to play and listen for free is important to Bussey because he's been on the play-for-pay side of the music world.
He's been in two bands, Before the Solstice and Opposing Suns, which played around Atlanta, including the Hard Rock Cafe. He loves being onstage and performing, but paying gigs seems to be harder to come by since COVID.
"I used to play at a tavern," he said. "They had a good open mic. They'd done it for 20 years, but they told me they don't do open mics anymore because people are more into darts now."
He still wants to play for people, so Bussey is busking more often. Busking is playing for people in public and relying on their tips for money. He's had a lot of success in the Athens area.
"I used to busk a lot," he said. "I stopped because I felt like everybody viewed it as panhandling. I thought maybe I shouldn't do that, so I waited through COVID and started trying to get gigs and I couldn't."
Amplifying his music
Bussey has a cousin who is a musician who had more success busking after he purchased a portable amp. With some persistent encouragement from his girlfriend, Jessica Dotson, Bussey got his own amp for busking and the results have been great.
Maybe the amp makes a difference because people can hear Bussey's music more clearly. Maybe the amp projects a more professional appearance. But whatever the reason, performances are much more financially rewarding. "I was doing good to make $20, $30 a day back in the day," Bussey said, "and now I'll make anywhere from $60 to $100 literally in two hours."
Bussey also put his years of experience to work by offering guitar lessons through Atlanta Affordable Guitar Lessons (atlaffordableguitarlessons.com) where he tailors his lessons to each student.
"I'll ask them what genre they want to play. If it's jazz, we'll learn jazz. If they want to just be a person that plays chords and sings campfire songs, I teach him basic chords. If they really want to go forward with music theory, I'll teach him as much as I know," he said. "I just try to keep it kind of fun."
Flexible and fun
Bussey brings that same attitude of flexibility and fun to Pot Rock.
Everyone is welcome to come. Everyone is welcome to perform. It doesn't matter what instrument you play or how well you play it, you'll find a receptive and supportive audience at WP Jones Park every month.
Even though it's a potluck lunch, there's no requirement to bring food. There's usually more than enough.
Pot Rock takes place on the second Saturday of every month (weather permitting) at WP Jones Park on Pleasant Hill Road in Duluth. People usually start arriving at 1 p.m.
You can hear some of Bussey's music on his YouTube channel @clintbussey.potrock
Photos courtesy of Jessica Dotson