Music Matters Productions calls Peachtree Corners home.
On one sunny afternoon I pulled up to a large warehouse on Green Pointe Parkway in Peachtree Corners. Cars filled the parking lot and large box trucks sat parked in the cul-de-sac at the end of the drive. This rather nondescript building is home to Music Matters Productions, an enterprising audio and video equipment rental company that is behind many of the biggest performances at venues both locally and across the country.
As I walked through a door and around a corner, I was faced with an impressive sight. Tech cases and speakers were stacked high, towering above me virtually everywhere I looked in the massive 40,000-square foot warehouse space. Music bumped and lights flashed across the ceiling as employees moved about the space, working on a rig for an upcoming show. A giant cutout of a WWE wrestler featuring the cutout head of Danny DeVito is proudly hung facing the loading dock doors. Around the top of the walls are phrases such as Good Vibes, Good People, Good Work.
Indeed, Music Matters is living proof that when you hire the right people and provide them the right atmosphere you will, in fact, get good results.
Humble beginnings
Music Matters started out as a much smaller company based out of the home garage of founder and CEO Aaron Soriero. The whole story began with a love of music.
As a young man, Soriero attended the Atlanta Institute of Music. He bought his first instrument, a guitar, and dreamed of one day being in a band. But when his friend's music store had an instructor no-show, Soriero stepped in as a sub. It was a natural fit, and he worked there regularly for some time before deciding he wanted to start his own music shop.
The concept, Music Matters, soon expanded to three stores in Roswell, Alpharetta and Suwanee. Selling gear as well as music lessons for kids, the stores were successful, but franchising was a new challenge for Soriero.
As the company grew into multiple locations, he had to reckon with his desire to be hands-on with every element of the business.
A musician friend approached Soriero and asked to rent some speakers and lights for a show, and a new idea began to coalesce: a music production rental company. In time, Soriero sold off his stores and used the proceeds to buy more speakers and lights.
When Music Matters Productions was just getting started, they provided gear to smaller clients, such as frat houses in Athens. "Not major shows, but you still learn how things work," explained Soriero.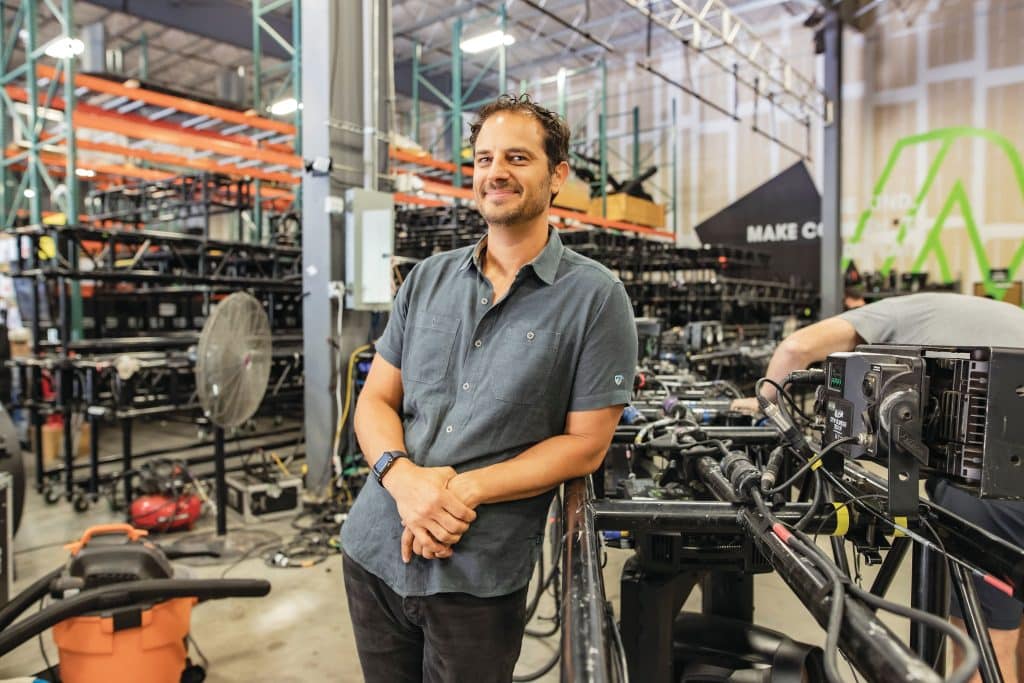 Finding their way to festivals
Around 2008 the company rented gear for their first music festival, though at that time festivals were not nearly on the same scale as they are today. It was the first time they had to contend with multiple stages and artists all performing at the same time.
"We started to focus on festivals, and now that's one of the major things that we do," said Soriero. "Festivals are an even more unique usage of the gear. We have a lot of interesting settings that you have to load into, on a beach or something like that."
Soriero and his team find adjusting to a variety of venues to be an enjoyable challenge. All told, they produce around 2,500-3,000 events each year, pulling from their inventory of around $20M in lighting, audio and video gear.
For Soriero, operating on such an impressive scale both locally and across the country is only possible thanks to their dedicated and knowledgeable crew.
"There was a time it was just me and Dave, and we would literally be the only ones to work in the warehouse and work the shows. But now that we have staff, in the past year and a half I have been focused on making sure the operations can work without me," said Soriero.
Being able to relinquish control of the smaller details has allowed Soriero to focus on the bigger picture and what's next for Music Matters.
A powerful team
On the day I visited, I had the opportunity to speak with three of Music Matters Productions' key employees. Tom Nguyen, lighting department manager, has been with the company full time since 2016 and was a contractor for Soriero since 2013; Drew Alley, has been the on-site lighting technician and project manager since 2015; and David Puryear, mentioned earlier, is the shop manager and has been working with Soriero for the past 14 years.
"A pretty important part of friendship is trust," Puryear said of the crew. Having worked with Music Matters for such a long time, he has seen the company through various stages of growth and can attest to the value of having a cohesive staff.
"I know I can lean on everybody back there; I can count on everybody. I know that our people will be doing the things they need to do to get us there," he said. Today he is responsible for the intricacies of the inventory system, a role of utmost importance for a company as in demand as Music Matters.
Even with a stellar crew, if just one piece of gear isn't in order on the day of a production, everything can easily fall apart. Puryear ensures that every item is properly scanned, stored and accounted for.
He has been working with Soriero since the now massive company was housed in Soriero's home garage. "I remember his neighbors letting us know how displeased they were that we were cleaning a truss in his backyard," he said with a laugh. Today, the company is significantly larger and employs a staff of 45 full-time employees, plus an extensive roster of techs and contractors.
Friends who work well together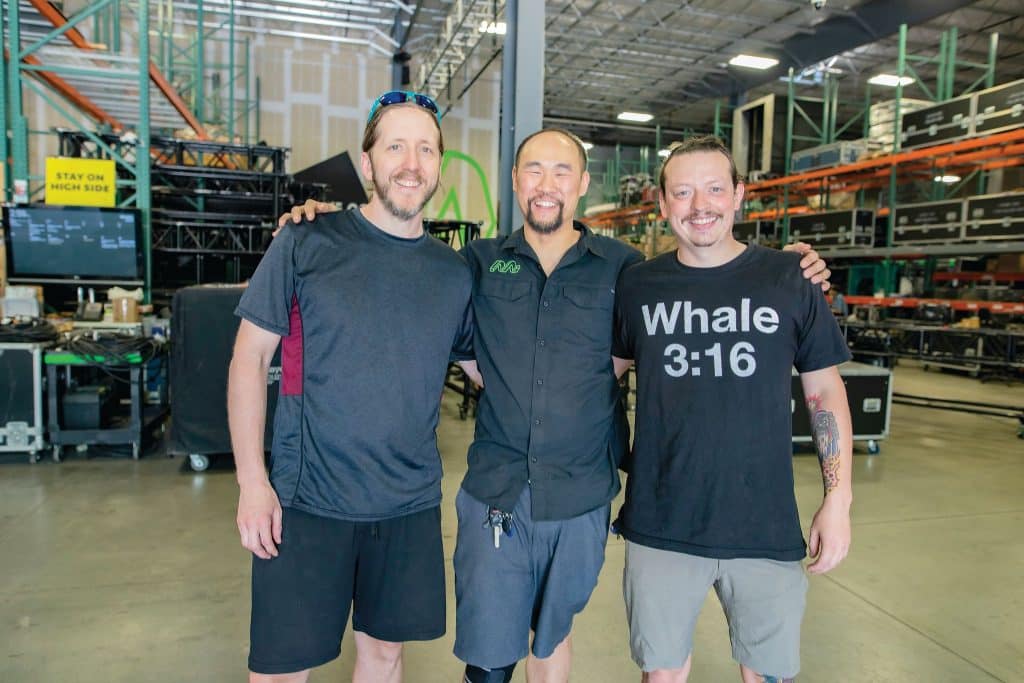 And the vibes? Immaculate. "We are really good friends, first and foremost, which really helps, but we also care a lot about our work," said Alley. "We don't let that make us too serious — we have a little fun, but we are still as professional as possible."
Alley holds one of the client-facing roles that interact directly with the venue staff and festival crew to bring these giant productions to life. "Generally, people like working with us on-site. The second we roll up, the client feels good and the stagehands feel good," he said. "It's something that we work towards but it's in a subconscious kind of way. All of that culture has happened organically."
Like many of the staff at Music Matters, Nguyen comes to his love of music naturally. He was in a small band in high school and played music all the time as a young man. These days, he also moonlights as a DJ when he's not working at Music Matters.
"It's fun, it's a good environment to be in," said Nguyen. He pursued animation in college at SCAD's Atlanta campus and after a few years of freelancing for Soriero, he became a full time employee. "I'm a visual person so seeing the lights and the visuals of different concerts is awesome," he said.
The importance of focus and cooperation
For the staff at Music Matters Productions, it is imperative that everyone work together in a cohesive fashion to ensure that productions come together from initial quote all the way through to the actual show itself. Just this year, the company has been behind the scenes working on 15 to 20 events that range from medium to extra-large in scale.
Festivals, big arena shows, graduations, touring musical acts and even furry conventions have enlisted Music Matters to produce their shows. "Attention to detail is really important to what we do," said Alley. "Not only is there money at stake but people can get hurt."
When the crew is responsible for flipping gear from festival to festival, some with only a couple of days lead time, it is essential that every part and piece from the biggest rigs to the smallest cords are tested and ready for installation prior to the event itself.
The Music Matters crew was hard at work setting up and testing equipment for an upcoming show when I toured the facility. Having a large space allows them to ensure everything is working appropriately long before ever stepping foot on stage. This system has revolutionized their business and allows for a more streamlined process once they arrive on site.
Soriero is generally on-hand during setup and breakdown of every major event. As an incredibly involved CEO, he wants to be available to his staff as well as to venue staff and talent. "Always stay calm; you can't solve any of the problems if you're freaking out or worried or anything like that," advised Soriero.
Addressing conflicts as small as being short one speaker to major tech malfunctions, he enjoys being accountable and accessible to everyone on his productions.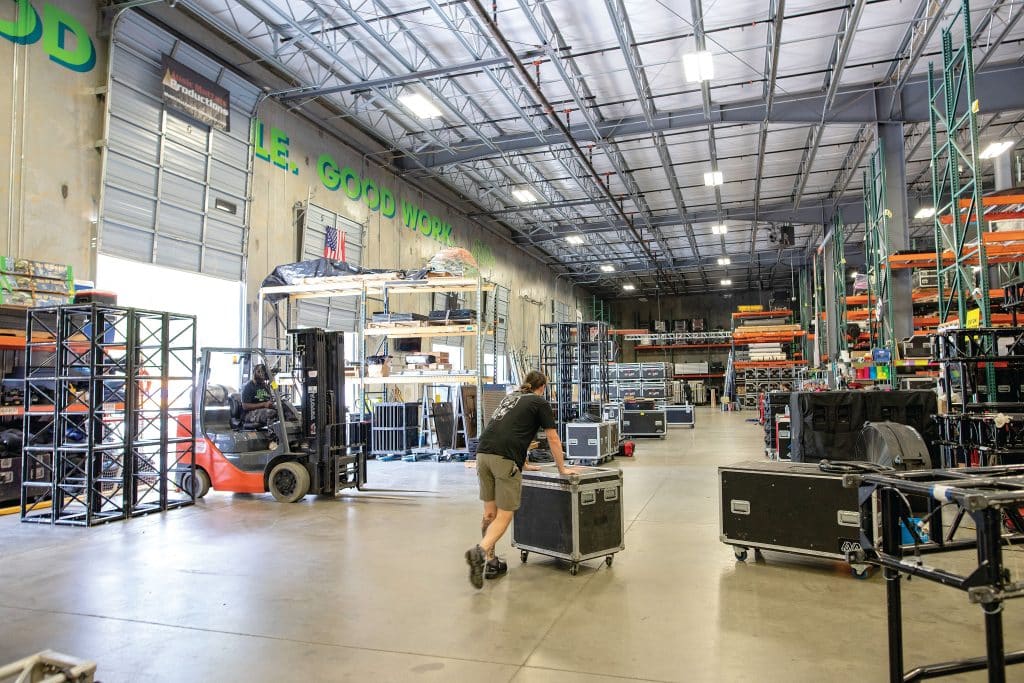 Professionalism gains recognition
Much of the company's success is due to word of mouth and networking that takes place at these productions, in addition to increasing their public image through marketing efforts.
"Yes, we are behind the scenes, but I don't see any reason why we should be," said director of marketing Lindsay Duncan Schwartz. Acknowledging the wealth of talent on their team, along with their commitment to excellence and the many ways they enhance the experience of concertgoers, she feels there is a story worth telling at Music Matters Productions.
"Why shouldn't we have the same brand recognition that these festivals and artists have?" she asked. Schwartz is a passionate cheerleader, not just for Soriero but for the entire Music Matters team, who she says absolutely deserve all the praise they receive.
"There's a lot that goes into what you see on stage before it even comes close to being installed," said Schwartz. "You have to be a self-starter to work here; you have to have a solid work ethic. That's probably the number one quality. You can't be afraid to work or get your hands dirty."
But all the hard work doesn't mean that employees at Music Matters have no fun. The company's music-loving and lighthearted culture has enticed many talented employees into a team that has become like a tight-knit family. Soriero has cultivated an environment that promotes healthy working relationships and retains long-term employees through various iterations of the company.
Music Matters' success is a testament to Soriero's personal commitment to the company as a whole, as well as his passionate and dedicated team. "When the owner of your company is getting their hands dirty, that really means a lot to the team and sets a good example of a hard work ethic," Schwartz said.
Impressive resume and bigger plans
Music Matters Productions has worked with an incredible array of musical acts and festivals including Foo Fighters, Def Leppard, Mary J Blige, Motley Crue, Pitbull, Janet Jackson, The Killers, Charlie Puth, Lil Nas X, 2Chainz, T-Pain, Green Day, Stevie Nicks, Lil Baby, Paramore, Lauryn Hill, Jill Scott, Bad Bunny and the Red Hot Chili Peppers, just to name a few.
They are also the production crew behind the scenes of many of the biggest annual musical festivals such as Shaky Knees Music Festival, Atlanta Jazz Festival, ONE Music Fest, Hangout Festival in Alabama, Sea.Hear.Now Festival in New Jersey, Electric Forest Festival in Michigan, Oceans Calling Festival in Maryland and themed festival cruises put on by Sixthman Festivals at Sea.
Local venues — including Smith's Olde Bar, the Cadence Bank Amphitheater at Chastain Park, Ameris Bank Amphitheater, the Tabernacle and the Eastern — have enlisted Music Matters Productions for their builds. You will also see their work when you visit the Atlanta Symphony Orchestra, attend FurryCon and DragonCon, and when you see the LED cube, smoke and fireworks for football intros as well as the production of the National Championship Celebration for UGA Football.
So, what's next for Music Matters? Soriero has dreams of constructing a rehearsal facility so that productions can assemble, test and disassemble entire setups prior to arriving at the venue. He also hopes to break into larger venues, like stadiums, which require more extensive gear.
For more information about Music Matters Productions, check out their website at musicmattersproductions.com and follow them on Instagram for their latest updates.
Words and Photography by Isadora Pennington