The thoughts of sports in metro Atlanta often conjure up images of the Braves, the Falcons, the championship college football series or the annual PGA Tour Championship at East Lake Golf Club. But those in Gwinnett County know that the area has much more to offer.
To share insights into the upcoming season, the Southwest Gwinnett County Chamber (SWGC) invited Stan Hall, chief executive officer of the Gwinnett Convention and Visitor's Bureau, and Dan Corso, president of the Atlanta Sports Council, to its First Friday Speakers Series.
Although both men are involved in similar organizations that often dovetail with each other, the object of those organizations is to bring events to the area, whether it's in Atlanta or Gwinnett County, for economic growth.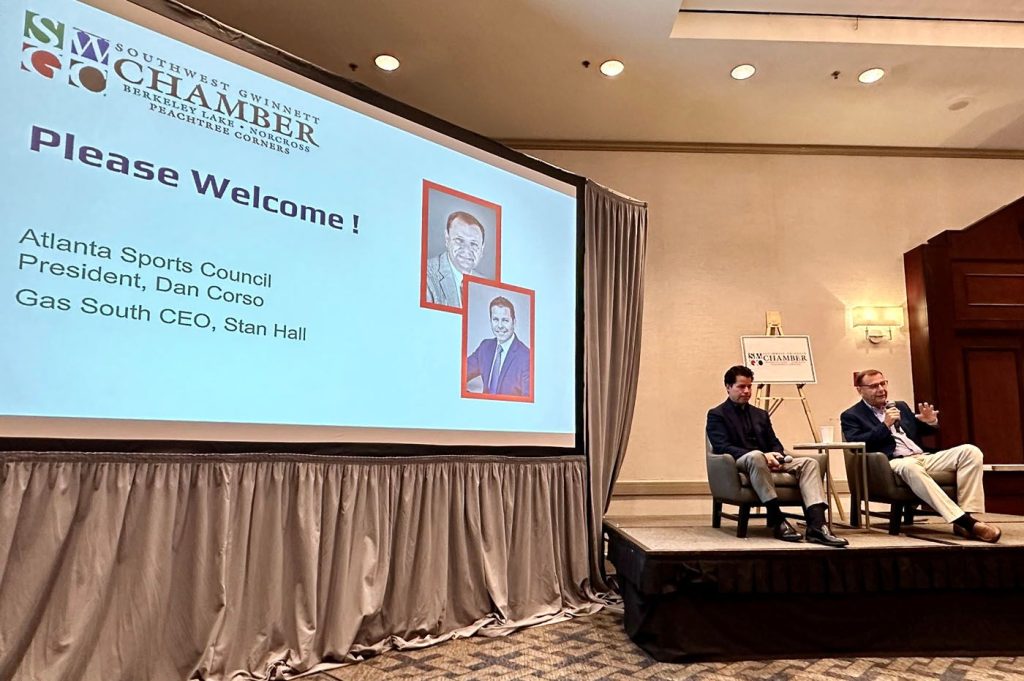 Organization grows sports events and economic opportunities
The Atlanta Sports Council, formed in 1985, focuses on the growth of sports in the entire metro area. "There have been and continue to be some really cool big events in Metro Atlanta based on Corso making those connections and sending business to the local facilities," said Hall.
The initial purpose of the Atlanta Sports Council was to pursue the 1996 Olympic Games. "At the time, there weren't any sports conditions or councils in the country, other than Indianapolis," Corso explained. "Indianapolis was the first. Eli Lilly privately funded it to become the amateur sports capital of the country and, ultimately, to have the NCAA relocate from Kansas City to Indianapolis."
The success in that city prompted others, like Atlanta, to follow suit. "We compete for sporting events to come to our communities to drive economic impact visibility, and now, it's seemingly more so social impact legacies, things that are left behind that are beneficial to the communities once the event is over," said Corso. "While we are competitive, we're also collaborative. Some events are not suitable for the region that we're focused on, which is downtown, where the larger facilities like Mercedes-Benz Stadium aren't the best fit for every event."
That's where Corso reaches out to people like Hall to host smaller events or those that are conducive to the facilities that Gas South controls.
"There is some cross-promotion between our two groups. We're very, extremely focused on one thing: recruiting and hosting," Corso clarified. "Our focus is recruiting from the outside in. And then once we get the event, hopefully, to come into our community, we get involved in the planning phase and the execution of that event."
One of the big differences is that Hall controls the facilities he recruits for. "We're looking to provide events to facilities that we control, whereas Dan is looking to bring events to facilities that are local," said Hall. "The [Gwinnett] Stripers …are an example of the relationship we have with Major League Baseball. We control the facility that they play in and they provide the product that takes place in there."
Some of the major events in Gwinnett County — from NCAA events in the arena to Southeastern Conference events in the arena — were brought in by Corso and his team because they weren't best suited to downtown Atlanta.
"We do play off each other. Some people that approached us about events are, quite honestly, just too big for the facilities we have here," said Hall. "Once we've determined that they need 80,000 seats, I'll pick up the phone and call [Corso]."
Sometimes the size of the venue isn't the most compelling factor. Often, the availability of hotel rooms for the duration of the event can make or break a deal. "If you have availability on the day within the venue, then you must ask, 'Are the hotels available?' because you can't have any size without hotels," Corso commented.
There are often so many conventions and other events that have nothing to do with sports taking place in downtown Atlanta that hotel rooms fill up quickly.
"So, you've got this great sports event lead that you said, 'Well, what's the time period?' and even though the event is a couple of days, they need 10 days of load in and parties and things," said Corso. "It's a 10-plus day event and sometimes you have to pass on those because the hotels aren't available because of the convention business."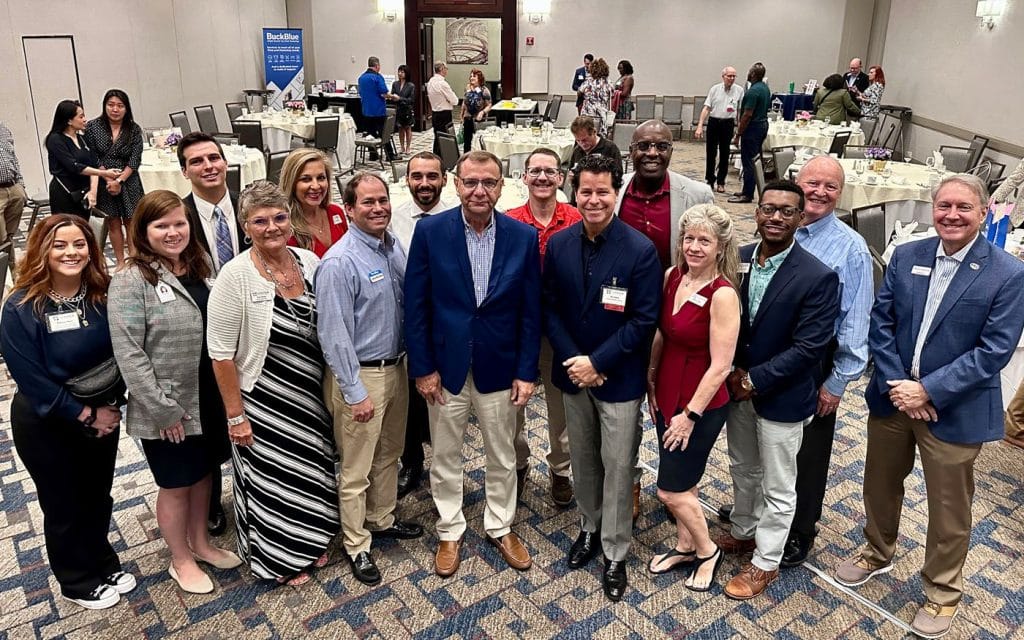 Economic impact on businesses large and small
Big events like the Super Bowl, the World Cup and the college football playoff national championship mean a budget of anywhere from $13 million or $17 million to as much as $50 billion for a host budget. Invisible costs such as police support, signage and additional workers can add up quickly.
The sports councils don't use taxpayer dollars and rely on sponsorships to bring in revenue-generating draws. But events of that magnitude can bring in a return of at least 10 times for metro area businesses.
FIFA, the organizing body of worldwide soccer events, values its events and is particular about host cities. Without a doubt, the World Cup is the biggest sporting event and it's going to increase from the 32 teams that participated in Qatar last year to 48 teams. In 2026, it's going from an early estimation of 80 matches to 104 matches.
"If you do the math, it goes up by about two matches per city. So, when we were expecting five to six matches over 40 days, [metro Atlanta] could have anywhere from eight to nine matches over a 40-day period," said Corso.
Although it may be obvious to local businesses to sponsor teams such as the Stripers, there are numerous opportunities at major sporting events for smaller businesses as well.
"Whether you're a sports fan or not, I'm telling you, there's a huge population that follows sports. And as you see the major events, that sponsorship is getting longer and longer and longer," Corso explained. "The hospitality benefits that come with [sporting events] offer a lot of client development."
He mentioned that visibility through marketing channels and activations that sponsors are allowed to do for sporting events is growing.
"Companies are always looking for an ROI [return on investment] on what they're giving and, of course, the assets are getting bigger because the cost of hosting these events is getting bigger," Corso said. "But there will be seats at the table for just about everyone for the College Football Playoffs in 2025."
For more information on the Atlanta Sports Council, visit metroatlantachamber.com/atlanta-sports-council. Learn about Explore Gwinnett at exploregwinnett.org.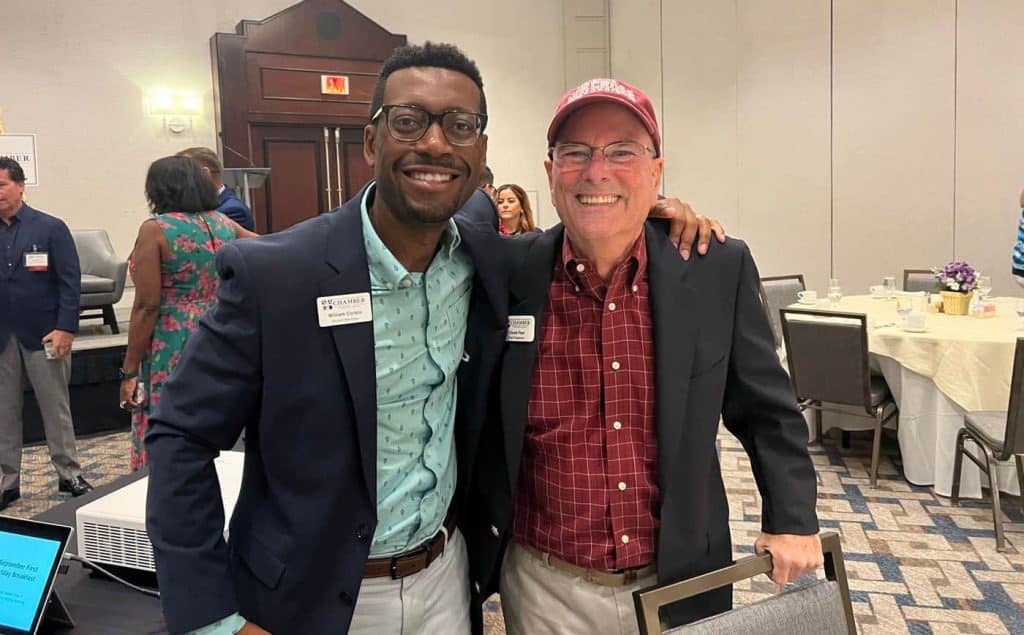 Photos by Bruce Johnson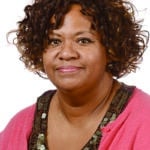 Arlinda Smith Broady
Arlinda Smith Broady is part of the Boomerang Generation of Blacks that moved back to the South after their ancestors moved North. With approximately three decades of journalism experience (she doesn't look it), she's worked in tiny, minority-based newsrooms to major metropolitans. At every endeavor she brings professionalism, passion, pluck, and the desire to spread the news to the people.