"It's 90% social, 10% game."
That's how Kevin Priger describes the Thursday evening bocce games he and his wife, Holley, host in Downtown Duluth.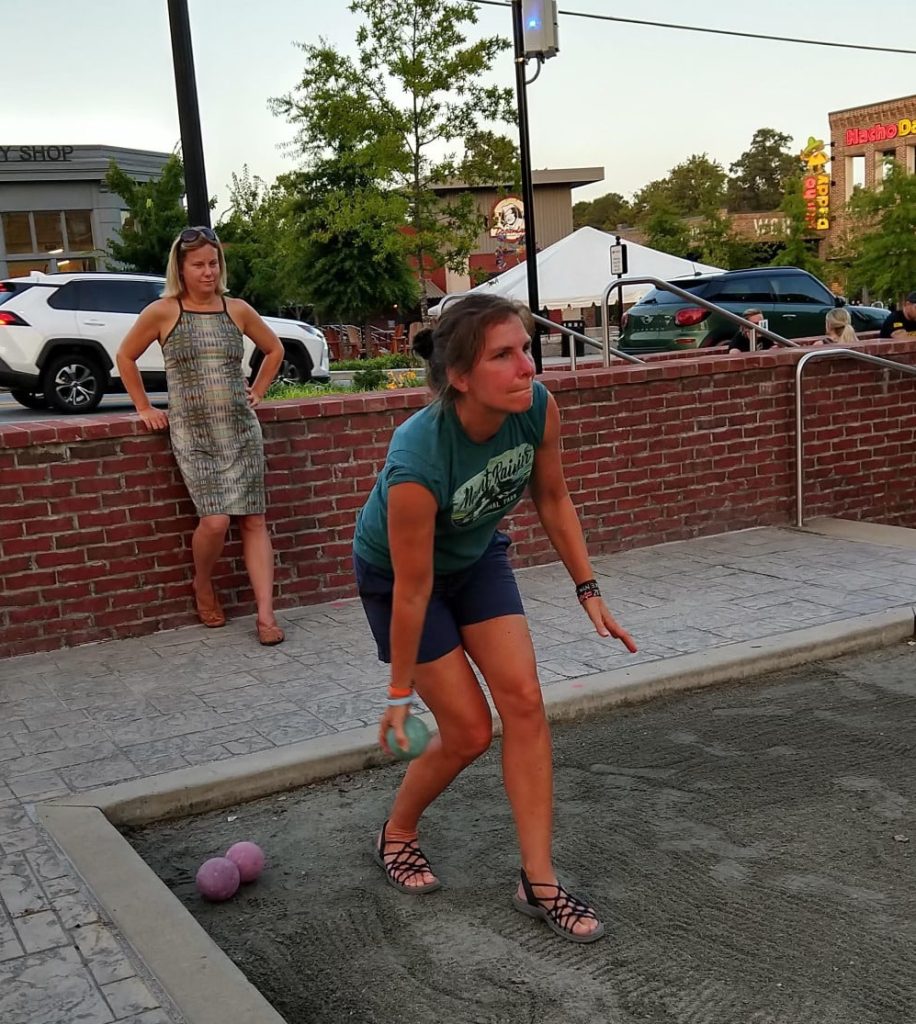 Building neighborhood connections
The City of Duluth installed a bocce court in the Town Green several years ago near what was planned to be an Italian restaurant. The game has a strong Italian history. When Priger saw the court, he had an idea.
"I thought this would be a great place for us to get together and build a community," he recalled. "I got interested in bocce and felt like it was a game that's very approachable. You don't have to really practice a lot; it has simple rules, and anybody can play.
"We'd say it just takes a couple of minutes to learn, and you can play for a lifetime. So, we started calling ourselves the 'boccevangelists' because we'd evangelize them playing bocce."
The Prigers started hosting games in the spring of 2019. They paid to have a posting on the website Meetup, and it worked. People showed up to play.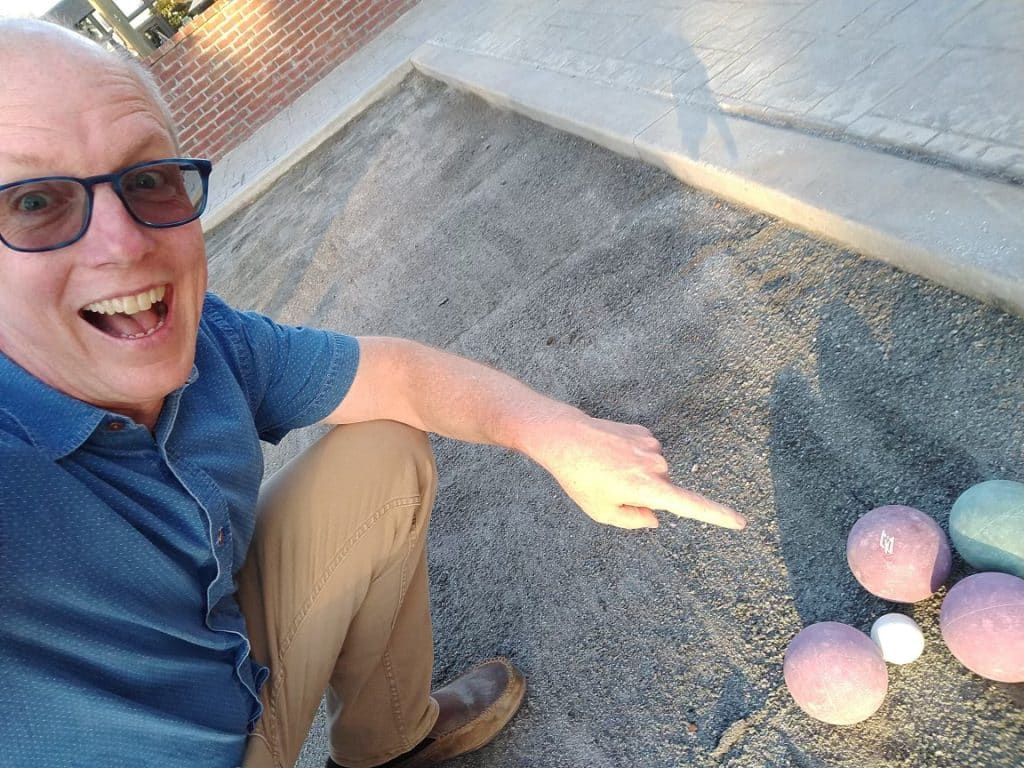 Priger named some of the original players, most of whom still participate. "Philip, Beth, Bettina, D'Bora and many others. It was a big variety of people. It was just amazing. It spread by word of mouth, and it created a community that we now go out to dinners together."
Priger emphasized that the bocce games are open to anybody.
"When we first started, there were people coming up from Midtown because they thought it was so much fun. But it's mostly people from Duluth," he explained.
Bocce's Italian Heritage
The history of bocce goes way back, and the game's current form is mainly associated with Italy. The first set of rules for bocce was documented in 1753, but it is an offshoot of games played back in the Roman Empire. Now, it is played worldwide.
Priger found bocce through golf. He has helped put on golf tournaments for the Meeting Professionals International group, and one year, they added a bocce tournament as part of the golf tournament.
"We did it on the putting green or the driving range," he said, "and it just had a few people. This was about 10 years ago, and it's just grown since then."
Priger has played some bocce outside of the Thursday night Duluth games. He's participated in the Atlanta Bocce League and at Augustine's near Oakland Cemetery.
Some of them, he says, "got pretty serious."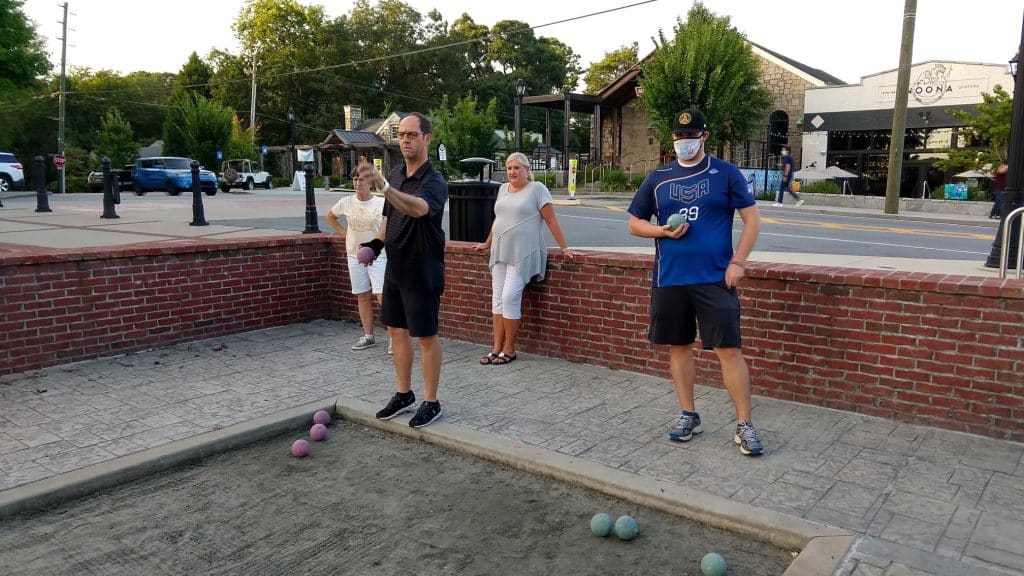 It's just fun
That's what makes Thursdays in Duluth so different, an aspect that the Prigers and their fellow bocce players love.
"What's fun about this," he explained, "is the not serious part of it. It's just fun. It's relaxing."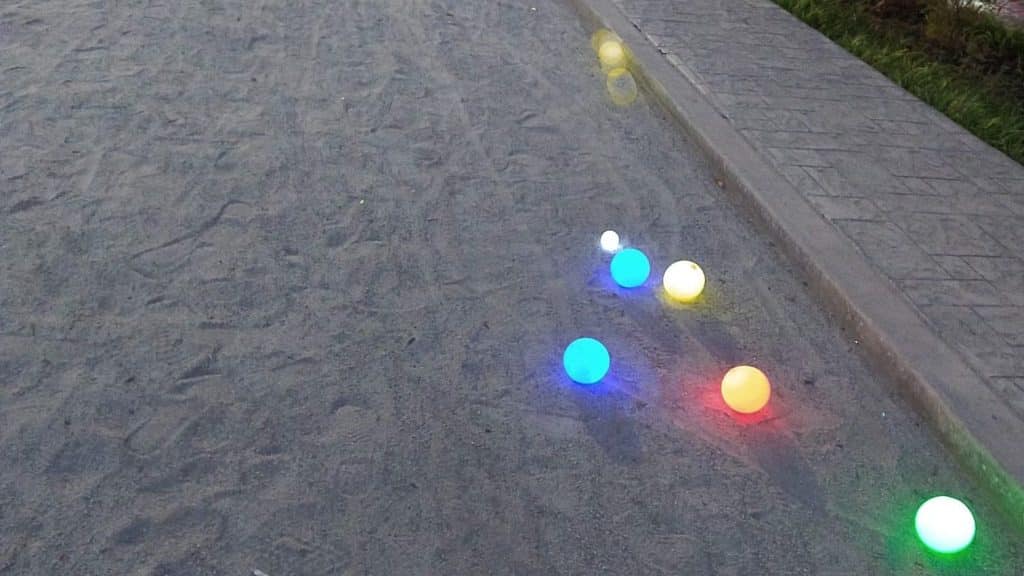 For Kevin and Holley and their fellow players, it is about connecting with people.
"It's a welcoming thing to do," he said. "It's just to create a community that people can then grow from there. We've got to know some people we probably would never have met any other way. It's our Sunday school on Thursday."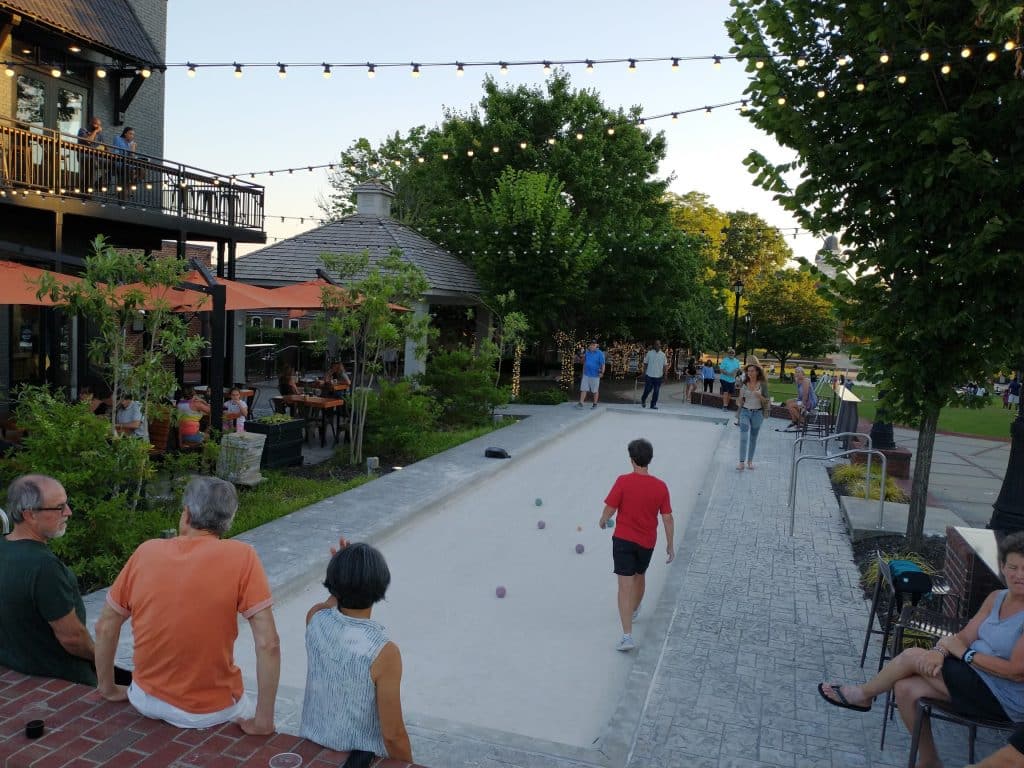 International appeal
Most of the players are from Duluth, but not all. In addition to the nearby towns, the games also attract some international players. Duluth residents from other countries and backgrounds often come to play.
Michael Schläeger is from Germany. He lived in Duluth for four years while working in the U.S. and was a regular at the bocce court. Schläeger really enjoyed the games.
"The special thing was that the group was made up of a lot of members," he said. "So, every Thursday, there were people you knew and new ones. It was great having met so many locals. Most of the time, we played women against men, and also, most of the time, the women won. It was a great atmosphere."
Whenever Schläeger's wife Britta visited, Thursday night was always booked for bocce.
"I met wonderful people from downtown Duluth," she said, "and it resulted in some very special friendships. It was so much fun to play bocce in this beautiful place".
Newcomers are always welcome
There's a group of regular players, but newcomers and bystanders are always encouraged to play.
"We've taught kids to play," Priger said. "There was one game where we had a group of teenagers, and we taught them to play. We let them have the court, just showing them how to play. And there was a group of people cheering for them."
One Thursday this September, two young boys were watching the games intently. The adults playing, including Liz, Paul, Robin, Scott, and Bil, encouraged them to participate.
After checking with their parents, Nathan and Pax, who are both eight years old, started enthusiastically rolling the bocce balls with adults. Everyone enjoyed their participation.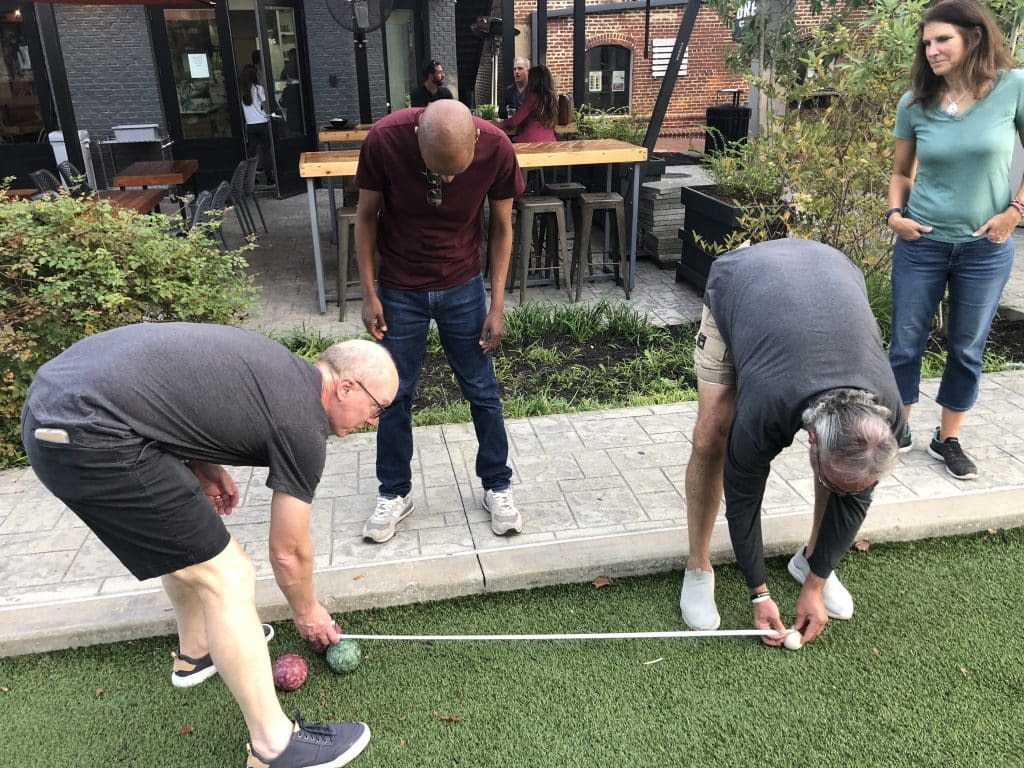 Any number of people can play
Since the games are open for anyone to participate in, and no reservations are required, the number of players on a given night can vary.
At times in the past, there were so many people that Priger set up a secondary court that he built with PVC pipe on the grass of the Green.
But even on the main court, many people can be accommodated.
"Sometimes we'll have 16 people or more playing," Priger said. "And you're like, well, how in the world do you do that? Well, eight balls, eight people on each end, one ball per person. Everyone takes a turn."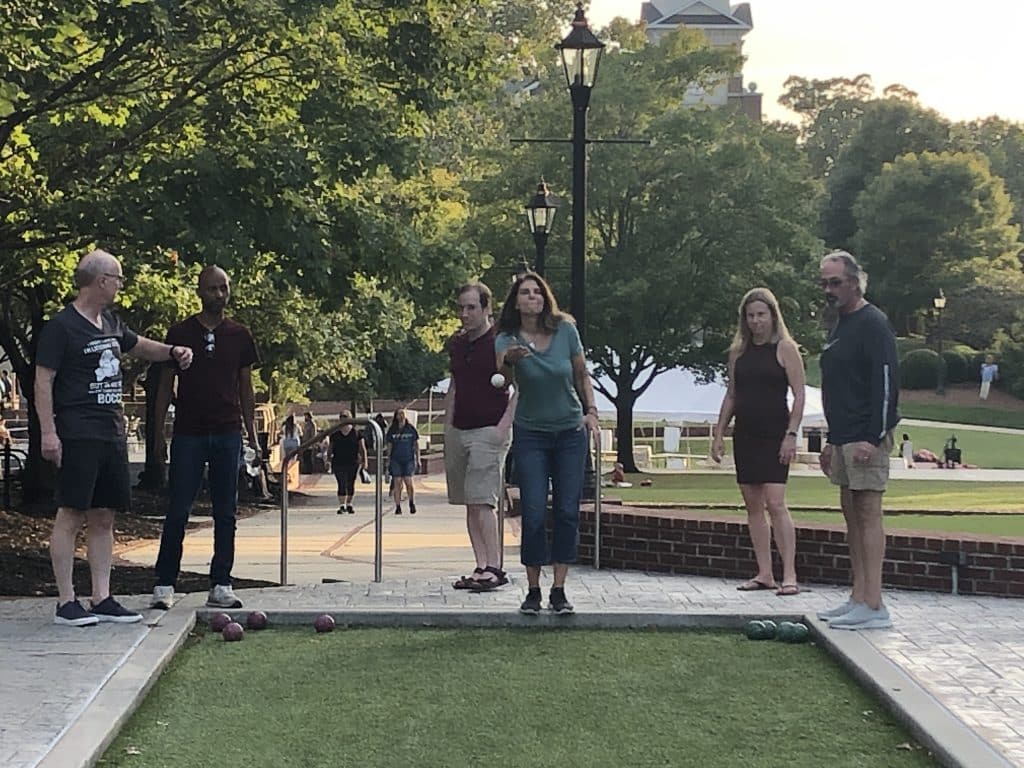 Supporting Duluth and supported by Duluth
The bocce court is located on the Town Green just outside the Sweet Octopus restaurant. The players often start the evening by ordering from Sweet Octopus or one of the other downtown restaurants and eating dinner on the patio next to the court.
Priger thinks that's an important part of the evenings.
"We want to make sure that we don't just come in here and take. We also want to give back to the community," he said.
And the city has supported the games as well. The court was originally a sand surface that would get packed down.
"It was pretty rough," Priger recalled. "It held water, so if it rained, it would be a pool for a couple of days."
The city has now replaced the court surface with artificial grass and added a small scoreboard.
Priger loves the changes. "This is great what they did with it here. It's a little bit slower than it was before, but it allows us to play all the time."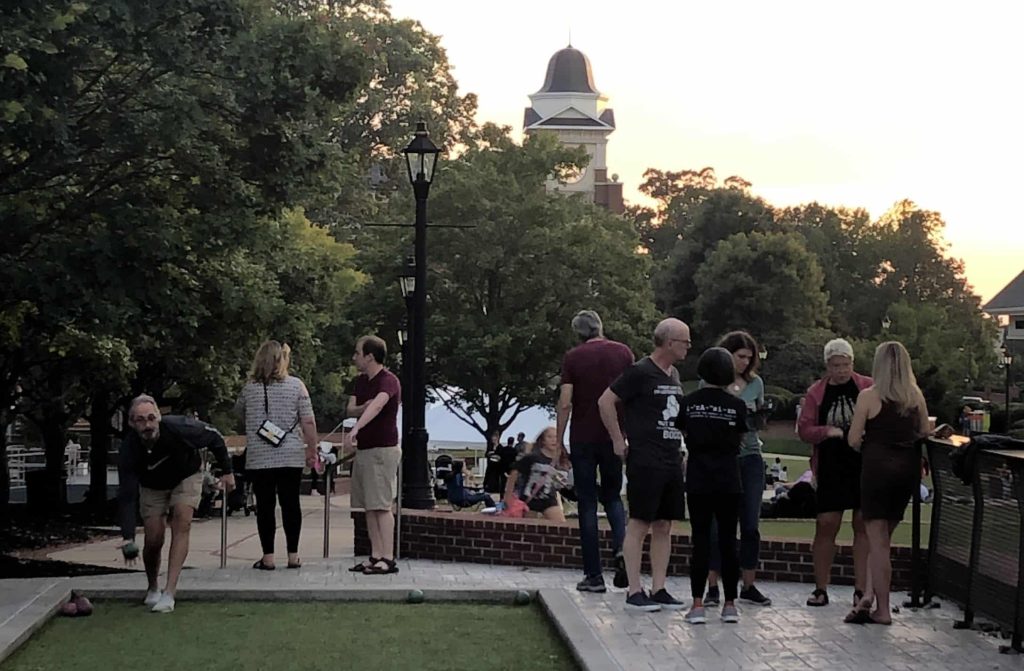 Photos courtesy of Kevin Priger and by Glenn Boylan