Shopping for great deals on furniture for that first apartment or vintage clothes for the perfect Halloween costume might prompt one to think about Goodwill. Yet, there's much more than that to the international nonprofit.
More than meets the eye
Founded in 1902, Goodwill Industries International Inc., often shortened in speech and writing to Goodwill. The organization provides job training, employment placement services and other community-based programs for people with barriers to employment. 
In fact, the Goodwill of North Georgia's Pleasant Hill Career Center in Duluth (1502 Pleasant Hill Road) recently held a grand opening. The store is now open for residents and community members seeking employment opportunities in Georgia.
"We were able to add more classroom space, more workshop space and more bright, inviting space with some new LED lighting and more environmentally friendly space and expand the career center to add more square footage and to open up more interviewing rooms and more classrooms and more meeting spaces for employers to connect with our local neighbors in Gwinnett County," said Jenny Taylor, vice president of career services.
According to a press release, the main career center space was renovated and updated to add additional square footage (the total renovated space is now an expansive 9295 square feet). The expansion allows Goodwill of North Georgia to serve more job seekers in Duluth and Gwinnett County.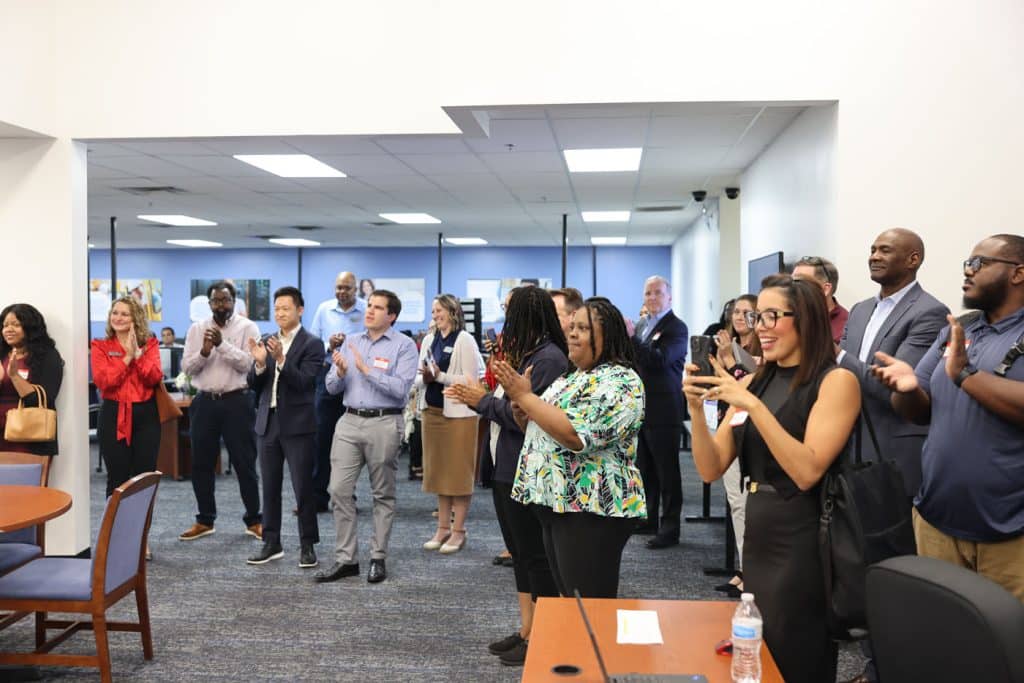 Supporting the local workforce
The Pleasant Hill location is just one of Goodwill of North Georgia's 14 career centers that provide no-cost job training, placement, case management, work support, paid internships and opportunities to all community members in need.
"Our goodwill is synonymous with thrift store, and most people understand that there's some lowercase goodwill going on with that brand," Taylor explained.
"But few people know the extent to which we are really making a difference in people's lives with our mission to put people to work. And it's been nearly a century in Atlanta. And more than that nationally," she added.
Training programs available at the Pleasant Hill Career Center location include forklift operation, hospitality, GoodBIZ (a self-employment and micro-enterprise training), medical administrative assisting and phlebotomy.
Goodwill expects to serve 1,200 individuals in high volume and 95 in its training programs annually at the Pleasant Hill Career Center location.
So, if you thought the only jobs Goodwill has to offer are at its retail locations, think again.
"[Job training] doesn't mean necessarily working at Goodwill," said Taylor. "The vast majority of the 22,113 people we put to work in North Georgia last year were not at Goodwill. … Most are working with the 5,000 employer partners that we have."
Indeed, according to the organization, Goodwill's career service centers are crucial factors in keeping Georgia's economy running strong.
Creating long-lasting careers
Goodwill of North Georgia continues to be the number one Goodwill in the country for connecting people with jobs. In 2022, it employed and connected 19,254 people with work opportunities.
According to the press release, graduates of the Goodwill training programs have gone on to successful employment with companies such as Amazon, Kroger, Delta Airlines, Georgia Department of Transportation and many others.
Although the organization has grown and changed, some core functions still exist. 
"We will happily take your broken toaster and your torn clothing because we're going to recycle them and make sure that they stay out of the landfill. … We want to repurpose them and recycle them and sell the good ones or bring it to crafters who are going to find some joy in making it into something wonderful," said Taylor.
"But the training that we're doing, we do retail and customer service training. So, we are training people to work in that environment. But we're also training people to be in IT professions. And we're training people in the medical profession, and we're training people in supply chain and logistics," she explained.
Taylor went on to add that they analyze the labor market and where people are going to find career pathways.
"We help people who are experiencing poverty to move out of poverty through what we call our ABCs, but in a slightly different way: a first job, a better job and a career. Because people need a starting place to have that economic mobility," stated Taylor.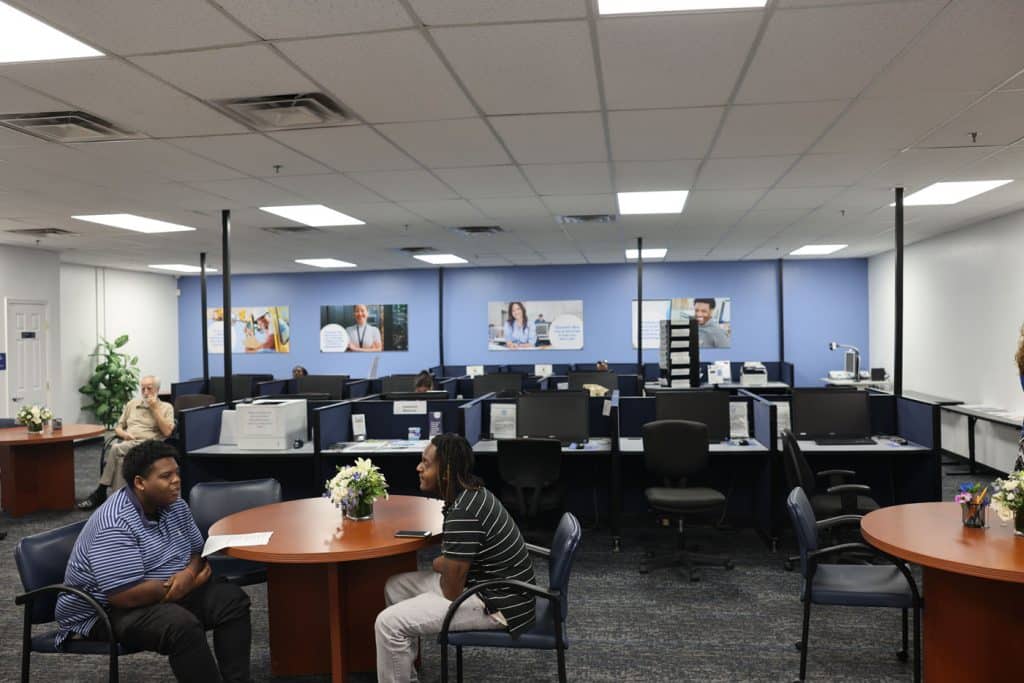 Job training for all
The Pleasant Hill Career Center remodel also brought about updated technology to improve the capacity for training programs. Goodwill can accommodate people in person and virtually, ensuring easy access for anyone seeking employment. 
"So, somebody can just walk into our career center on Monday through Saturday during the weekday, it's 9 to 5, and on weekends, it's 9 to 12 on Saturdays. And then we're open late on Thursdays for people who … can't come during the typical business hours and say, I want to be a welder, and we'll help you be a welder," she said.
Goodwill works with other nonprofits and government agencies to provide training for those who need it.
"You may be a person with a disability and you're working with the state locational rehabilitation agency, and they'll refer you to Goodwill," added Taylor.
And the training is pretty much open to anybody who needs it.
"There is only one requirement to get help from Goodwill and that is motivation to work," said Taylor. "If you don't really want a job, there is nothing we can do to compel you."
Goodwill of North Georgia's Pleasant Hill Career Center
1502 Pleasant Hill Road, Duluth
770-564-2447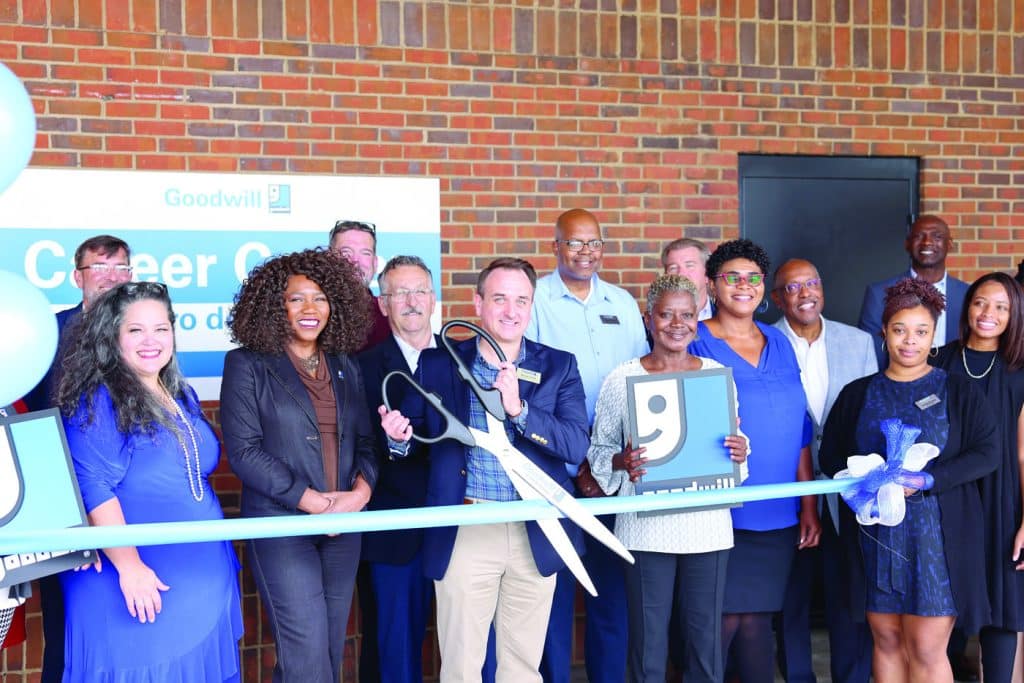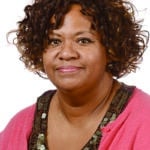 Arlinda Smith Broady
Arlinda Smith Broady is part of the Boomerang Generation of Blacks that moved back to the South after their ancestors moved North. With approximately three decades of journalism experience (she doesn't look it), she's worked in tiny, minority-based newsrooms to major metropolitans. At every endeavor she brings professionalism, passion, pluck, and the desire to spread the news to the people.