Turning into West Gwinnett Park in Berkeley Lake one morning, I saw the Harvest Gwinnett community garden. Right at the entrance was a woman inside working on the plants.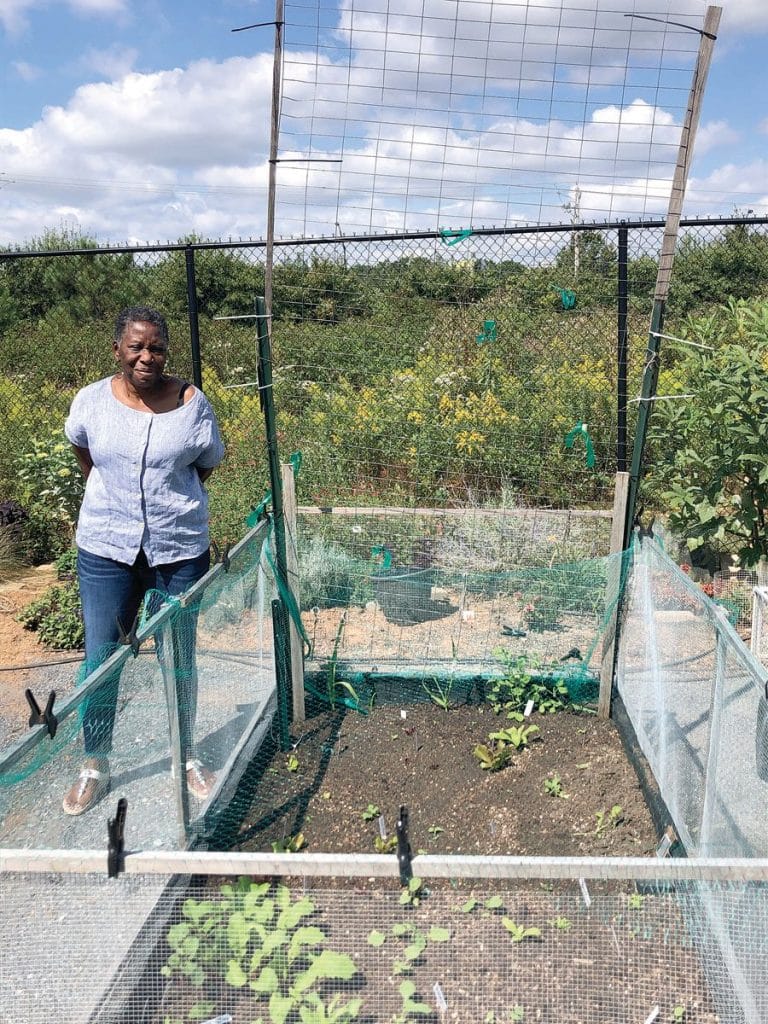 That woman was Jackie Mason, and she, along with Program Coordinator Brad Livesay, introduced me to the fantastic program that Harvest Gwinnett offers at 11 gardens throughout Gwinnett County.
Fresh produce, education, and community
"Our goals," Livesay said, "are to connect the community through environmental education, to plant fresh produce to increase resident access to fresh organic food, and to nurture outreach engagement opportunities so we can improve the overall wellness of the communities in which we serve."
The gardens are the focus of the program. Each one contains raised bed plots that are leased and cared for by individuals and shared community areas.
"Everything that a family grows from their plot, they take home," Livesay said. "They're able to enjoy that food that they grow for themselves."
The community areas are jointly maintained by Harvest Gwinnett and the individuals who lease the plots in a particular garden. These areas are used for educational opportunities, and the produce that is grown in them gets shared back to the communities.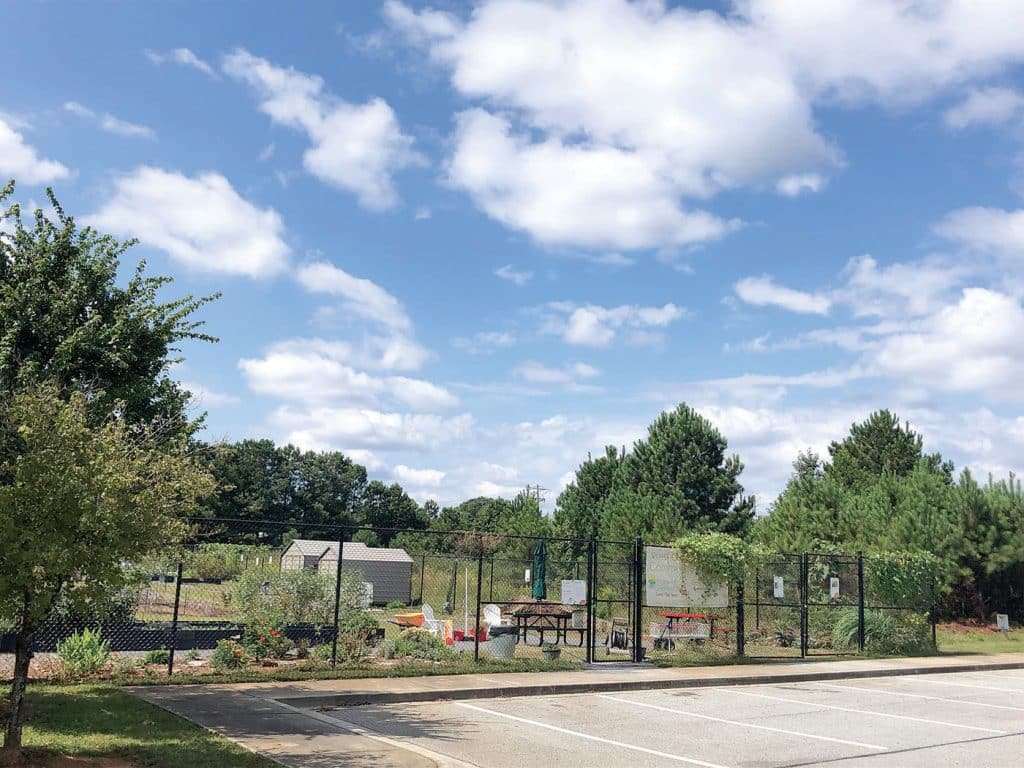 Individual gardens come with support
Mason has been working her plots at the West Gwinnett garden since it opened.
"I read about the garden online, and so I came over here and signed up," she said. "This is my third year at this location. I've been here since the beginning."
She started with one of the four-foot by eight-foot individual plots, then added another, and this year, Mason has leased three of the 34 plots available at the Berkeley Lake garden.
For just $35 per year, residents can lease a plot in any of the gardens. For that, Harvest Gwinnett tries to provide everything that a gardener needs except for plants and seeds.
"They get to choose what they grow," Livesay said, "but we provide soil, mulch, compost, access to a tool shed and access to water."
Mason pointed out the shed at West Gwinnett. It had a few wheelbarrows lined up next to it.
"They supply the shovels and the tools," she said. "They supply pretty much everything you need except your own seeds and your own organic fertilizer. For $35 a year, you really can't beat it."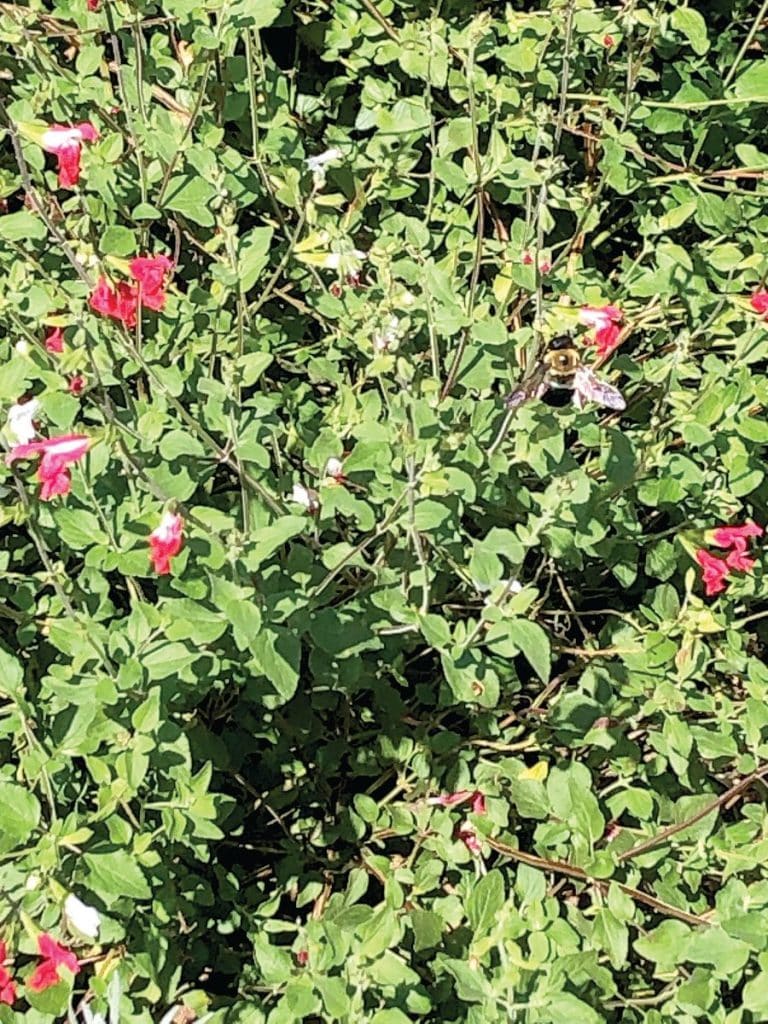 A wide variety of produce
Mason took me for a tour of the West Gwinnett garden, and the variety of plants she and her fellow gardeners are growing was astounding.
"We have people from different cultures," she said, "and we try different things. So, we get a pretty good variety of things here. I like to try new stuff. I don't have a set thing."
"In the fall, there are certain vegetables that grow well that will not survive in the summer, and vice versa. Fall vegetables are things like lettuces, different types of greens, collards, turnips, mustard, spinach and carrots," she added.
In a short walk around the garden, Mason also pointed out cabbages, eggplants, peppers, cilantro, peas, turnips, green onions, okra, oregano, three types of thyme, rosemary and tarragon.
There's holy basil growing which is frequently used in Thai cooking. One of the other gardeners is growing loofahs. There's a muscadine grape vine and peach, apple, fig and plum trees as well.
Mason, her friend Danielle, and others also make a point to grow pollinator gardens throughout the space to encourage bees and other pollinating insects to hang out.
Harvest Gwinnett partners with the University of Georgia Extension Office every year for their annual pollinator census.
Unfortunately, those plants sometimes attract unwelcome bugs too.
Mason pointed to one garden. "You see those bugs right there? Those are called leaf-footed bugs, and they are the bane of us."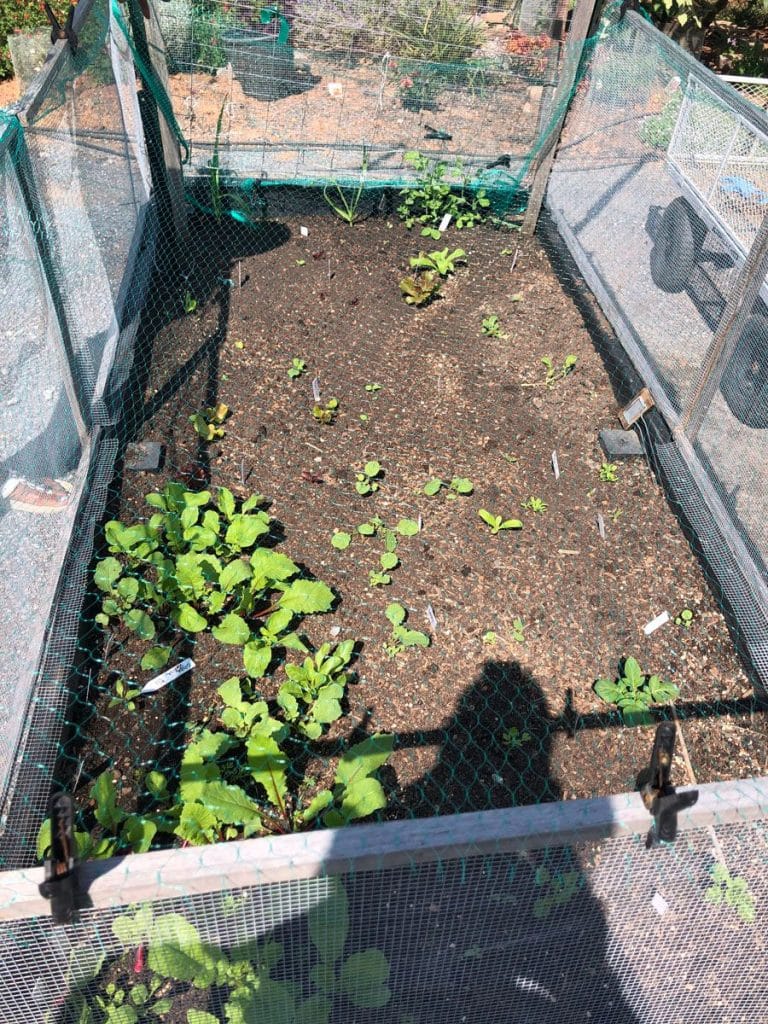 Gardens provide food for the local community
The other component of each Harvest Gwinnett garden is the community share areas.
Mason explained how everyone with a garden plot is supposed to donate a minimum of 12 hours per year to help with the community areas. They schedule garden workdays where people can come and help, but they can also do it independently.
Livesay said that Harvest Gwinnett plants everything that goes into these areas.
"Then everything that we harvest from these rows, we donate back into the community through community partners like food pantries or food co-ops or faith-based ministries or senior centers. They're really excited to receive the food because it's fresh, locally grown organic produce."
Everything produced in West Gwinnett Garden's community areas is donated to Neighborhood Cooperative Ministries, a food co-op in Norcross.
It's amazing to hear that, since the spring of 2021, the community areas of the Harvest Gwinnett gardens have donated over 16,000 pounds of fresh produce.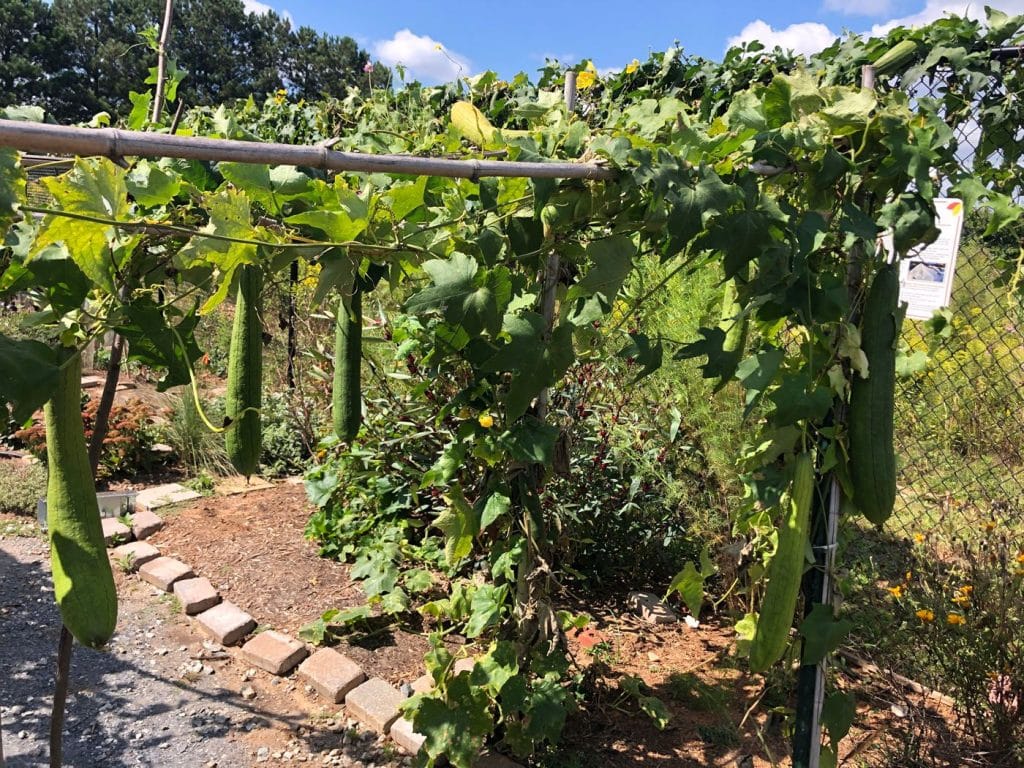 Education is a key component of the program
Livesay emphasized that people do not have to have any experience to lease a plot and work a garden. Harvest Gwinnett offers many educational opportunities, including suggestions about sourcing plants or seeds locally.
"Through our partners and our network," he said, "we help people get the things that they need to succeed."
Harvest Gwinnett offers free programming to anybody from the public.
"We offer a minimum of three of those per month," Livesay said, "and we rotate them around to each of the gardens. Even if you've got a home garden, you can come to one of the programs and learn too."
They often partner with the University of Georgia Extension program, which will send their field agents to come and talk about subjects such as soil sampling, small-space gardening or composting.
In addition to structured education, more informal information sharing is going on constantly. Each garden has an ambassador. Mason was the West Gwinnett ambassador for the first two and a half years.
"In that role I not only would research things for myself," she said, "but I liked to share information with other people because some people are truly invested in their gardens.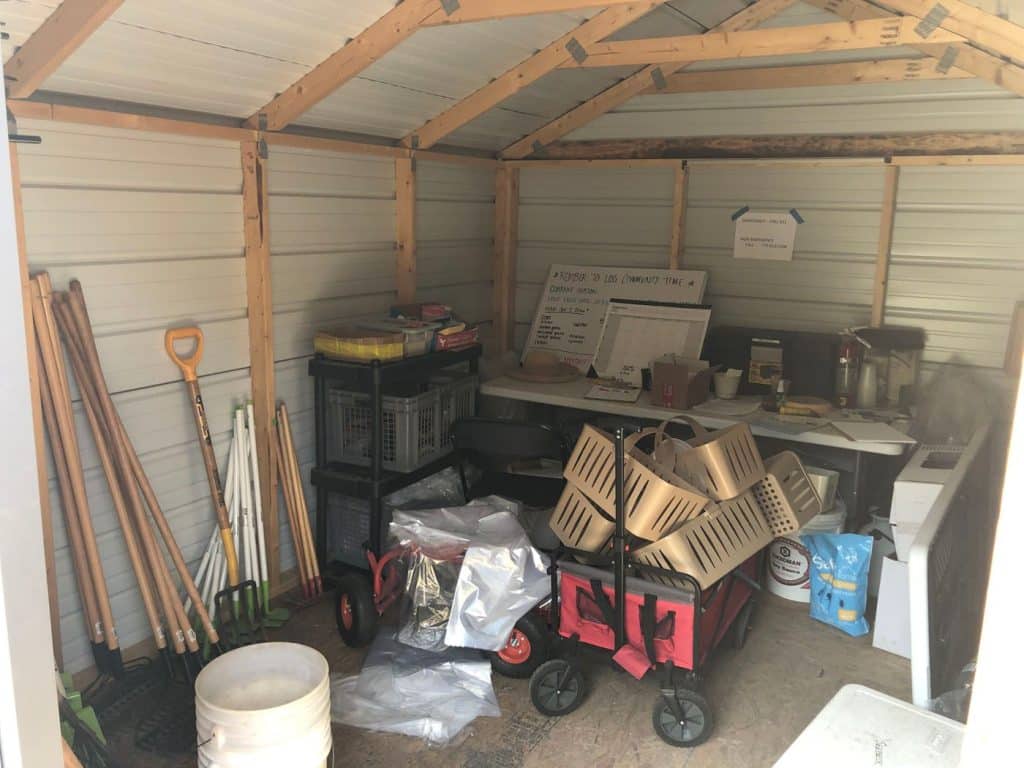 Growing food, building community
When asked if he sees the program building community bonds in Gwinnett, Livesay answered emphatically.
"A 100%," he replied. "It's really cool to see the way people are able to organize and come together and work during our volunteer workdays with the goal of promoting nutrition and wellness, but also coming together to fight food insecurity in Gwinnett County."
Livesay pointed out how important Mason and the other garden ambassadors are to that.
"Jackie has over the last couple of years developed a really tight-knit garden community outside of what my staff does. They help each other out," he said.
Livesay estimates that the program has between 150 and 250 volunteers who donate 200 to 400 volunteer hours on a monthly basis.
"I can't emphasize enough," he said, "how much we appreciate the volunteers and people like Jackie that really make the program what it is."
For more information about the Harvest Gwinnett programs, visit their website.